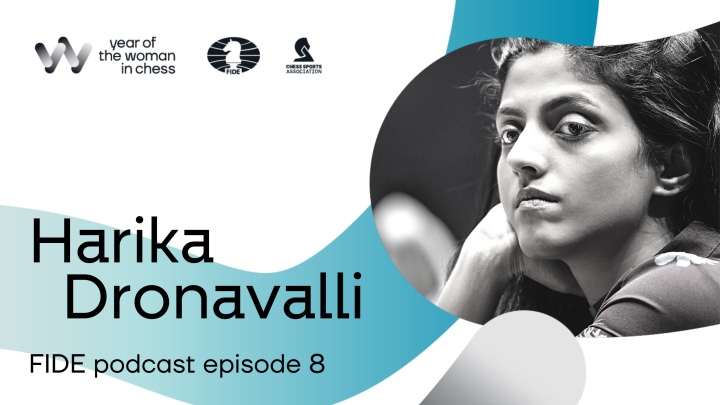 The FIDE Podcast is one of the major initiatives born under the umbrella of the Year of the Woman in Chess, as cooperation between FIDE's Commission for Women's Chess, Michael Busse of Schachgeflüster podcast and Lilli Hahn of the Chess Sports Association. Its monthly episodes present a series of interviews with remarkable women in the chess world.
During 2022 the FIDE Podcast featured a four-time Women's World Chess Champion Hou Yifan, an American chess player, commentator and writer Jennifer Shahade, the first female President of a chess federation in Africa Susan Namangale, a Woman Grandmaster, doctor of psychology and a university professor Jana Krivec and other outstanding female role-models.
The guest of the October episode is Harika Dronavalli, an Indian Grandmaster, #12 in the women's ranking list. Harika won three bronze medals at the Women's World Chess Championship in 2012, 2015 and 2017. Her recent achievement was winning the bronze medal with the Indian women's team at the Olympiad in their home country. As if not impressive enough on its own, Harika played in the Olympiad during her ninth month of pregnancy and gave birth to a baby girl just two weeks after.
In the podcast, Harika Dronavalli talked about combining her chess career with pregnancy and motherhood.
"When it was announced that India is going to host the Chess Olympiad, I realized that maybe this is a possibility for me to play, because I could travel, as Chennai is very close to my place. I was still not sure because it would be my last trimester. When I asked my doctor, she said it's not so difficult to play if you're healthy. It's even easier to play during pregnancy than immediately after the delivery. That's when I contacted my federation and told them that I could play."
"I knew some cases when people played in early trimesters or during the sixth month of pregnancy. But I've never heard of someone playing during the ninth month. I was not sure how this would do, but I believed in my decision that somehow things would work, and everything would go smoothly until the end of the tournament."
Now Harika is enjoying her new phase in life and not playing in chess tournaments, however, very soon, she plans to be back to chess.
"It is not as easy as I thought, even though there are so many people around. I am enjoying the new phase of life, I am figuring out how to handle things. And I am glad that Asia Games got postponed, as I realized how hard it would have been to participate after the delivery. Right now, I am just taking a pause and enjoying my new phase, trying to be a good mom to my baby."
"Chess has always been my life since childhood. Even now, my whole idea would be to come back to chess as early as I can, and at the same time to be a good mother to take care of my baby. Luckily, I have a family very close nearby who can take care of the baby even better than me, so I don't need to worry about travelling. But for now, I've taken a pause for two to three months, and then I am hoping to come back soon. Maybe I would play Tata Steel Rapid and Blitz Women's tournament and the World Rapid and Blitz. Next year will be very crucial because of many important tournaments – Women's Grand Prix, Grand Swiss, and Asian Games. So I need to find some time to work on chess and get back as soon as I can."
Talking about the Year of the Woman in Chess, Harika said that she noticed many positive changes for women in chess.
"From the time I've started women's chess, it developed on a much larger scale. The prize funds are getting bigger and bigger, the more tournament opportunities are made for female players. I'd say that it is a very positive sign that things are going well in women's chess. I believe that they will get even better for the next generations." - she said.
9th episode of the FIDE Podcast promises to be no less interesting. It will feature Shohreh Bayat, an Iranian chess arbiter awarded an International Women of Courage Award in 2021. The episode dedicated not only to chess, but to fight for women's rights in Iran will be published in early November.
You can listen to the October episode of the FIDE podcast on the following platforms: