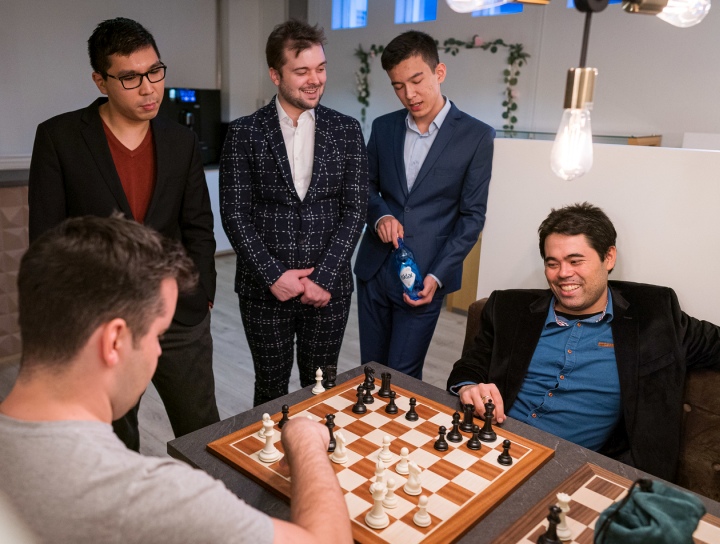 The pairings are the simplest aspect of today's group stages, as the players face off four times against the same opponent, in two mini-matches, as the contest transitions into the return matches from rounds 3 to 4. Even though the match-ups repeat, the mini-matches were played from two different starting positions.
It is interesting to watch the players marching through the hotel to the playing area. On the move a few minutes before the round begins, this means that they really have closer to just 10 minutes to prepare to play the match's starting position once from each side. Perhaps it is this shortage of time and vast unexplored sea of possibilities to try to chart that explains the visibly relaxed mood before the game and optional lack of emphasis on preparation.
Relaxed and enthusiastic
The players without analytical seconds here – Matthias Blübaum, Wesley So and Hikaru Nakamura, are first to appear. Young Nodirbek Abdusatorrov, who is accompanied by his mother on the trip, is not far behind.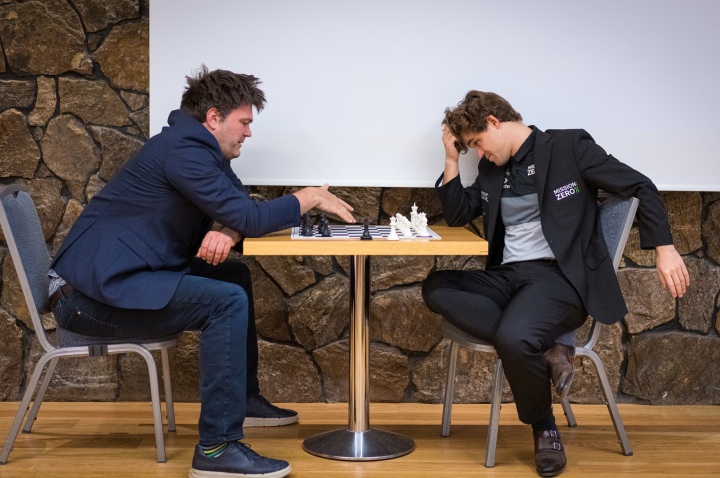 Perhaps even more surprising is that classical world champion Magnus Carlsen, and his last challenger, Ian Nepomniachtchi, stroll towards the playing hall, discussing some kind of sequence of moves. Even if the subject is perhaps one of the games from day one, there is a sense that the novelty of Fischer Random has stimulated a renewed curiosity and enthusiasm for exploring action on a chessboard.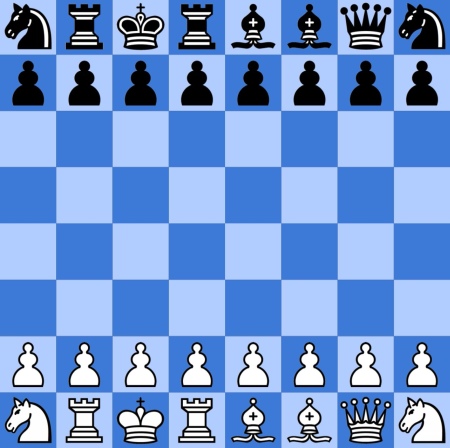 Start position 1
The position that has come 'out of the hat' for the first mini-match is finally about as exotic as possible and gets a strong reaction from a few of the players. Carlsen remarks to group rival Vladimir Fedoseev: "This is probably the worst possible starting position!" Fedoseev also thinks fate has been cruel: "The position with both Knights in the corner should be banned from the drawing!"
Favourites and crunch matches
The day's play was officially opened by Thordis Loa Thorhallsdottir, the President of the Reykjavik city council, who executed the first move for Icelandic Grandmaster Hjorvar Steinn Gretarsson. Again, each group featured a pairing with a heavy favourite versus the section outsider and one clash of expected serious title contenders.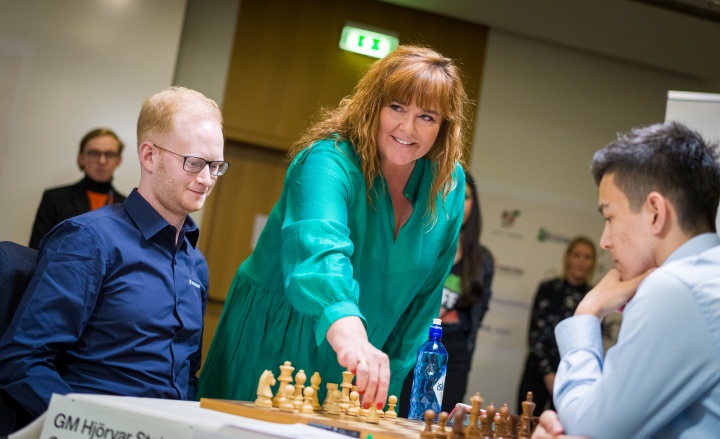 The favourites delivered smoothly: Carlsen shrugged off yesterday's misadventures and showed his usual crisp technical control to defeat Blübaum with the black pieces, while terrifying teenager Abdusatorrov handed local hero Gretarsson another loss, the Uzbekistan Grandmaster also winning with the black pieces.
In Group A, the reigning Fischer Random World Champion Wesley So continued to be the hardest working player here, grinding out a 106-move win over Nepomniachtchi, his third marathon game so far. These two may have been the pre-event favourites to emerge from the group, but with Abdusatorrov's form and power, this duel may instead decide which of these classical chess giants is denied a semifinal berth.
The Group B spotlight game between Nakamura and Fedoseev ended in a solid and fairly early draw.
Second session
The reverse pairing was quickly the highlight of the next session, with Fedoseev unleashing the well-known aggressive beast within, forcing Nakamura to show his legendary resourcefulness under pressure. The result – a baffling, chaotic brawl that somehow resulted in a roughly balanced endgame. The players battled on until there were only bare kings left on the board, and honours were divided in the mini-match.
In Group A Nepomniachtchi showed his sense of occasion and went into turbo mode in the return game, accumulating a huge time advantage while posing So an array of problems to solve. Nepomniachtchi's win created the first drawn match of the event.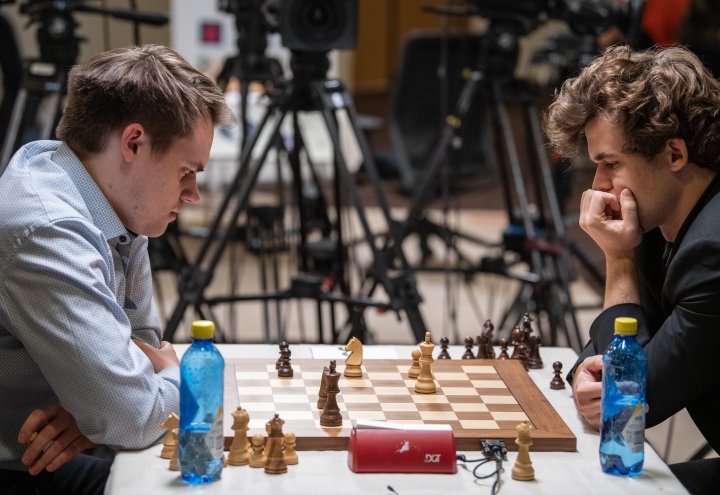 Favourites Carlsen and Abdusatorrov each won again, though they needed to overcome grittier levels of resistance. Their respective opponents now need to seriously rally if they are to avoid being slotted into the eventual playoff match for 7-8 place.
Abdusatorrov was asked by NRK TV if he was, in fact, the tournament favorite here. He thought for a moment before giving a diplomatic answer that did little to disguise his immense confidence: "Magnus is always the favourite. But this is Fischer Random, and anything can happen."
Pairings & results:
Round 3 Game 1:
Group A
Grétarsson – Abdusattorov 0-1
So – Nepomniachtchi 1-0
Group B
Blübaum – Carlsen 0-1
Nakamura – Fedoseev 0.5-0.5
Round 3 Game 2:
Group A
Abdusattorov – Grétarsson 1-0
Nepomniachtchi – So 1-0
Group B
Carlsen – Blübaum 1-0
Fedoseev – Nakamura 0.5-0.5
Match scores from Round 3:
Group A
Abdusatorrov – Gretarsson 2-0
So – Nepomniachtchi 1-1
Group B
Carlsen – Blübaum 2-0
Nakamura – Fedoseev 1-1
More of the same?
The next round featured the same pairings, but a new starting position.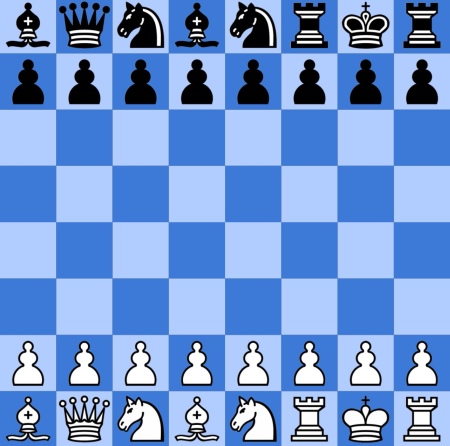 Start position 2
This development seemed to intrigue and puzzle the field. Nepomniachtchi reacted by judging it "too complex", while Carlsen went into a bit more detail for Norwegian TV, telling national broadcaster NRK that it was "not a position I have seen before. It's very interesting – the kings are relatively safe."
Drama and confusion
The key Group A match between Nepomniachtchi and So started with a sharp battle and ended with a confusing incident when it appeared that title-holder So became confused about the variant's trickiest aspect, the castling rule.
At first, it appeared that So had just blundered horribly, but arbiters were summoned, and a discussion took place. Apparently, So had initially believed he could castle out of check in the final position, but even if Fischer Random castling looks different, the rules governing it are the same as in classical chess – one cannot escape a check by castling. Once So realized his error, he resigned.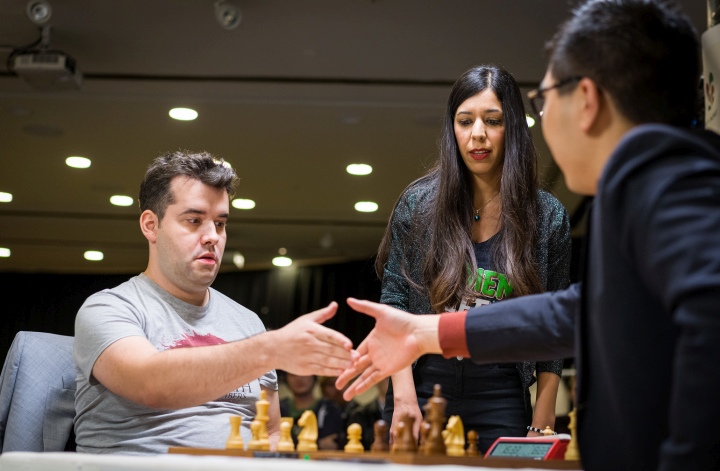 Oddly, this was not the first castling incident between the two players. In the inaugural event in 2019, there was a dispute about whether Nepomniachtchi had castled properly and a game had to be replayed. Today's event was a clear signal that this variant of chess is still in its infancy when the current world champion can forget the details of a central rule. Later, Carlsen would confess he thought what So had intended was legal.
The other focus match continued with tough deadlock, Fedoseev and Nakamura drawing their third game in succession. Once again, Nakamura was under severe pressure, but managed to frustrate his opponent with another patented escape.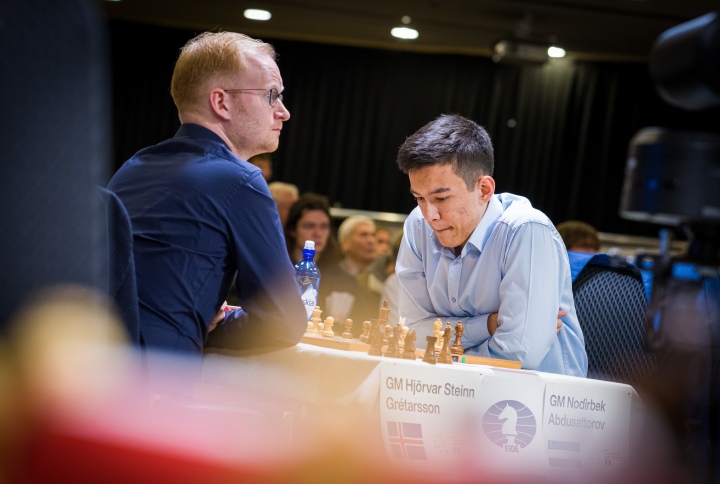 The other matches provided new excitement levels. First, Abdusatorrov came under a blistering attack, but Gretarsson left himself too little time to apply the final blow, and some hurried errors allowed the in-form teen to turn the tables and win yet again. Magnus Carlsen also had troubles, initiating unfavourable complications, and spent most of the game fighting his way back to a drawable endgame.
Session two
The emerging trend of the day is that Vladimir Fedoseev is a serious contender to advance to the semifinals at the expense of one of the big guns in his group. After his opening rout against Carlsen, he has not lost another game, and only Nakamura's incredible resilience in adversity has kept Fedoseev at bay so far. The return game of Round 4 continued to indicate that Fedoseev is growing into the event, with his American opponent quickly struggling to stabilize his position. Their fourth clash of the day was full of tightrope performances – Fedoseev found himself in grave danger near the end – but it ended in their fourth draw. The players had a long discussion about the complexities after their match. Nakamura summed up his day as one of very exciting games, with all results having been possible.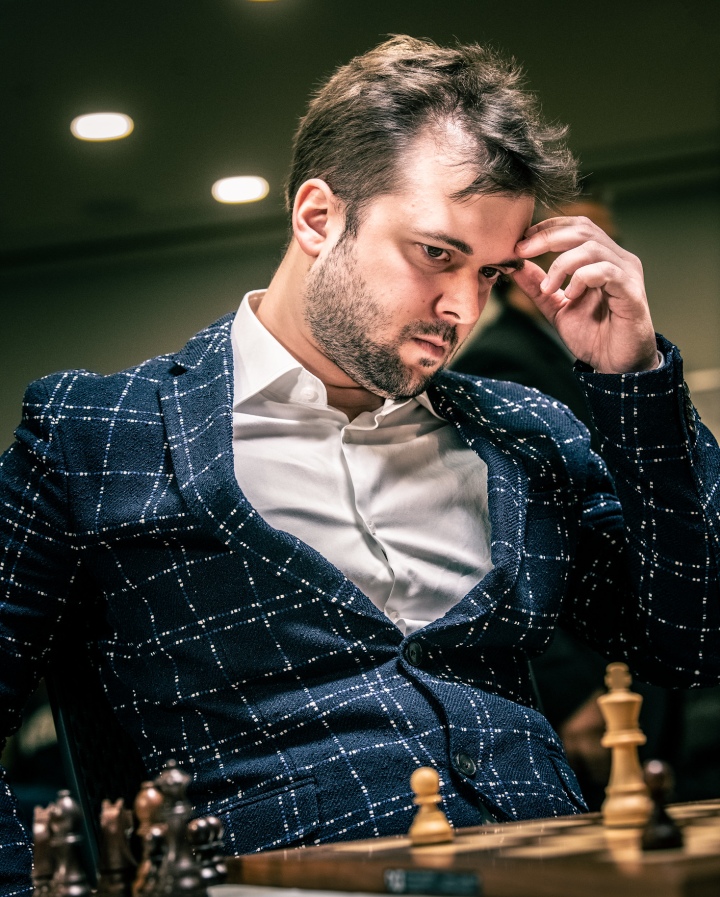 Wesley So could not recover from his odd setback in the previous game, and succumbed after a long uphill fight and fell just short of survival. Abdusatorrov continued to rampage, completing his shutout of Gretarsson and maintaining a perfect score. He is the first to clinch a semifinal berth.
In Group B, Carlsen was relieved and exhausted to have edged out a second mini-match victory. A frustrated Blübaum once again got no rewards for incredibly close-fought and exciting games. Carlsen described the game as terrible for him out of the opening, gradually less miserable, and then decided by time trouble.
Pairings & results:
Round 4 Game 1:
Group A
Abdusattorov – Grétarsson 1-0
Nepomniachtchi – So 1-0
Group B
Carlsen – Blübaum 0.5-0.5
Fedoseev – Nakamura 0.5-0.5
Round 4 Game 2:
Group A
Grétarsson – Abdusattorov 0-1
So – Nepomniachtchi 0-1
Group B
Blübaum – Carlsen 0-1
Nakamura – Fedoseev 0.5-0.5
Match scores from Round 4:
Group A
Abdusatorrov – Gretarsson 2-0
So – Nepomniachtchi 0-2
Group B
Carlsen – Blübaum 2-0
Nakamura – Fedoseev 1-1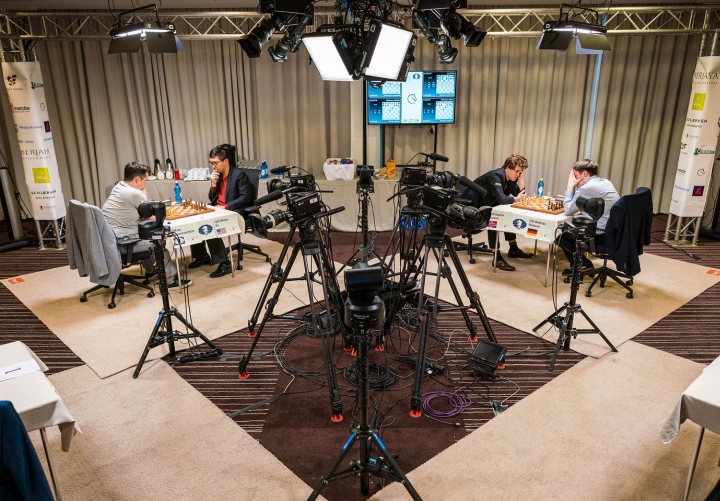 Tournament standings after 4 rounds:
Group A
Abdusatorrov 8, Nepomniachtchi 5, So 3, Gretarsson 0.
Group B
Nakamura 6, Carlsen 6, Fedoseev 4, Blübaum 0
Facts:
There will be a total of six rounds in the group stages, as this segment of the event is a double round-robin. The magic number is two for now: two points for winning a match, two games in each mini-match, and two mini-matches against each opponent in the group. Two players will advance from each group.
The time control for each game is 30 moves in 25 minutes, plus 5 minutes for the rest of the game, plus 5 seconds increment per move starting from move 31.
Games 1 and 2 are played from the same starting position. A new starting position is chosen for each two-game mini-match.
Group stage days are scheduled to start at 15:00 GMT (17:00 CET).
Text: GM Jonathan Tisdall
Photo: David Llada and Lennart Ootes
Official website: fischerrandom.fide.com