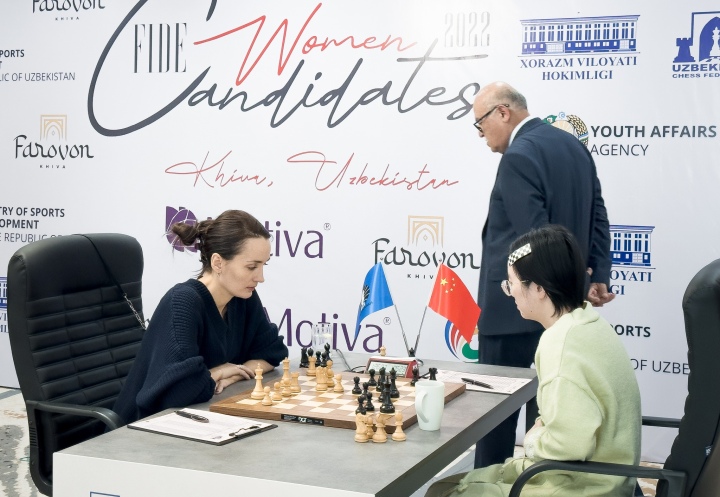 Uzbekistan is booming with chess. The chess federation is building on the resonant successes of their national team – gold medal in the 2022 Chennai Olympiad and silver medal in the recent 2022 World Team Championship in Israel - and putting Uzbekistan on the chess map. Bringing the Women's Candidates to Khiva is a huge step in this direction, but other initiatives must go side by side.
In the same venue as the main event, they have organized the 1st International Al-Beruniy Chess Tournament, a three-group Swiss with several grandmasters, including Nodirbek Yakubboev, one of the five Chennai heroes. Also participating in group B is twelve-year-old Oksana Goriachkina, Aleksandra Goryachkina's younger sister.
Nonetheless, the main focus of the chess world is in the small room that hosts the 4-player B-pool of the Women's Candidates, which, after two of the four scheduled rounds, has all to be played for. Going into the rest day, both matches are tied 1-1.
Aleksandra Goryachkina (GM 2584) vs Alexandra Kosteniuk (GM 2521)
Playing with White, Goryachkina opened with 1.e4. Although she thrives in all three moves, in the past, she has always played 1.d4 or 1.c4 against Kosteniuk. The game was a mainstream Ruy Lopez, and, following the latest trend, Goryachkina decided to prevent the Marshall Attack with 8.a4.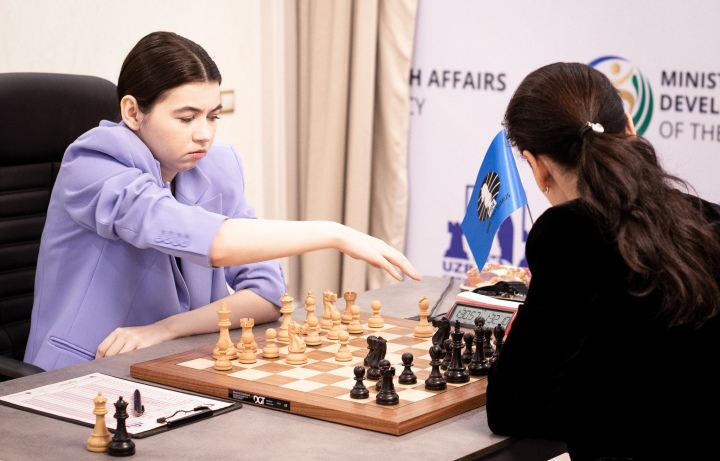 It's always hard to speculate on the possible opening preparation, but Kosteniuk uncorked an interesting move (12…Ba8), which was played many years ago by Geller but has recently been shelved for 12…Bc8. She did spend nearly 10 minutes on her eleventh move, so it might also have been a spur-of-the-moment decision.
According to the computer, the position was a bit worse for Black – Kosteniuk's bishops seemed slightly more passive due to her pawn structure – but on the other hand, there was no obvious plan for improving White's position in sight.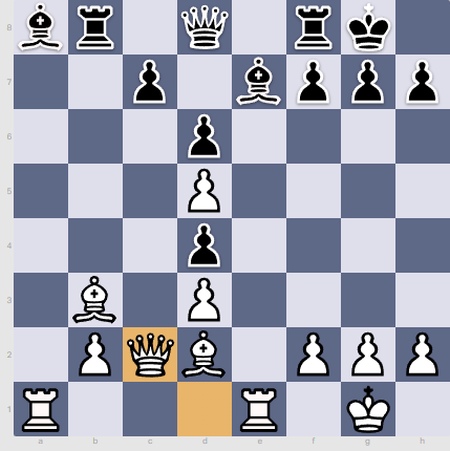 After 19…Bg5! followed by 20…Qd7 and 21...Qf5, Kosteniuk arranged her pieces on good squares, and the position became equal. A draw was agreed on move 36 after a threefold repetition.
Goryachkina was quite frank in her post-game interview with Press Officer Anna Kantane. "I'm still warming up in this tournament, not everything is smooth, but I'm doing my best. I haven't used all of my opportunities yet. My opponent lets me get promising positions, but then she defends pretty well".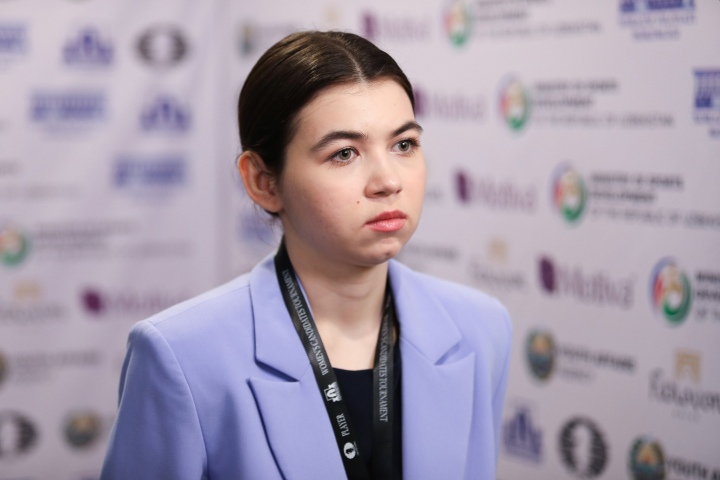 Kateryna Lagno (GM 2563) vs Tan Zhongyi (GM 2514)
In a popular 3.Bb5+ Moscow variation of the Sicilian Defence, Lagno tried an interesting move 11.Re3, played by GM Daniil Dubov in a recent 2022 online event. The idea is to swing the rook over to the kingside in some lines or even to work on the c-file in other variations. The main move with more than 1500 games in the database is 11.Nbd2.
After a few minutes to collect her thoughts, Tan Zhongyi correctly decided to finish her development and castle short. After 14…f6, it seemed she was well on her way to equalize. Meanwhile, Lagno was playing very fast, clearly in her home preparation.
Already under time pressure, thirty minutes behind her opponent on the clock, Tan Zhongyi went for the premature 16…b5?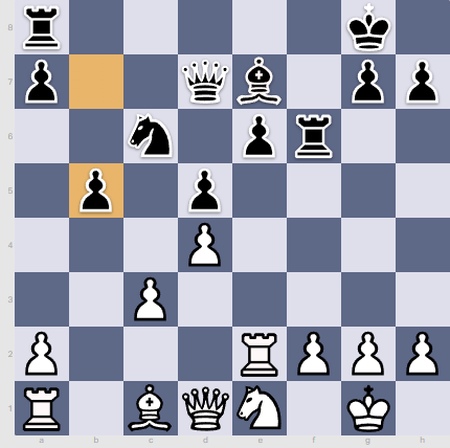 After Lagno's precise reaction 17.Bg5! followed by 19.Nd3, the weakness of the c5 square became quite unpleasant for Black.
However, the Chinese player kept her calm and struck back with 20…b4! followed by a very precise knight manoeuvre, maintaining the balance on the board. After 34 moves, both players agreed to a draw by perpetual check.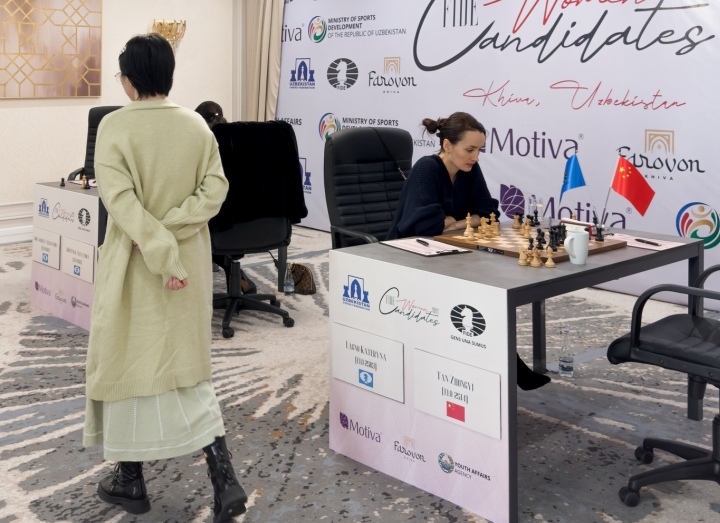 After the game, Tan Zhongyi was kind enough to attend the press conference. "I feel a little nervous. I feel like my game is a little tense, and I didn't completely release myself. I hope it will be better after tomorrow's break," were her first impressions.
She went on to discuss the opening in the second game. "Lagno's first 18 moves were played so fast; it was probably all home preparation. Maybe I should have played …b6. I don't know what she missed, but after b4, I managed to simplify the situation, and I am very satisfied with today's draw".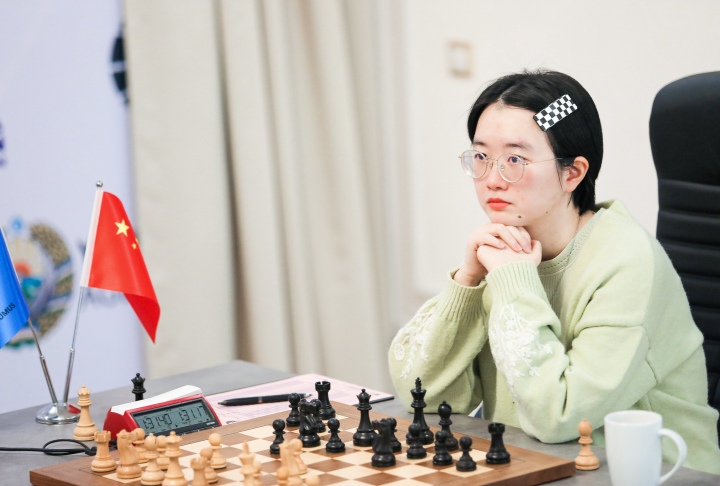 Tomorrow is a rest day. A sightseeing trip has been organized, but with so much at stake, players might prefer to concentrate on the final two games of their matches.
The third game is scheduled for Friday, December 2nd, at 3pm, and can be followed live with expert grandmaster commentary on FIDE YouTube Channel.
Tournament format and prizes
Under the new knock-out format, players in each of the two brackets or "pools" will play a four-game match (plus tie-breaks, if needed) in order to advance to the next stage, with the final match being played over the distance of six games. The prize fund for this pool is €70,000, while another €110,000 will be at stake in the Women's Candidates Final, raising the total to a record-breaking amount of €250,000.
Khiva
Established around 1500 years ago and currently housing a population of more than 90,000 people, Khiva is the former capital of Khwarezmia, and one of the three Uzbekistan historical cities on the Silk Road. The inner town, Itchan Kala, is encircled by brick walls, whose foundations are believed to have been laid in the 10th century. Mosques, madrassahs, and minarets are the present-day must-see highlights of the city.
OFFICIAL WEBSITE: womenscandidates.fide.com/
There is also a Flickr official page from where you can download the photos in high resolution.
Text: IM Michael Rahal
Photo: Photo: Timur Sattarov and Xushnud Baltaev