Alexander Grischuk is the winner of the FIDE Grand Prix in Hamburg. The 36-year-old Russian grandmaster decided the tiebreak of the finals against Jan-Krzysztof Duda in his favor and claimed the victory in the third leg of the Grand Prix series 2019.
With this win, Grischuk virtually booked his ticket for the Candidates Tournament which will take place in Yekaterinburg, Russia from March 15 to April 5, 2020. "Now it will be very pleasant for me to watch the final event. Of course, I wish luck to everyone who can still qualify, to "Shakh" Mamedyarov, to Nepomniachtchi and Maxime. But not too much luck to Maxime cause I don't want him to overtake me. I can not be rooting against myself", said Grischuk shortly after his victory.
On the last day, full of exciting games played with short time control, Grischuk and Duda needed four rapid games to determine the winner.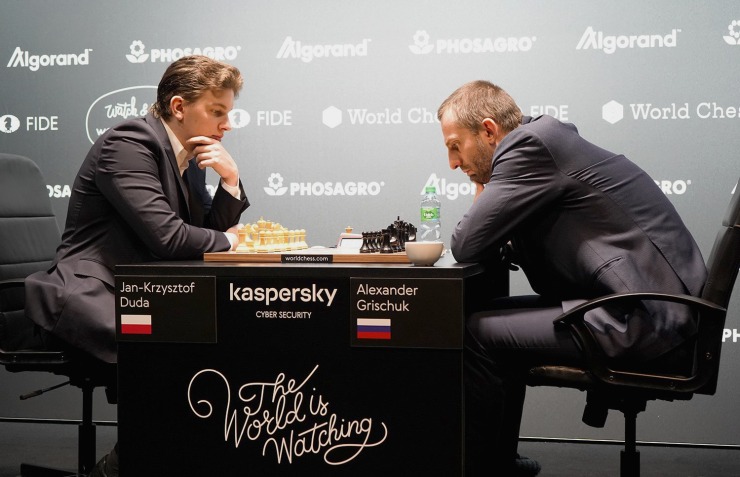 Duda started the first rapid game of the day with the English Opening. The critical position arose after his 12th move when he attacked the black pawn on e4. Grischuk decided to sacrifice this pawn and go for an attack on the kingside. That proved to be the wrong idea. Soon, Duda had complete control over the center, the bishop pair and an extra pawn.

With time running down the only question remaining was if Duda could manage to convert his decisive advantage to a full point. He did and did it convincingly. In the endgame, he created a passed pawn on the 'c'-file and combined it with a mating attack on the back rank.

Grischuk struck back immediately in the second rapid game. He started with some excellent opening play in a well-known-line of the Queen's Indian Defence, and after only 17 moves, he was a pawn up. Duda's situation soon became desperate. Grischuk penetrated with his queen into black's back rank and created irrefutable threats.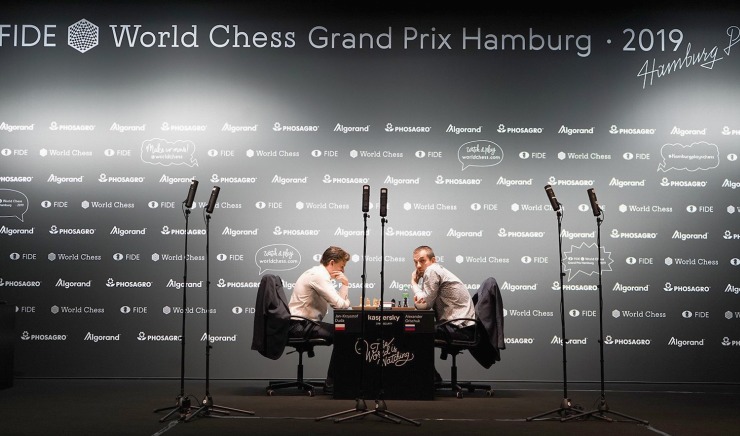 In the third rapid game, Grischuk started again with the white pieces and took the lead. This time Duda chose the Slav Defence, but once again he faced a position which he wasn't really familiar with. He tried to clear the situation in the center, but Grischuk found a fantastic pawn sacrifice which yielded him a strong initiative thanks to his active pieces and development advantage.

Duda tried to find shelter for his king on the queenside, but this allowed Grischuk to launch a devastating attack. He broke through black's defense and eventually won a full rook. Duda kept fighting as both players were short on time, but the outcome of the game was never in doubt.

In the fourth and final rapid game, Duda started with 1.e4 and tried to turn the tables with the Four Knights Game. Both players spent most of their available time of ten minutes on the opening moves. Duda seemed to have a slight initiative in the middlegame, but Grischuk found a brilliant maneuver to centralize his knight on the e4 square. Duda exchanged this knight but consequently transformed into a middlegame with opposite-colored bishops wherein Black had the better minor piece. As usual, Duda fought bravely, but this time he was only able to get away with half a point by offering a draw in a hopeless position.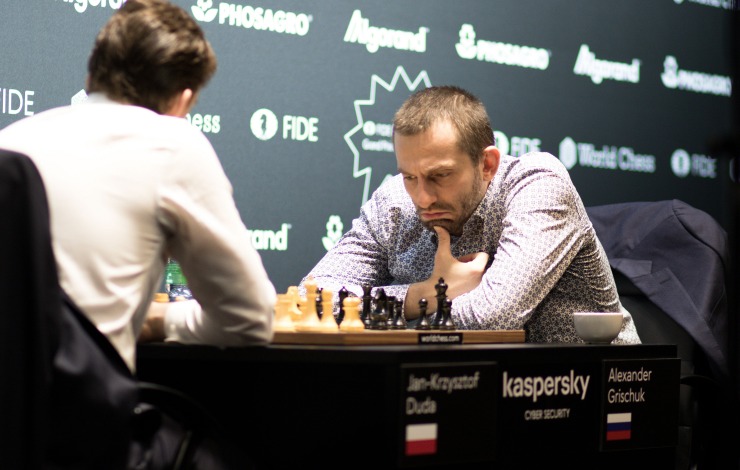 Both players praised each other after the dramatic fight, and Grischuk drew an interesting comparison: "First I want to thank Jan-Krzysztof for this incredible match. I enjoyed every moment of each game all three days. All the games were very tense, and it was a huge fight with no short draws or anything. I was getting a feeling that Jan plays a little bit like an old computer, not exactly Stockfish, but like some Fritz without an opening database, without an opening book, because every game – White/Black – he plays not his best in the opening but then playing incredibly. I remember when I was young, the computers were not as strong, and you could try to compete with them, but still, they were beating you. And I was getting the same feeling today, but then twice I got just too much of an advantage to save even for Fritz or for Jan."
Even after losing against Grischuk, Duda had no reason to be dissatisfied with his performance in Hamburg: "First of all I want to congratulate my opponent. My openings didn't work out, especially with Black, I think. The second game was terrible because I just blundered a pawn in the opening".

Asked about his overall performance, he replied: "My play here was great. I didn't expect to get into the final, I didn't even expect to get into the third round because I found Nepomniachtchi and Yu Yangyi to be the most and probably most unpleasant opponents for me because I haven't won a single game in classical chess against both of them, but I was lucky that they both blundered a game actually in one move."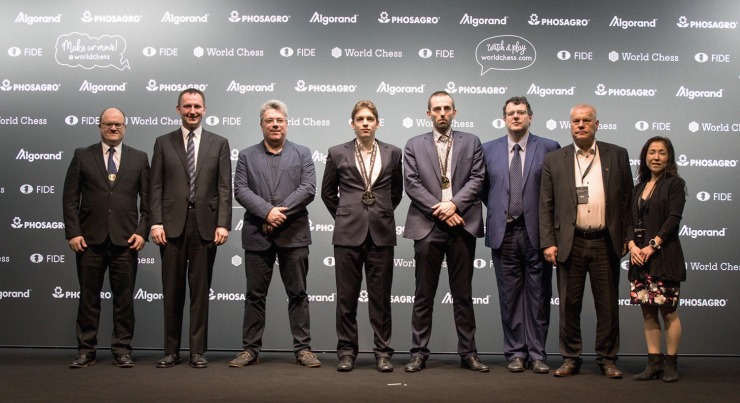 Final, tiebreak result:
Alexander Grischuk - Jan-Krzysztof Duda 2,5-1,5

Modus for the tiebreak:

Two 25+10 rapid games are played. If still tied, there are two 10+10 games, then two 5+3. Finally, a single Armageddon game is played, where White has 5 minutes to Black's 4 (with a 2-second increment from move 61), but Black wins the match with a draw.

Standings FIDE Grand Prix 2019 (after 3 of 4 legs)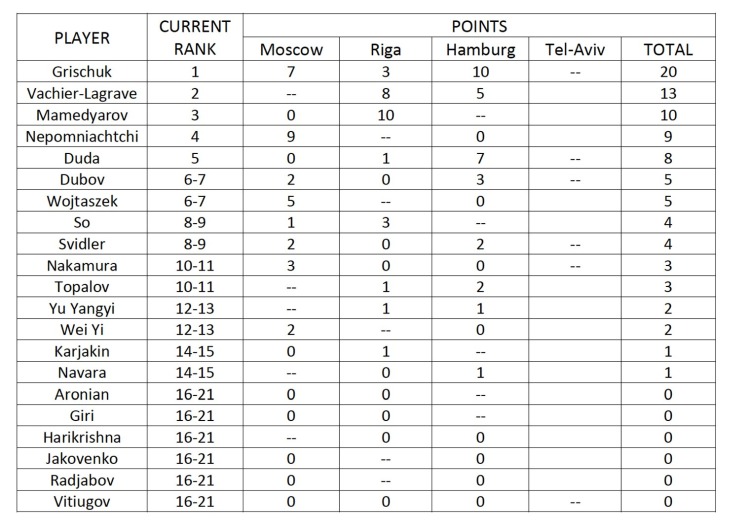 In principle, only three players are left with a chance to qualify via the FIDE Grand Prix for the Candidates besides Alexander Grischuk. Maxime Vachier-Lagrave, Shakhriyar Mamedyarov and Ian Nepomniachtchi will most probably compete for the second ticket in Jerusalem with the Frenchman starting with the best prospects.
Official website: https://worldchess.com
FIDE Press officer for the event: Georgios Souleidis
Official Photographer: Valeria Gordienko
World Chess contact: media@worldchess.com
Photo: Valeria Gordienko, Niki Riga
Photos are available for the press from the following link to Dropbox.
Leading partners supporting the FIDE World Chess Grand Prix Series 2019 include:

Algorand as the Exclusive Blockchain Partner
PhosAgro as the Official Strategic Partner
Kaspersky as the Official Cybersecurity Partner
Pella Sietas Shipyard as Official Partner
Prytek as the Technology Transfer Partner