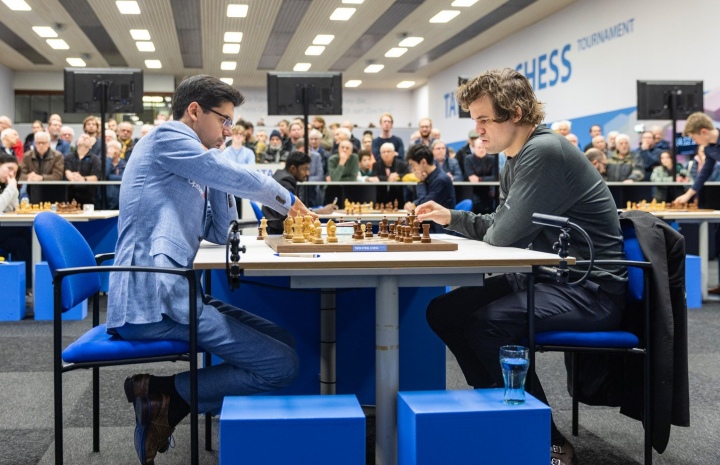 Anish Giri and Nodirbek Abdusattorov scored victories with the white pieces and are now in the lead with 3 out of 4 points. Rameshbabu Praggnanandhaa outplayed Ding Liren and reached the +1 mark.
Anish Giri – Magnus Carlsen 1-0
The game featured a trendy line of Nimzo-Indian in which White sacrifices a pawn for the initiative. Interestingly back in 2007, Magnus won a spectacular game vs Vasyl Ivanchuk with the white pieces. Unlike Ivanchuk, Carlsen opted for a not nearly as popular 12…d6 and found himself in a slightly inferior position. On move 18 Anish introduced a novelty 14.Ne5, which, according to chess engines, is not the strongest move, but it forced Magnus to work hard over the board while the Dutchman probably was in his preparation.
Just a few moves down the road, Magnus played a natural 22…Nd4? which was a serious mistake.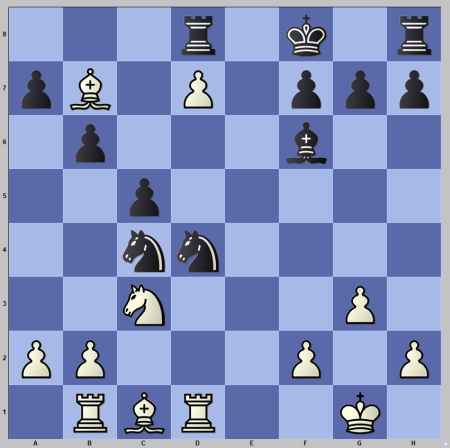 Most likely, the World Champion missed a very strong retort 23.b4! and after 23…Rxd7 (more stubborn was 23…h5) 24.Bd5 Nd6 25.bxc6 bxc6 26.Ba3 Black was in dire straits as White's dark-squared bishop exerted unbearable pressure along the a3-f8 diagonal.
Although Anish loosened his grip at some point, Magnus did not dare part with his last bishop and capitulated a few moves later. It was an impressive victory by Giri, who grabbed the lead.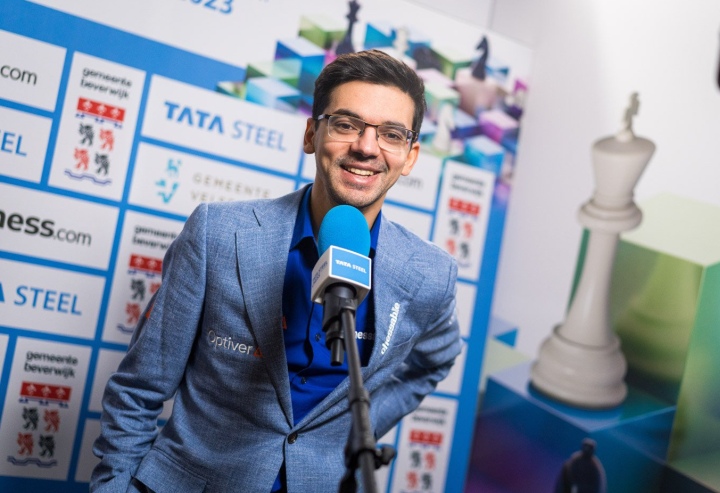 Richard Rapport – Fabiano Caruana ½–½
The opponents tested a long theoretical line of the Ragozin Defence in which the first original move was made very late. White had a slightly better pawn structure but Black soon rectified his own, and the position became dead equal. On move 25, Rapport somewhat surprisingly created an isolated pawn in his camp, but Caruana forced a draw by repetition. It turned out that the American had accepted a draw offer on move 19, but an arbiter ruled that the opponents should have played a few more moves.
Ding Liren – Praggnanandhaa 0-1
After Black comfortably equalized in the Giuoco Piano and traded the queens on move 17, an equal position emerged on the board. Somewhat surprisingly, Ding started making little inaccuracies here and there and ended up in a slightly inferior ending. From that moment on, the young Indian slowly but surely ground down his strong opponent and scored a fully deserved victory.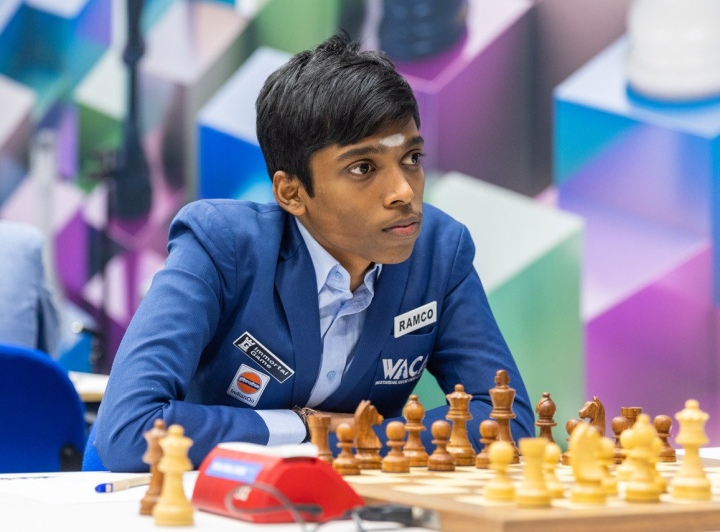 Nodirbek Abdusattorov – Parham Maghsoodloo 1-0
Abdusattorov got a clear advantage on the white side of Ruy Lopez, but instead of 17.cxd4, he played 17.Bb3 and the opponent traded several pieces and nearly equalized with a few the only moves. Still, from the practical standpoint, it was much easier to play for White due to the exposed position of Black's king.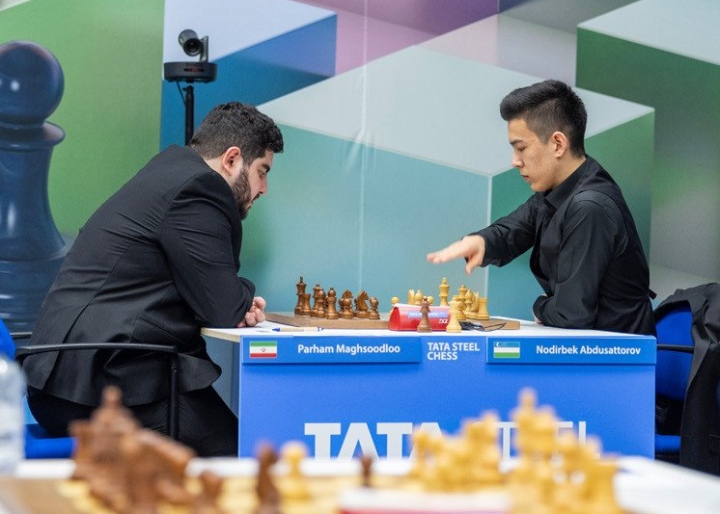 In such a situation, a weaker side should try to exchange the queen or the rooks to safeguard his king, even at the cost of some minor concessions, and Parham had a couple of such opportunities but did not seize them.
According to chess engines, the position was balanced for quite a while but eventually, Black could not bear the burden of energy and time-consuming defence.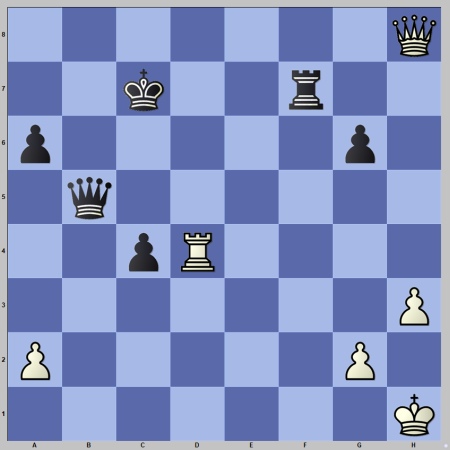 Parham just played 47…Qd5-b5? (according to chess engines after 47…Qe6 White is just slightly better) and after 48. a4! Qc5 49. Rd1 Rd7 50. Rb1 Rd8 51. Qg7+ Rd7 52. Qb2 White got to Black's king.
Thanks to this tough but well-deserved victory, Nodirbek Abdusattorov caught up with Anish Giri and now shares the top position with him.
Wesley So – Levon Aronian ½–½
Levon Aronian demonstrated excellent preparation on the black side of a popular line of English Opening, and after massive exchanges, the opponents shook hands in a dead-equal opposite-coloured bishop endgame.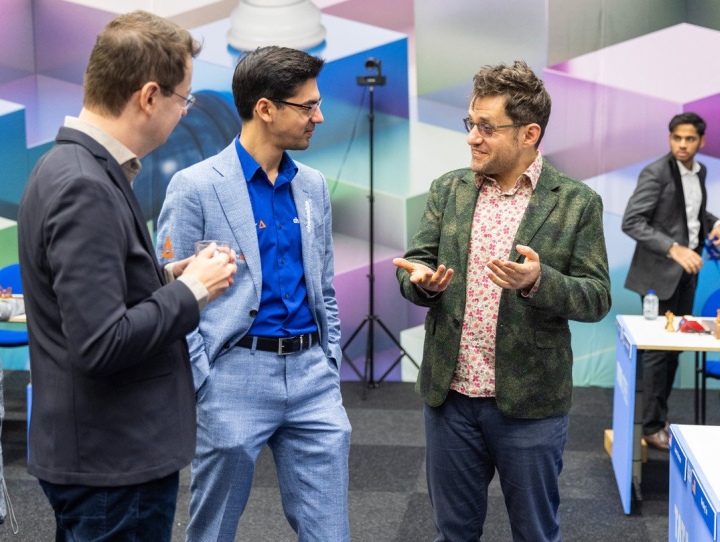 Vincent Keymer – Arjun Erigaisi ½–½
Vincent Keymer essayed an innocuous Colle System with Be2, the line that does not offer White much. Black quickly got a comfortable position, and soon it was White who had to demonstrate some accuracy. After Vincent got rid of his backward c-pawn, the opponents traded most of the pieces and split a point in an equal rook endgame.
Jorden Van Foreest – Gukesh D ½–½
The young Indian played a sharp line of the Sicilian Defense, to which Van Foreest reacted with a rare 7.Qd3. White achieved a promising position as Black's king got stuck in the center, but Gukesh found an original manoeuvre and made an artificial long castling to solve most of his problems. After trading the rooks and a couple of minor pieces, White had a small edge thanks to two bishops, but Jorden decided not to test the opponent's endgame technique.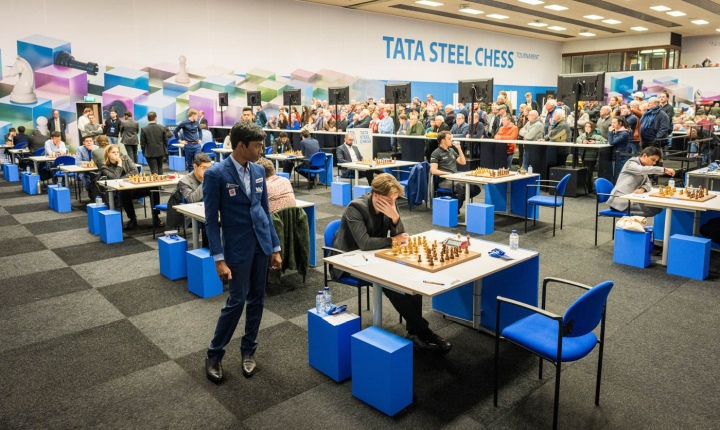 January 18 is the rest day at Tata Steel Masters. The players will return over the boards on January 19 at 2 PM local time.
Standings after Round 4: 1-2. Nodirbek Abdusattorov, Anish Giri – 3; 3-4. Fabiano Caruana and Rameshbabu Praggnanandhaa – 2.5; 5-9. Magnus Carlsen, Levon Aronian, Ding Liren, Wesley So, Arjun Erigais – 2; 10-13. Richard Rapport, Praham Maghsoodloo, Vincent Keymer and Jorden Van Foreest – 1.5; 14. Gukesh D – 1.
Photos: tatasteelchess.com, Jurriaan Hoefsmit and Lennart Ootes