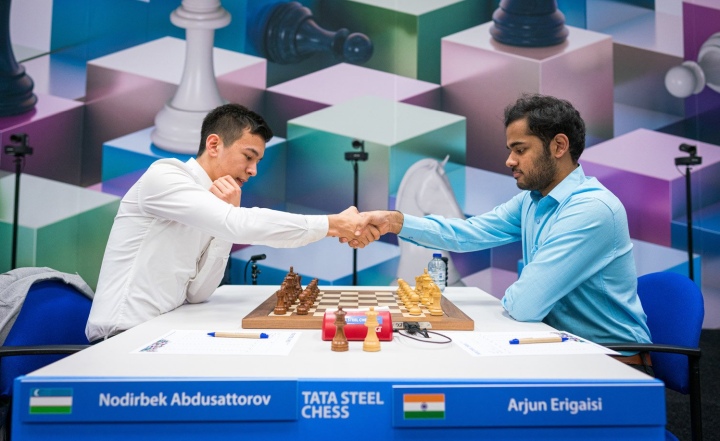 As many as four games ended in victories in the "bloodiest" seventh round at the Tata Steel Masters. Nodirbek Abdusattorov broke away from his closest rivals, increasing the gap to a full point, while Wesley So and Praggnanandhaa joined Anish Giri and Fabiano Caruana, tying for second place.
Arjun Erigaisi – Nodirbek Abdusattorov 0-1
After getting a slight edge in a rare line of Petrov Defence, Arjun let his guard down and allowed Nodirbek to create a dangerous counterplay based on his advanced d-passer. Just a few moves down the road, White's activity on the kingside backfired as Black quickly transferred his queen and started probing weaknesses. To make things even worse, Erigaisi traded his h5-pawn for the opponent's b7-pawn and fell under heavy pressure. In the final portion of the game, we saw Abusattorov at his best as, with a series of energetic blows, the Uzbek GM shattered White's defences and scored his fourth victory in the event.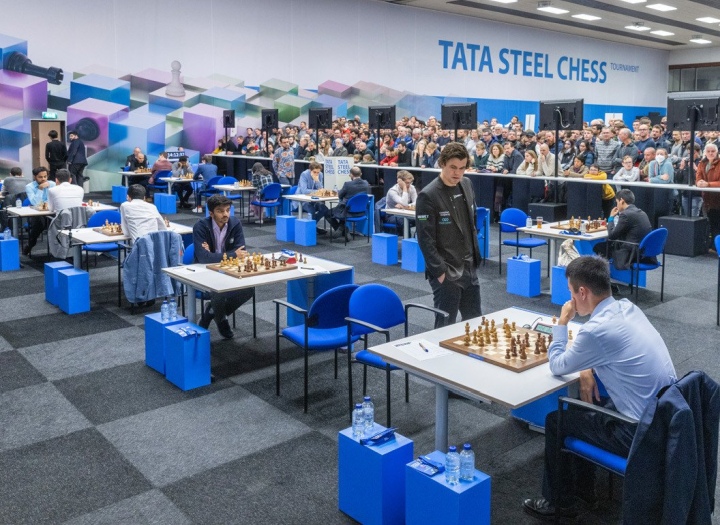 Parham Maghsoodloo – Fabiano Caruana ½–½
In arguably the most exciting game in Round 7, Parham emerged slightly better in the Ragozin Defence, but his plan of f2-f3 followed by e3-e4 backfired, as Fabiano regrouped his pieces traded in the center and put some pressure on the d4-pawn. The American then sacrificed a pawn but got sufficient compensation in the form of very active pieces. He soon restored material equilibrium, but White pinned his hopes on his b-passer, although objectively, the position was in balance.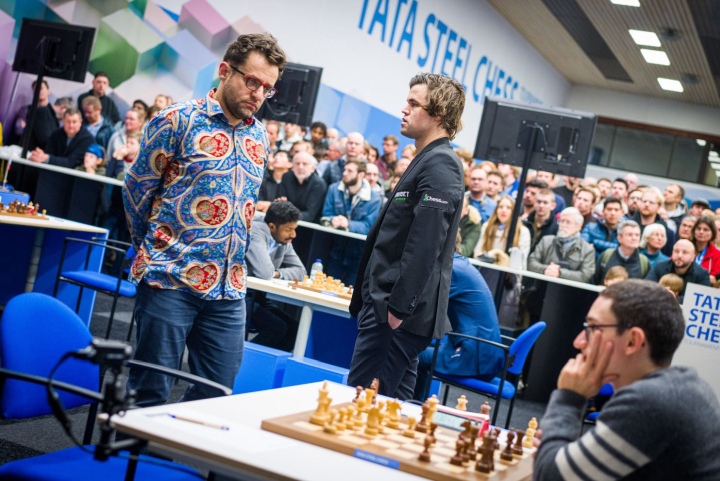 Trying to win at any cost, Parham crossed a fine line – he advanced his pawn to b7 but lost a piece along the way. Fabiano had to trade his bishop for the b-passer but snatched the h-pawn to liquidate into queen endgame with an extra pawn and White's king misplaced.
A seven-piece tablebase evaluates the ending as won for Black, and Caruana came very close but being short on the clock, he missed a couple of winning continuations and allowed Maghsoodloo to transfer his king to back to his camp, securing a draw.
Praggnanandhaa R – Jorden van Foreest 1-0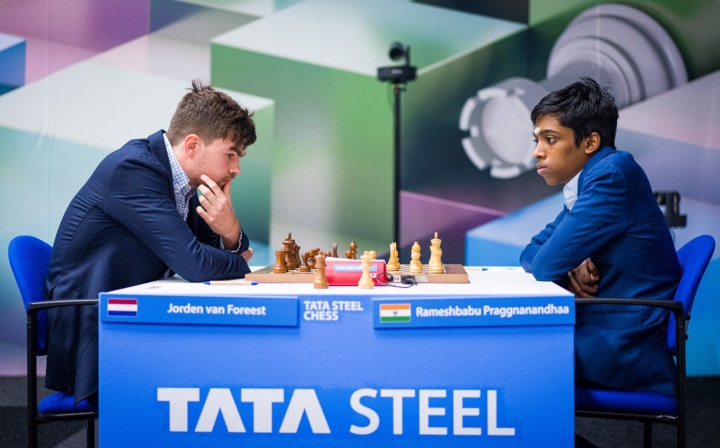 The Dutch GM introduced a very interesting pawn sacrifice in Chebanenko Variation of Slav Defence (10…b4 followed by 11…Rb8 and 12…a5) and got some compensation, but just a few moves down the road made a grave mistake that turned his position from playable to strategically hopeless.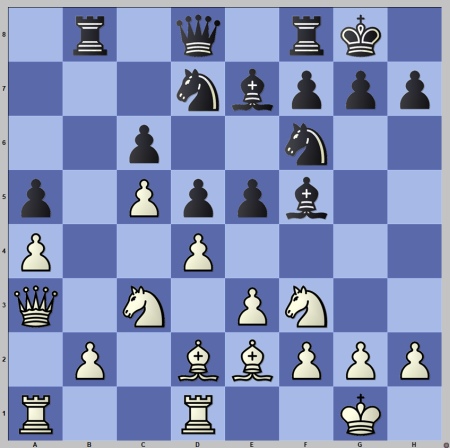 Instead of maintaining the tension, Black closed the center with 15…e4? The rest of the game, although it required precision from White, was one-way traffic. Slowly but surely, Praggnanandhaa traded some pieces, advanced his passer and infiltrated into Black's camp. As soon as Black's c6-pawn fell, Van Foreest capitulated.
Gukesh D – Wesley So 0-1
The American GM comfortably equalized in a topical line of Ruy Lopez but then first missed an interesting sacrifice (17…Bxh3) and then misplaced his knight on h5 and handed White a clear advantage. Most likely Wesley missed 20.Nh4 followed by a very strong 21.Qd1. However, Gukesh failed to capitalize and buckled under pressure.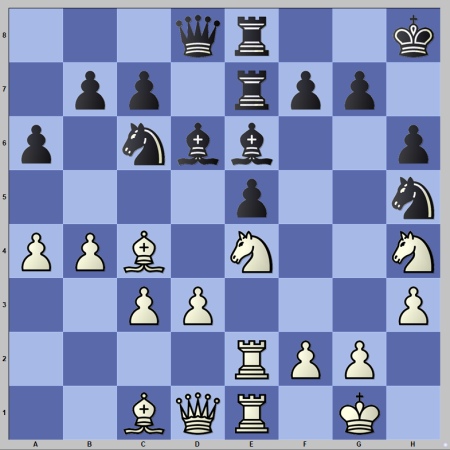 After 22. g3 Bxh3 23. d4 White would have an overwhelming advantage. The Indian youngster missed this opportunity, and, a few moves later, blundered a pawn and quickly packed it in.
Magnus Carlsen – Richard Rapport 1-0
The World Champion deviated from the main theoretical lines of the Petrov Defence and got a fresh position with mutual chances. This approach paid off surprisingly quickly as Rapport chose the wrong version of piece sacrifice, then added another one to the fuel of his attack, only to resign on move 36.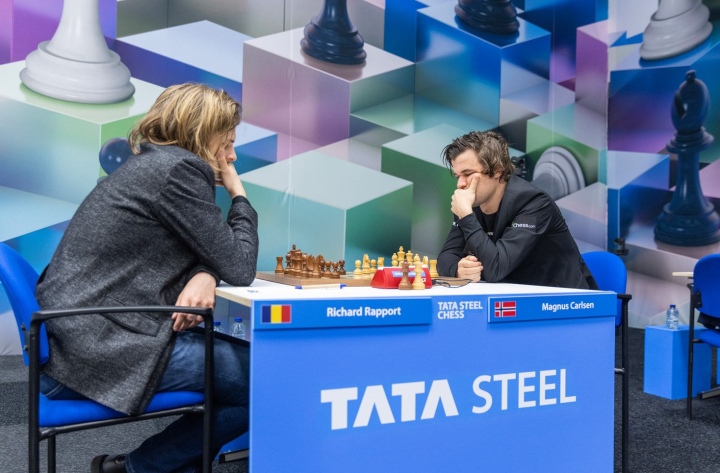 Vincent Keymer – Ding Liren ½–½
The German GM quickly obtained a sizable advantage in his pet line of English Opening after Ding overoptimistically played 11..Ba6 and traded the pawns in the center. Keymer increased pressure with a series of precise moves but when the time came to reap the harvest, he suddenly switched to reverse gear.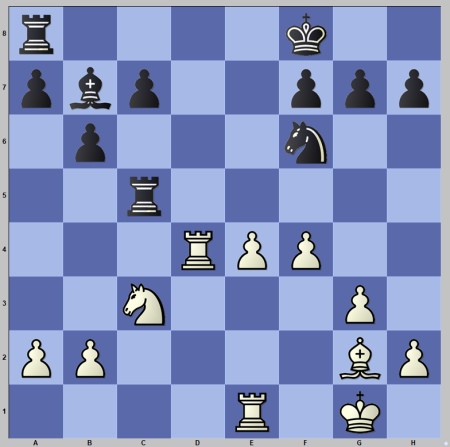 After natural 21. e5 Bxg2 22. Kxg2 Ng8 23. Rd7 White would have got an overwhelming position. Instead, Vincent started hovering around and allowed Black to greatly improve his situation.
Keymer got a new chance in the rook ending, but again, instead of the most natural and winning continuation, he played differently and let Ding get off the hook.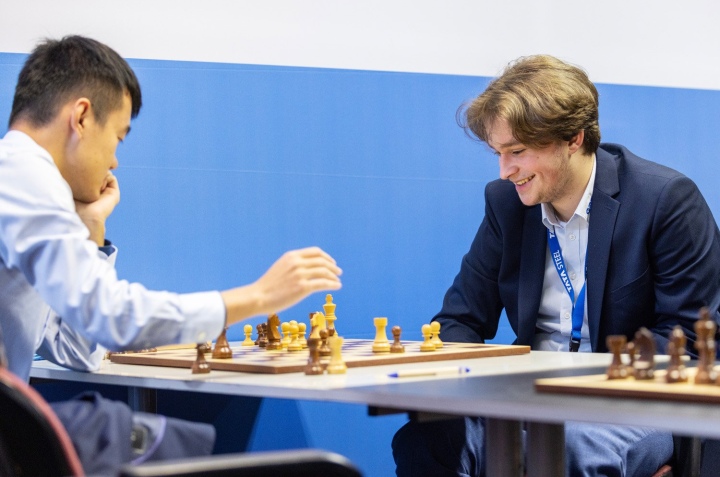 Levon Aronian – Anish Giri ½–½
After slow manoeuvring in a balanced position that emerged from the Italian Game a burst of activity in the center resulted in massive exchanges and a quick draw.
Standings after Round 7: 1. Nodirbek Abdusattorov – 5.5; 2-5. Rameshbabu Praggnanandhaa, Anish Giri, Fabiano Caruana and Wesley So – 4.5; 6. Levon Aronian – 4; 7-9. Parham Maghsoodloo, Ding Liren and Magnus Carlsen – 3.5; 10. Arjun Erigaisi – 3; 11. Richard Rapport – 2.5; 12-13. Vincent Keymer and Jorden Van Foreest – 2; 14. Gukesh – 1.5.
Photos: tatasteelchess.com, Jurriaan Hoefsmit and Lennart Ootes