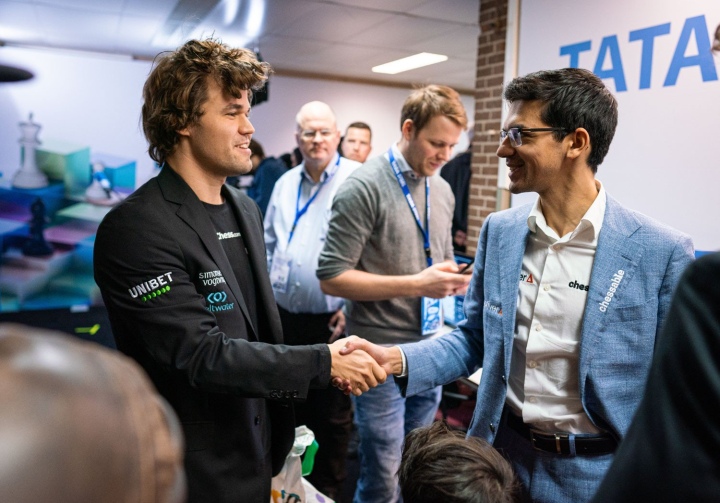 In a dramatic turn of events, Anish Giri beat Richard Rapport and leapfrogged Nodirberk Abdusattorov, who suffered a painful defeat at the hands of Jorden Van Foreest. Anish finished a half-point ahead of Nodirbek and won his home tournament for the first time in his career. Magnus Carlsen outplayed Arjun Erigaisi and tied for second place with Abdusattorov but came third due to inferior tiebreaks. Parham Maghsoodloo also ended on a high note besting Levon Aronian.
Anish Giri – Richard Rapport 1-0
Richard Rapport essayed a rare line 6…g6 in the Sicilian Rauzer allowing White to disrupt his pawn structure. Black timely played thematic f6-f5 and nearly equalized but Giri still had a slight edge. Anish got a chance to increase his advantage with 29.Bxe6 followed by 30.h4, but after the Dutchman opted for innocuous 29.Bd5, the worst was behind Rapport. Giri tried the last push in an equal position, and surprisingly, it worked out for him.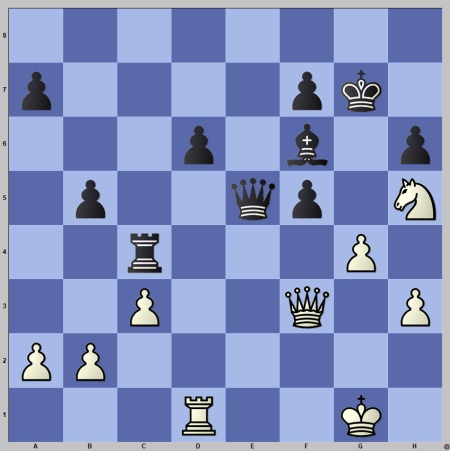 After 34…Kg8 (Kh8, Kh7 Kf8) Black is out of danger, but Richard chose the only self-defeating square 34…Kg6?? apparently missing 35.Rxd6! Black's position collapsed, and he capitulated just a few moves later after 35…Kg5 36. Rd5 Qe1+ 37. Kg2 Be7 38. Rxf5+ Kh4 39. Qg3+ 1-0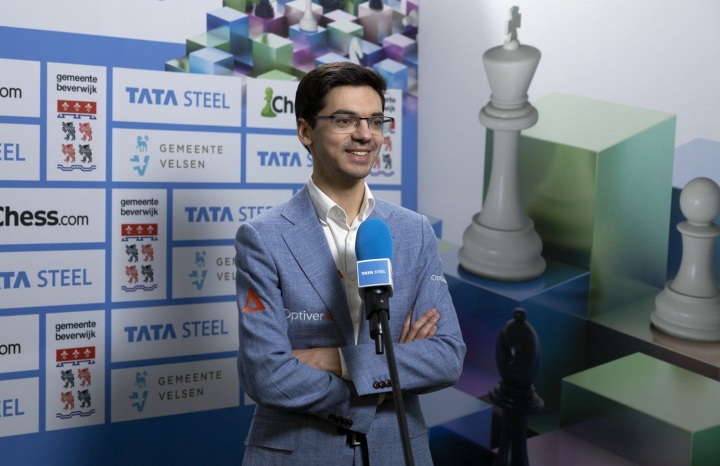 Nodirbek Abdusattorov – Jorden Van Foreest 0-1
The game saw a rare line of the Sicilian Taimanov in which White traded the queens and steered into a slightly better maneuvering endgame. With 16.g5 followed by 17.f4 Nodirbek shut down Black's g8-knight but made some positional concessions of the e5-square and potentially weak g5-pawn. White should have struck on the queenside with a2-a4 at some point, but Abdusattorov continued maneuvering instead. Later on, he planted one of his knights on f6 but then committed a serious inaccuracy by trading it for Black's passive g8-knight. Little by little, Van Foreest got to White's weak pawns, inflicted defeat on the leader, and helped his compatriot win the event.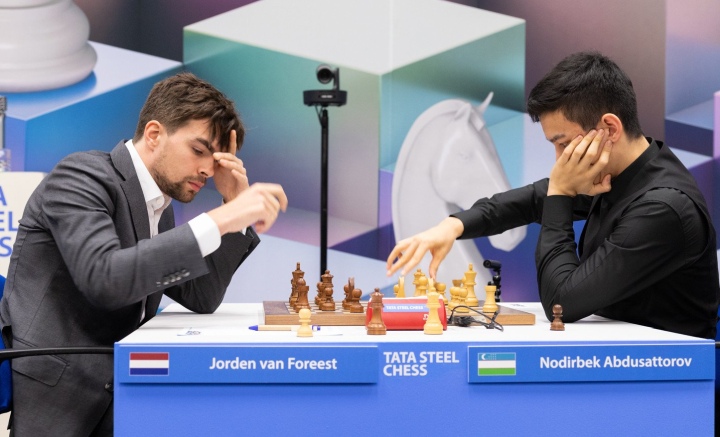 Arjun Erigaisi – Magnus Carlsen 0-1
Eager to win, Carlsen opted for the double fianchetto and got an offbeat, fresh position, which gradually transformed into King's Indian type of structure. Erigaisi played somewhat sluggishly and allowed Magnus to grab initiative with 17…a4, but the World Champion missed this chance, and the position became equal again.
In the subsequent play, White gradually evacuated his king to the queenside while Black sacrificed a piece on g4 for two pawns and got full compensation and good practical chances. Arjun held his ground for quite a while, but after passing the time control, he lost his way, returned a piece in a wrong situation (he could have done it earlier, maintaining equality) and found himself in a hopeless position. The final portion of the game was a smooth sail for Carlsen, who won effortlessly.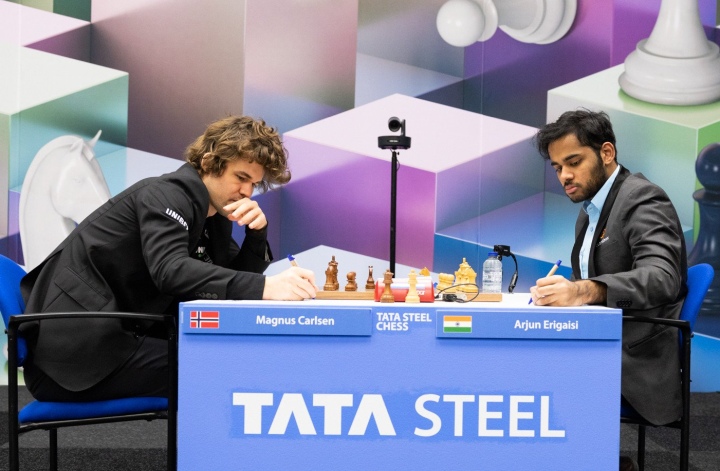 Ding Liren – Fabiano Caruana ½–½
The opponents decided to leave the tournament behind as soon as possible in made a quick draw in the Ruy Lopez.
Praggnanandhaa R – Wesley So ½–½
The American played his pet Semi-Tarrasch line in which Black sacrificed a pawn for the initiative. The opponents seemed to follow their home preparation for quite a while, but when the dust settled, an equal endgame emerged on the board. White managed to win a pawn, but it did not change the evaluation of the position even by a fraction, and the opponents shook hands on move 44.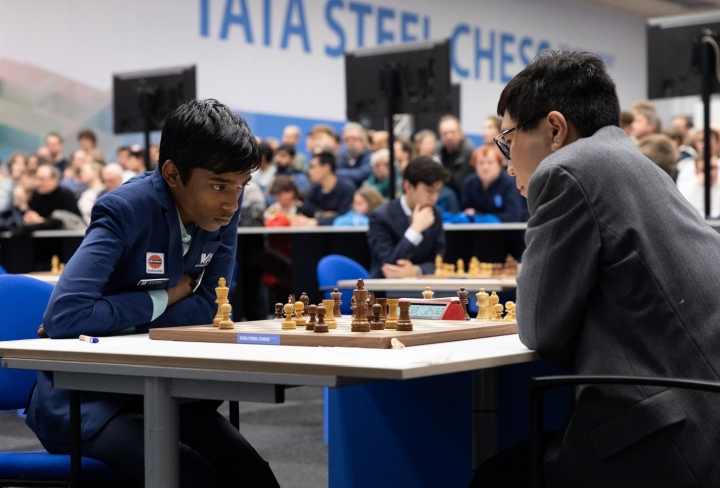 Levon Aronian – Parham Maghsoodloo 0-1
The opponent tested a popular line of the Sicilian Najdorf in which White got an edge after Black wasted a couple of tempi with Nf6-e8-f6. In the following maneuvering Levon played somewhat hesitantly and let his opponent make the thematic exchange sacrifice on c3. Black got some compensation but hardly more. However, just a few moves later, Levon miscalculated and played 26.c3? hoping to regain the pawn after 26…dxc3 later on. It was not the case, though, as Parham clung to this pawn, which eventually cost White an exchange. Soon it came down to a queen endgame where Black's a-pawn freely advanced to a2, forcing Aronian to capitulate.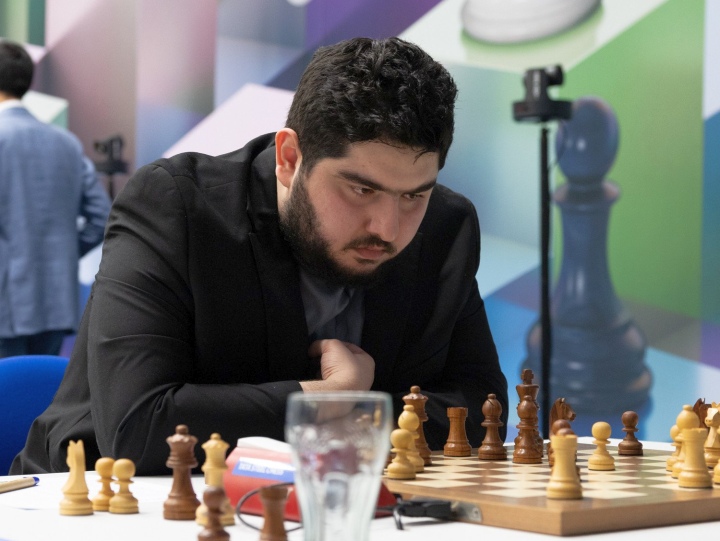 Vincent Keymer – Gukesh D ½–½
The Indian mixed up two plans in the Nimzo-Indian, and the German immediately grabbed the initiative by striking in the center. However, to keep the ball rolling, Keymer had to find a quite unorthodox move 15.Qb3! allowing Black to ruin his pawn structure on the kingside. Vincent did not, and the opponents quickly traded most of the pieces and sealed the piece in a dead-equal position.
Final standings: 1. Anish Giri – 8.5; 2. Nodirbek Abdusattorov – 8; Magnus Carlsen – 8; 4. Wesley So – 7.5; 5. Fabiano Caruana – 7; 6. Parham Maghsoodloo – 7; 7. Levon Aronian – 6.5; 8. Richard Rapport – 6.5; 9. Rameshbabu Praggnanandhaa – 6; 10. Jorden Van Foreest – 6; 11. Ding Liren 5.5; 12. Gukesh D – 5.5; 13. Vincent Keymer – 5; 14. Arjun Erigaisi – 4.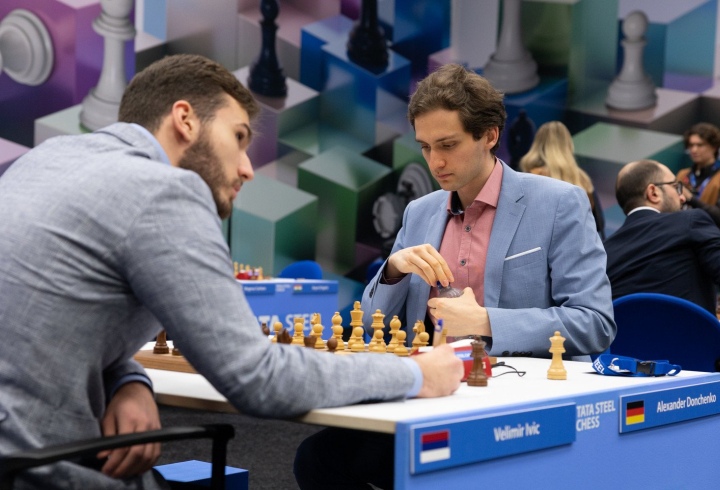 Alexander Donchenko (pictured above, right) emerged as the winner of the Tata Steel Challengers after beating Velimir Ivic in the final round. The champion scored 10/13, finished a point clear of Mustafa Yilmaz and punched his ticket to the next year Tata Steel Masters next year. Stefan Beukema won the Amateur section and qualified for the Challengers next year.
Official website: tatasteelchess.com
Photos: tatasteelchess.com, Jurriaan Hoefsmit and Lennart Ootes