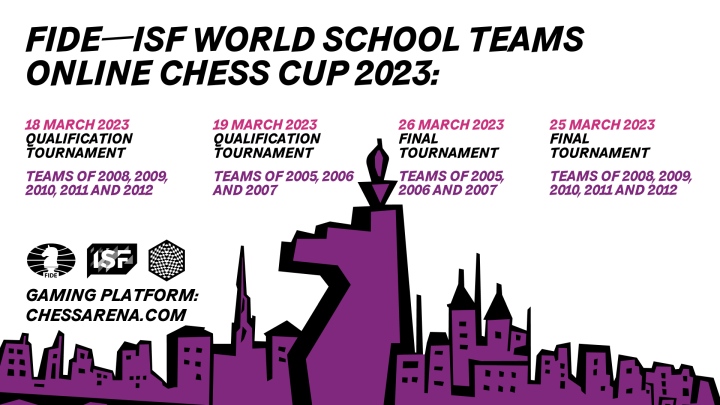 FIDE, ISF (the International School Sport Federation) and World Chess are proud to announce the FIDE - ISF World School Teams Online Chess Cup 2023, taking place in March 2023. This exciting event provides a platform for schools from FIDE and ISF member countries, as well as students from around the world*, to connect with chess enthusiasts from across the globe and showcase their skills in an official international chess tournament.
With chess in schools becoming increasingly important, organizers of the FIDE - ISF World School Teams Online Chess Cup 2023 are eager to support this initiative to integrate chess into the school educational system.
"Chess is a unique game - both extremely sportive and educational. We are excited to organize the Online Schools Chess Championship together with ISF. It is a great event that we hope will create a competitive mood but also motivate the school leaders to engage their students in further training and learning," says FIDE President Arkady Dvorkovich.
The tournament will feature two age categories, U15 and U18, with an expected 200 teams from around the world participating. Each school team must consist of 4 to 7 full-time students from the same school.
The winners and medalists will be rewarded with exclusive team training sessions with world-famous grandmasters, chessboards signed by the GMs, subscriptions for the World Chess Masterclasses program, and FIDE Online Arena premium membership packages.
The tournament will be held online on the FIDE Online Arena, with the final stage broadcast live on World Chess and FIDE's YouTube channels.
The program of the FIDE - ISF World School Championship Online Chess Cup 2023:
March 18 2023: Qualification tournament 2008, 2009, 2010, 2011 and 2012 – Teams
March 19 2023: Qualification tournament 2005, 2006 and 2007 – Teams
March 25 2023: Final tournament 2008, 2009, 2010, 2011 and 2012 – Teams
March 26 2023: Final tournament 2005, 2006 and 2007 – Teams
The tournament registration will begin on February 06 and be open until March 11, 2023, at isf.fide.com
The Bulletin for the FIDE - ISF World School Teams Online Chess Cup 2023 can be found here:
wctour-images.worldchess.com/files/Bulletin_v2.pdf?_ga=2.36026080.1730883558.1675861644-801562242.1640172432
* Except for schools from Russia and Belarus.
---
About International School Sport Federation (ISF)
Founded in 1972, the International School Sport Federation (ISF) is an international non-profit sport organization, acting as the umbrella organization and governing body for national school sport organizations around the world, organizing sport, and educational events for youth from 6 to 18 years old.
Recognized by the International Olympic Committee (IOC) since 1995, the ISF currently consists of 132 members all over the five continents organizing over ten events per year and has more than 30 different sports included in its competition, key vision of ISF , A world where sport and education provide opportunities for all students to empower themselves and to become active citizens and to foster healthier communities.
For more information visit ISF website: https://www.isfsports.org
In September 2021, FIDE and ISF signed a memorandum of understanding to ensure the development and promotion of chess through school sport. The document signed within the framework of the School Sport Forum held in Serbia encourages and supports the education of youth through chess sport and culture, contributes to the social and intellectual development of youngsters, and promotes chess sport and chess in education on a local and international level.
About FIDE
The International Chess Federation (FIDE) is the governing body of the sport of chess, and it regulates all international chess competitions. Constituted as a non-governmental institution, it was recognized by the International Olympic Committee as a Global Sporting Organization in 1999.
FIDE currently has its headquarters in Lausanne, but it was initially founded in 1924 in Paris under the motto "Gens una Sumus" (Latin for "We are one Family"). It was one of the very first International Sports Federations, alongside the governing bodies of the sports of Football, Cricket, Swimming, and Auto Racing. It is now one of the largest, encompassing 199 countries as affiliate members in the form of National Chess Federations. Chess is nowadays a truly global sport, with dozens of millions of players on all the continents and more than 60 million games on average played every day.
About World Chess
World Chess is a London-based chess gaming and entertainment company and FIDE's official commercial partner. World Chess organized the FIDE Championship Matches in the USA and the UK, and revolutionized the sport by signing the biggest media partnerships in history. World Chess develops Armageddon, the chess league for prime-time television. World Chess also runs FIDE Online Arena, the exclusive official chess gaming platform. More at worldchess.com.