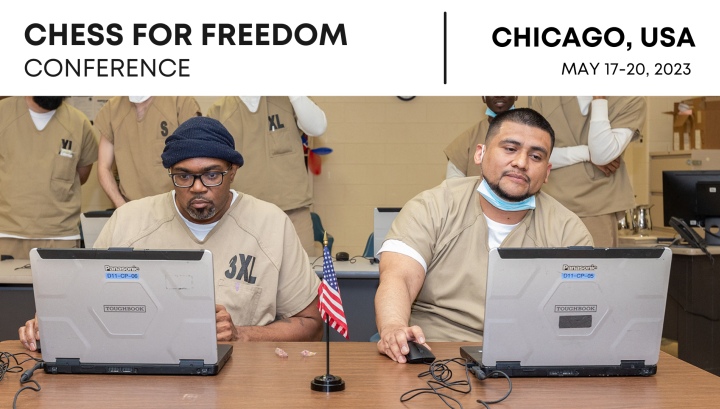 FIDE and the Cook County Sheriff's Office (Chicago, USA) have revealed the first group of speakers for the Chess for Freedom conference taking place from the 17th to 20th of May, 2023, in Chicago, USA. The first in-person Chess for Freedom Conference features many experts from the worldwide chess community that will take the stage over three days to introduce more than a few new concepts and approaches to using chess as a rehabilitation tool for incarcerated people.
Sergejs Klimakovs is FIDE Master from Latvia. He is the Leader of the National Correspondence Chess Team of Latvia and has 15 years of experience working as a coach with talented youth. Sergejs is also a voluntary Chess for Freedom trainer in Latvian prisons. In October 2022, Latvian inmates trained by Sergejs Klimakovs participated in the 2nd International Online Chess Championship for Prisoners. His topic at the conference will be "How to turn a crowd into a united chess team? A voluntary work experience in three different prisons in Latvia."
Franck Droin chairs the ECU Social Commission and the "Santé Social Handicap" Commission of the French Chess Federation. In this capacity, he leads and creates many programs to develop chess in the social sphere, including chess projects for educating and empowering prisoners. In Chicago, he will present an overview of the Chess for Freedom project in Europe.
Founder of the nonprofit organization "The Gift of Chess" Russell Makofsky and Kansas Secretary of Corrections Jeff Zmuda will discuss implementing a chess program in correctional facilities statewide. In December 2022, the 1st annual Kansas Department of Corrections Chess Championships were held. It was a long-awaited event that the entire Gift of Chess team coordinated, organized and believed would come to fruition.
Sonja Johnson is the President of the Trinidad and Tobago Chess Association. She introduced the Chess for Freedom initiative to the prisons' programmes team in her country in July 2021, and it has received the full backing of the Trinidad and Tobago Prisons Service. From the federation to the ministry of communication – everyone was involved in making the national team play in the International Online Chess Championship for Prisoners. Sonja will share her experience on how to run the Chess for Freedom program for male, female, and youth correctional facilities in a small country.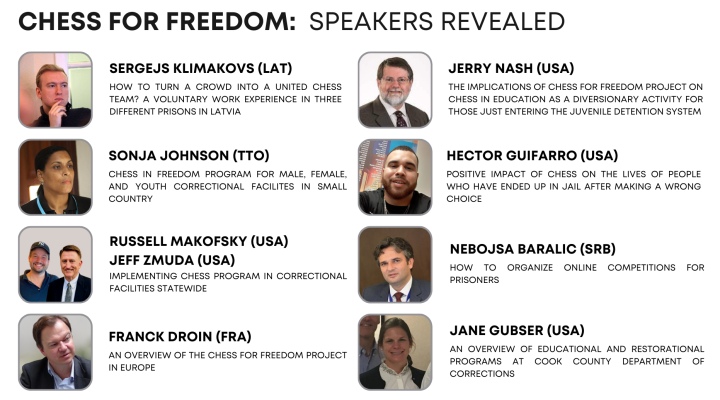 Professor Jerry Nash is the Chair of the FIDE Chess in Education Commission and FIDE Developmental Instructor, whose professional experience is centred on teaching. A long-standing educator who is passionate about helping others, Nash asserts: "Chess can really positively alter the environment by improving people's behaviour and engagement". At the conference, he will talk about the implications of the Chess for Freedom project on chess in education as a diversionary activity for those just entering the juvenile detention system.
Hector Guifarro will be one of those proving by personal example that the game has a positive impact on the lives of people who have ended up in jail after making a wrong choice. A former convict picked up chess while serving his sentence, and, in his telling, it saved his life in prison — and is saving it now. At the conference, Hector will speak on how the game helps people to find another chance in life.
Nebojsa Baralic is FIDE International Arbiter and Organizer, FIDE Instructor, and Arbiters' Commission Secretary. He is also Chief Advisor to the President of the Serbian Chess Federation and Director of the 2nd FIDE Intercontinental Online Chess Championship for Prisoners. On October 2022, Serbia was the only country to win two medals in the event – taking gold in the youth tournament and silver in the women's section. He will share his experience on how to conduct online competitions for prisoners.
Dr Jane Gubser is the Executive Director at the Cook County Department of Corrections. In 2012 Cook County Sheriff Tom Dart launched a chess program at the county jail in the hopes that inmates can take what they learn from a game that rewards things like patience and problem-solving and apply it to their own lives. The program has grown, with about 3,000 individuals in custody participating over the last ten years. About 50% of these people were completely new to chess, and they learned the game from scratch. Jane Gubser will present an overview of educational and restoration programs at the Cook County Department of Corrections and the results of ten years of implementing a chess program for the incarcerated population.
Chess for Freedom Conference schedule:
May 17th: Guests arrive.
May 18th: Cook County Jail tour (includes meeting with CCDOC administration and Program's staff).
May 19th: Conference plenary session featuring various breakout topics.
May 20th: Sightseeing throughout downtown Chicago.
May 21st: Guests departure.
Chess for Freedom Conference – Lodging Details
The official hotel for the Chess for Freedom Conference is the Hyatt Place Chicago/Schaumburg, located at 1851 McConnor Parkway in Schaumburg, Illinois (60173). Please click this link above for special conference rate details.
All attendees are required to register for the conference via this link.
Chess for Freedom Conference – Contact Information
Mikhail Korenman
Chess Program Coordinator at CCDOC,
FIDE International Chess Organizer and Member of FIDE Social Commission
E-mail: Mikhail.Korenman@ccsheriff.org
WhatsApp.: +1-785-906-0402