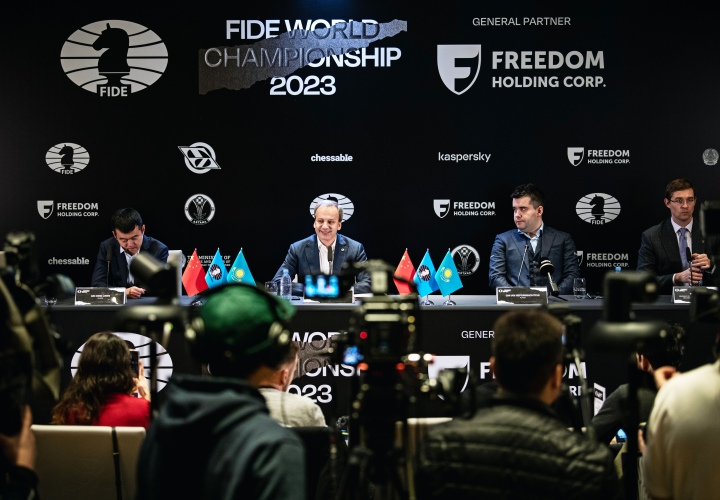 The two contenders for the title of World Champion held their cards close in front of the media, revealing only snippets of intriguing information
The first press conference of the 2023 FIDE World Chess Championship Match took place at the Press Centre room of the St Regis Hotel in Astana. The press conference was a momentous occasion as the players and officials gathered to discuss the upcoming match that will determine the 17th world champion in chess.
The speakers at the conference were FIDE President Arkady Dvorkovich, Timur Turlov, Founder and CEO of Freedom Holding Corporation, General Partner of the FIDE World Championship as well as the two players – Grandmasters Ian Nepomniachtchi and Ding Liren.
Parallels with the 1948 World Chess Championship
The first to address the press was FIDE President Arkady Dvorkovich who said that this match represents "the flagship competition for the whole chess world and FIDE."
Drawing parallels with the 1948 World Chess Championship, FIDE President Arkady Dvorkovich highlighted the significance of this year's event.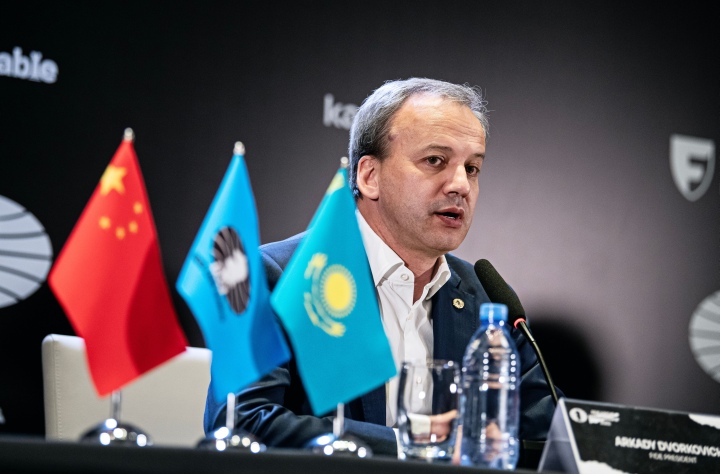 "Back in 1948, after Alexander Alekhine passed away, FIDE decided to organise a tournament between six players to determine the new World Champion. The players who were due to take part were Max Euwe, Mikhail Botvinnik, Paul Keres, Salo Flohr, Samuel Reshevsky and Reuben Fine. Unfortunately, Fine decided just a few days before the match to pull out, and there was no time for a substitute, so it was a round-robin tournament between five players. Two games were played in the Hague, three in Moscow and the Match was won by Botvinnik."
Dvorkovich was referring to the fact that the current World Champion Magnus Carlsen opted to give up his crown so that this match has to have a different form, to be a duel between two challengers.
"You can draw some parallels between 1948 and now, but all parallels are artificial", the President of FIDE said.
From Argentina to Astana – how the host city was chosen
Dvorkovich also spoke about the way Astana was chosen to host the match.
"The match was supposed to take place in Argentina as they were the main bidder. We then received a very serious bid from Kazakhstan, and we decided to host it here. We are very grateful to them for hosting us… Also, it is more convenient for spectators both in China and Russia to watch the match in a country which is in between, just because of the time zones. Finally, for Kazakhstan itself, this event will create a great impetus for chess", Dvorkovich said.
Honour and opportunity: Why Kazakhstan decided to host the match
Timur Turlov, Founder and CEO of Freedom Holding Corporation, which is the General Partner of the FIDE World Championship, noted that the decision to host the Match in Kazakhstan was "simple", given the ambitions his country has both in chess and globally.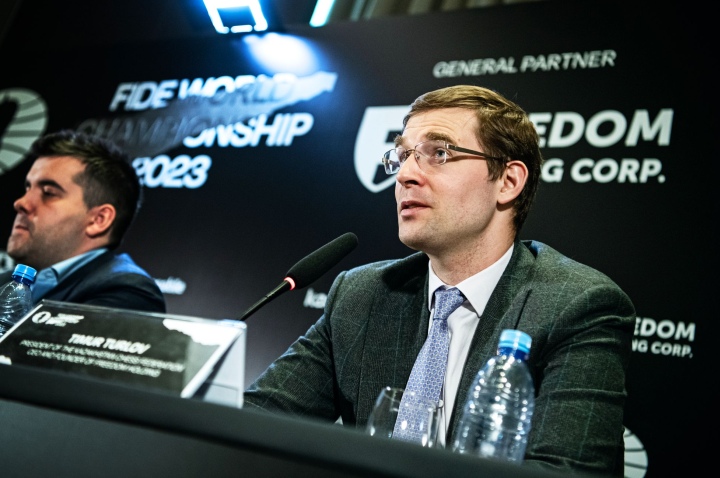 "We have a very strong culture of playing chess [in Kazakhstan]. We have a very strong women's team, we have a lot of kids, and this kind of sport is growing very fast in popularity. Kazakhstan can benefit much from this unique event. We want to use this opportunity to attract more attention to our country as a sports nation and to inspire more children to take up chess and see the social and professional opportunities in this sport".
In recent years Kazakhstan has increased efforts to promote itself to the world, and chess is one of the paths to that goal. Kazakhstan has hosted huge chess events, including the first leg of the Women's Grand Prix as well as the World Rapid and Blitz Chess Championships. This is the first time the country is hosting a match for the title of world champion.
"Hosting this event is a huge honour for us. It's a chance for many of our chess players and professionals to touch the chess legends, see them in person here, in our capital, to experience the spirit of this great event. As a nation, we can show a high level of hospitality and we hope to continue hosting the best chess events in the world, to continue to promote our country," Turlov said.
The players speak
It was time to turn to the players to speak. Despite efforts of the press, they kept their responses mostly short.
Asked about how important is it to have the experience of playing one championship match already, Nepomniachtchi responded briefly: "It's important, but it's not everything, so I wouldn't overestimate that".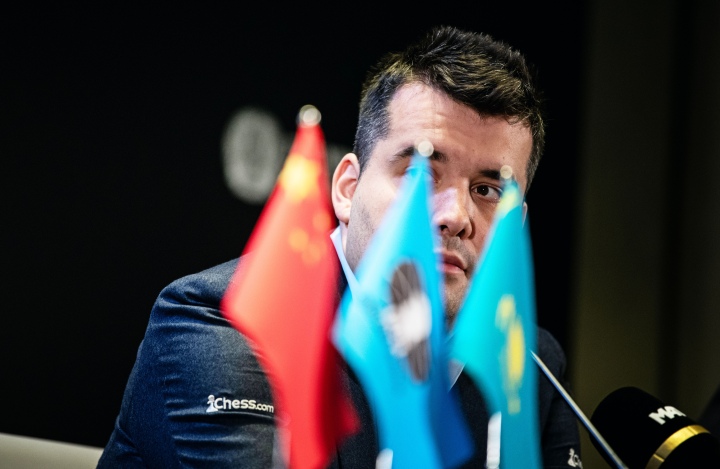 When quizzed on what changes he made in his strategy in comparison to the Match in Dubai in 2021, Nepomniachtchi was again very brief: "It's too early to reveal".
Nepomniachtchi, however, did confirm that his team of seconds has been strengthened with new members and that he hopes it will provide him with some novelties in the match.
"I hope my skills have improved somewhat. As to my team preparation, I'd prefer not to expose anything. Some of the members of the team have been with me for a long time, but I have some new team members, so I hope my preparation has improved."
World No. 3 Ding Liren was asked to comment on the responsibility this match has put on him in light of the chance of becoming the first Chinese player in history to become a World Champion.
"Sometimes I think about becoming the first Chinese world champion as well as the 17th World Champion and writing my name in history. If I can do that, it will be a huge glory".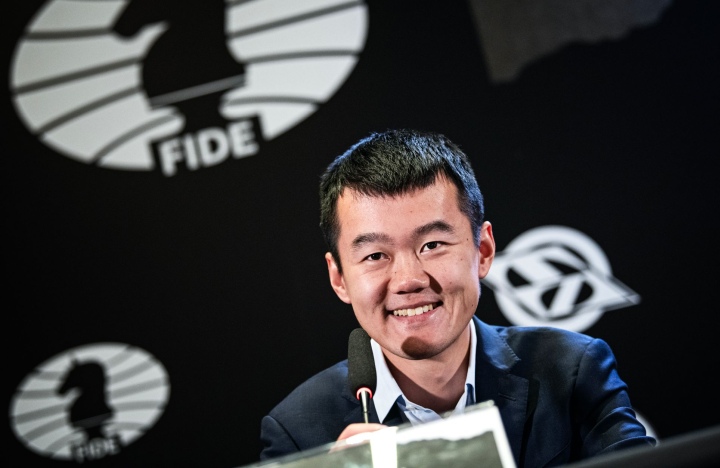 Ding also noted that many people in China started to follow chess because of the match.
He confessed that the decision of Magnus Carlsen not to play in the match – which ultimately meant that he would be the one taking part as a runner-up from the Candidates – surprised him.
"I was surprised. Magnus not playing has surprised me a little bit."
Ding was also asked about the support he has from the Chinese government.
"The chess association know my personality and they helped me make a team that can help me feel happy".
When pressed on whether he had many any of the top members of the Chinese government ahead of the match, Ding replied, "Not yet."
The Chinese Grandmaster was also quizzed about the size of his team of assistants in Astana. He confirmed that his team involves people who are in Astana but also those who work remotely and that in Kazakhstan, he has fewer seconds with him than the Candidates in Madrid.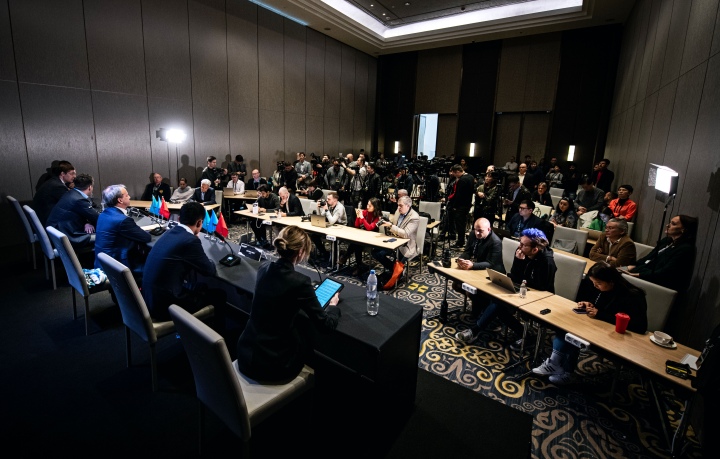 Dealing with defeat
Both players were asked about how they deal with losing.
Ian Nepomniachtchi: "Frankly speaking, it's always unpleasant but it's part of the job. I've been playing chess since I was four or five. You can't play chess if you can't handle your losses. But the key is to try and minimise your losses".
Ding Liren: "Losing is extremely tough. Sometimes I don't like to give autographs or take a photo with fans. I just want to leave the playing hall as soon as possible so nobody can see me. I like to be left alone and take time to recover".
Relaxing during the match
Speaking about relaxation, the players said they do plan to go out of the hotel, but not immediately.
"For the moment, I can have some sightseeing from my room. I'm on the seventh floor and have a nice view", Ian Nepomniachtchi said.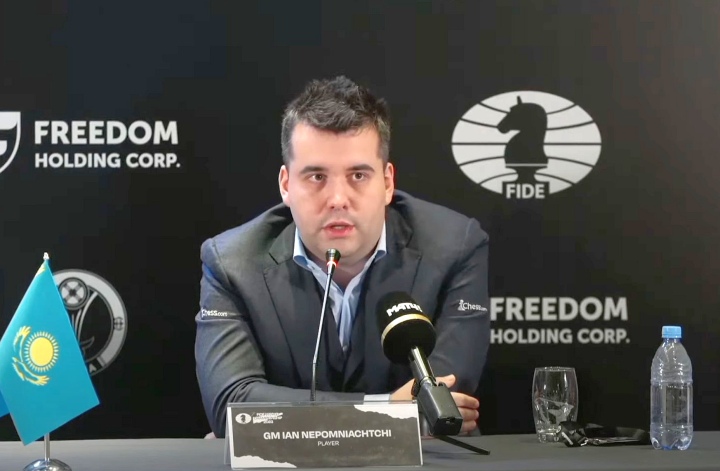 "I'm trying to walk around near the river and in the park. I have been here [in Astana] four years ago, so I know this place."
Ding said that he has been out already and that walks are important for him to clear his head. "But there's snow here, and it's April", he noted.
If you could compare your chess style to an animal…
The biggest moment of frankness in the press conference came from Nepomniachtchi when he was asked to compare his style of play to an animal.
"On a bad day, I play like an ape", Nepomniachtchi said.
Finding the right chair
Every detail has to be looked after in organising the world championship match and that also includes the things such as choosing the right furniture for the players, in particular – chairs.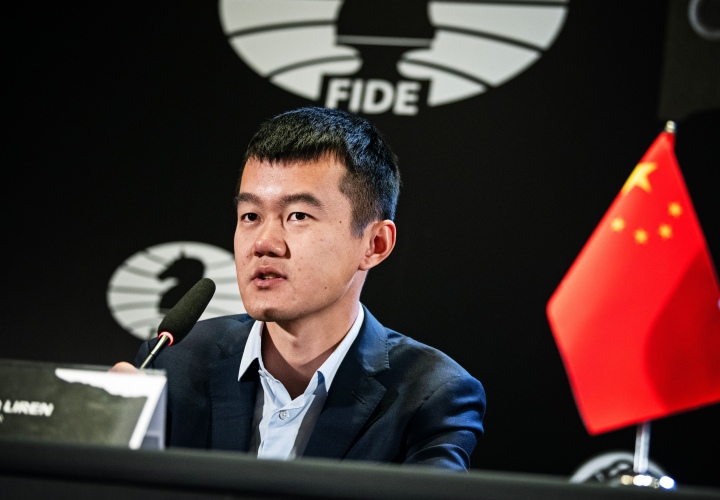 Ding Liren revealed that he had spent a lot of time testing various chairs for this event until he found the one he was most comfortable with.
Who do the champions look up to?
Both players were asked who their role models were in chess.
Nepo had one choice: "When I was five or six, I was very fond of Alekhine, the first-ever Russian world champion. I tend to think that you can basically learn from any chess player, including world champions but not necessarily only from them".
Ding gave a more detailed response: "I can say I have four. Kasparov, when I was very young, I enjoyed his games and books. The second one is [the Spanish player] Francisco Vallejo Pons. Third, Veselin Topalov. I really enjoyed the match against Anand. This was when I was a teenager. And the last one is Magnus Carlsen as he is the best among our generation and I learnt a lot from him".
If the players were given the option to have an additional month of preparation, they were asked whether they would take it.
Ian Nepomniachtchi gave a quick response, which was met with Ding's approval: "We had enough of waiting."
This question was also the final one in the press conference.
The speeches are over. Now it's time to let the chess pieces speak. The countdown has begun, and in under 24 hours, the battle for the 17th world champion in chess will commence.
Text: Milan Dinic
Photo: Stev Bonhage
Official website: worldchampionship.fide.com/