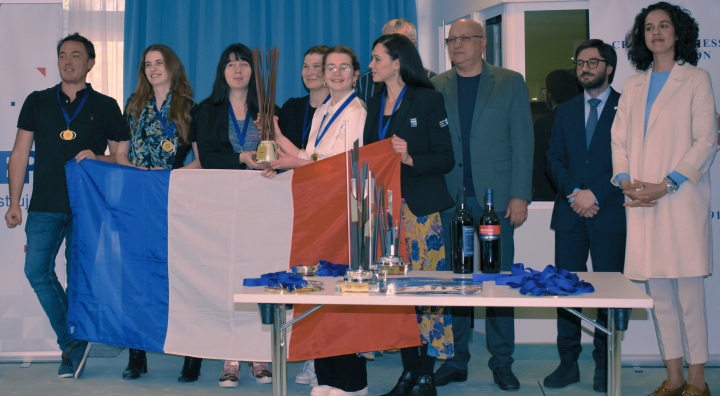 France won gold medals in both the open and women's sections at Mitropa Chess Cup 2023, organized by the Croatian Chess Federation in Mali Lošinj. Les Bleus successfully defended the titles won back in 2022.
The closing ceremony featured some honourable guests: the Mayor of Mali Lošinj, Mrs Anna Kučić, and the President of the European Chess Union, Mr Zurab Azmaiparashvili. The President of Mitropa Chess Association, Mr Marco Biagioli, handed them a small presents from MCA.
Croatia passed the baton to Germany, the country that will host the 2024 Mitropa Cup.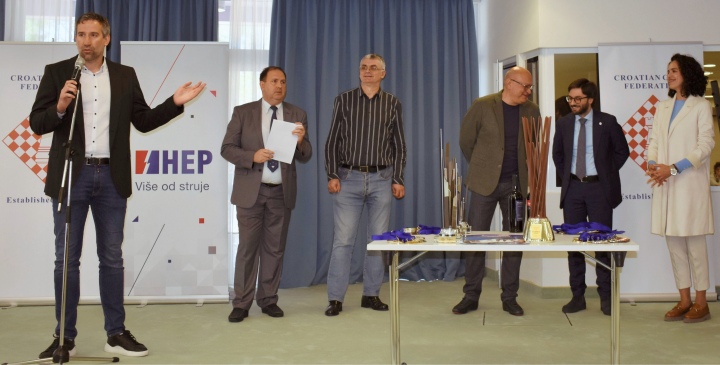 Mr Biagioli also congratulated the Tournament Director, Mr Alojzije Janković, ECU Vice President and Croatian Chess Federation Secretary General, for the perfect organization.
During the tournament, the Mitropa Chess Association Board held a meeting in Mali Lošinj, where many new projects were discussed and will be announced in the following weeks.
All results and standing can be found in Chess-Results: Open section and Women's section and on the official website: https://mitropa.chess.at/.
Text: Aleksandra Dimitrijević
Photos: Aleksandra Dimitrijević and Croatian Chess Federation