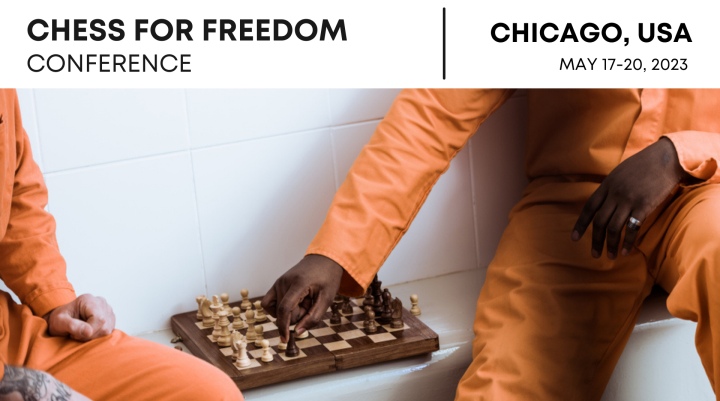 FIDE and the Cook County Sheriff's Office (Chicago, USA) organize the first in-person Chess for Freedom Conference, which takes place from May 17-20, 2023, in Chicago, USA. The event features many experts from all around the world who will take the stage over three days to introduce concepts and approaches to using chess as a rehabilitation tool for incarcerated people.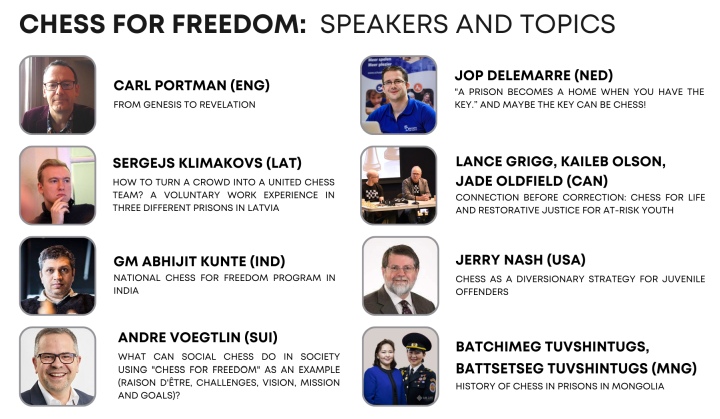 The three-day conference schedule includes the Cook County Jail tour, meetings with the Cook County Department of Correction administration and staff, followed by presentations and interactive sessions with members of the penitentiary administrations, policymakers, and federation officers, aimed at the introduction of chess as a tool for education and social inclusion in prisons of different countries.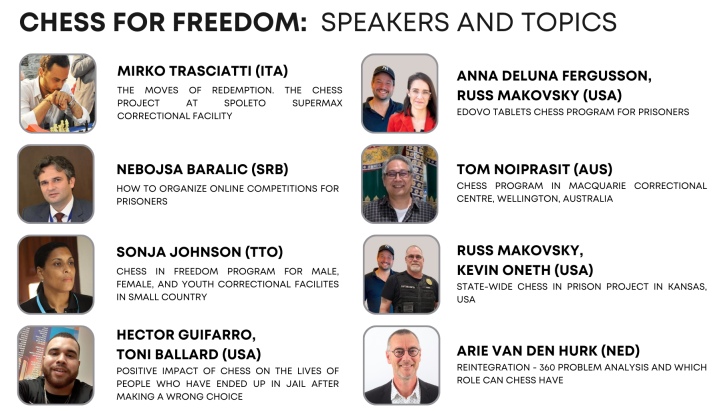 The conference event schedule is as follows:
May 17th: Guests arrive.
May 18th: Cook County Jail tour (includes meeting with CCDOC administration and Program's staff).
May 19th: Conference plenary session featuring various breakout topics.
May 20th: Sightseeing throughout downtown Chicago.
May 21st: Guests' departure.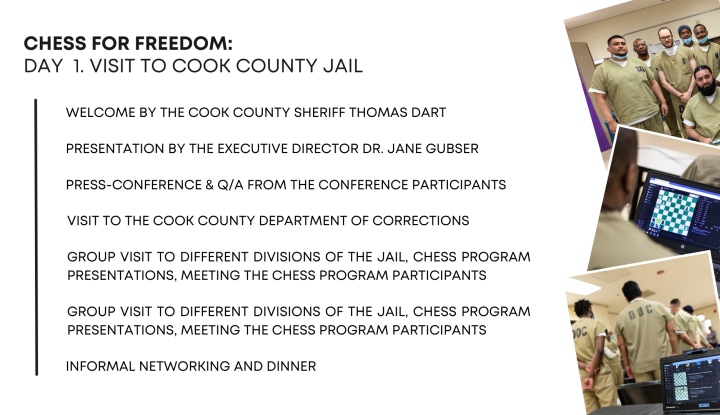 The conference will be broadcast live on FIDE's Youtube channel. Additionally, its participants have an option of joining the Zoom call and asking questions to the speakers. In order to join via Zoom, you would need to register via the following link.
About the Chess for Freedom programme
The rights and opportunities of self-realization and development for people in imprisonment are essential prerequisites to consciously building their future after liberation. Access to training and learning, as well as to quality ways of socializing, could give a strong motivation to change for the better.
Chess is a game that not only allows the inmates to spend quality time and socialize in a smart and safe way but also can serve to decrease such common symptoms as depression, stress, and anxiety. Developing memory and logical thinking, improving concentration skills, and imagination may foster their reintegration after liberation. Chess inspires self-motivation, develops the capacity to foresee consequences and demonstrates that success is a reward for hard work.
To support and promote this line of work, the International Chess Federation (FIDE) and the Cook County Sheriff's Office (Chicago, USA) have signed a cooperation agreement and launched the "Chess for Freedom" programme. This project kicked off in May 2021 with an online conference and an exhibition tournament with four participant countries. Later on, in October, the first Intercontinental Online Chess Championship for Prisoners – a much larger competition with the participation of tens of prisons was held. The 2nd Intercontinental Online Chess Championship for Prisoners was held on October 13-14, 2022, attracting 85+ teams from 46 countries representing all continents.
Chess for Freedom Conference – Contact Information
Mikhail KorenmanChess Program Coordinator at CCDOC, FIDE International Chess Organizer and Member of FIDE Social Commission
E-mail: Mikhail.Korenman@ccsheriff.org
WhatsApp.: +1-785-906-0402