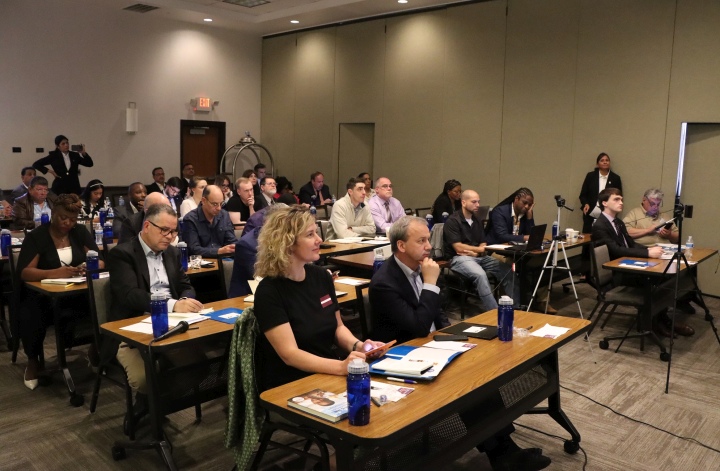 The first Chess for Freedom Conference, the three-day event, organized by FIDE and the Cook County Sheriff's Office (Chicago, USA), was held in Chicago, USA from the 17th to 20th of May, 2023.
More than 40 participants, including FIDE officials, representatives of national chess federations and prison staff involved in programmes that introduce chess to inmates, dicussed concepts of using chess as a rehabilitation tool for incarcerated people. Experts from all over the world shared information about their national initiatives and approaches to teaching chess in prisons.
On the first day of the conference, the FIDE delegation visited the Cook County Jail, where chess programme was introduced to inmates more than 10 years ago.
On the second day, they participated in the plenary sessions, featuring many experts from the worldwide chess community presenting their national initiatives and approaches to teaching chess in prisons. Participants were greeted by the FIDE President Arkady Dvorkovich: "We are here to summarize, analyze and share our best practices accumulated since the start of the project. We will put together our methodologies in teaching chess to prisoners as well as holding chess competitions inside correctional facilities and among them. I hope that we will engage more countries and be able to promote this programme around the world."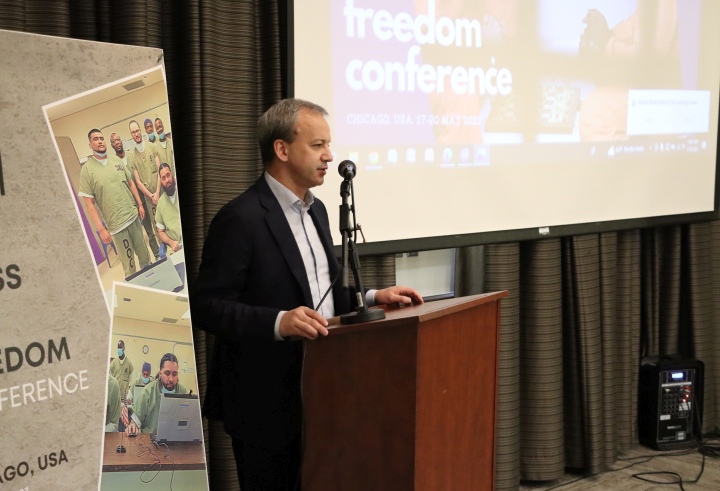 In her introductory speech, Deputy Chair of the FIDE Management Board Dana Reizniece-Ozolatold about the development of the programme since its launch with the invitational online chess demonstration tournament for prisoners in May 2021. "Our future plans include the development of the training methodology, awareness raising activities and post-incarceration educational programmes. We believe in the possibility of joining our efforts in the implementation of this important social project and expect that the greatest results are yet to come," she added.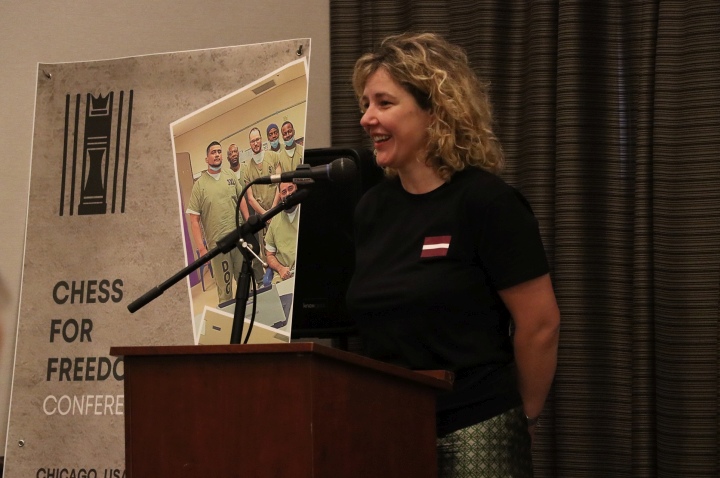 To demonstrate and explore how chess can be used to help rehabilitate incarcerated people, speakers of the conference shared experience of their countries and correctional facilities in introducing chess to inmates.
According to IM Batchimeg Tuvshintugs, who works at the national Court Decision Making Agency, Mongolia was one of the first countries where chess was intruduced to prisons as a tool of rehabilitation. In 1958, the first Penitentiary and Prisoner Chess Championships were held, and the inmates were instructed to prepare well for future competitions. According to the archives, chess tournaments were regularly held among the prisoners on the occasion of holidays, and chess masters were invited to simultaneous exhibitions and trainings. These days, a variety of training and educational activities are organized for inmates, focusing on improving their skills and education, developing their talents, and spending their free time properly, based on their interests. As of January 2023, a total of about 350 prisoners are practicing chess in 15 prisons. In the future, in order to successfully implement and expand the "Chess in Prison" project, it is planned to connect the practice of chess with the reward system of the prisoners.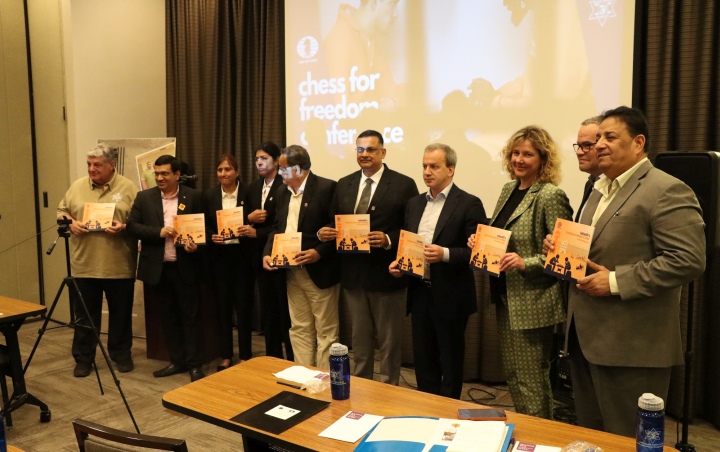 Delegation from India presented "Parivartan - Prison to Pride" an initiative to engage and rehabilitate prison inmates across the country through sports coaching programmes. Launched in August 2021 by IndianOil, training programmes in chess, basketball, volleyball, badmintonand carrom are now covering over 2950 inmatesfrom 51 Prisons in 21 states of India. The chess coaches involved in the project include Grandmasters Abhijit Kunte and Surya Sekhar Ganguly, Woman Grandmasters Eesha Karavade, Soumya Swaminathan, Padmini Rout, and others.
"We take pride of saying that chess was invented in India. In earlier days chess was played by kings and military commanders in order to develop strategy to defeat enemies. A new version of chess was procreated by FIDE and the Cook County Department of Corrections. This version is for liberating incarcerated people. Look forward to see that Chess for Freedom project reaches all prisons on the planet," - said Mukeshranjan Das, Executive Director (HR) of Indian Oil.
Among other topics of the conference were experiences of chess coaches who are teaching the game to inmates. Jop Delemarre, a Dutch chess trainer with more than 20 years of chess training experience, made a presentation "A prison becomes a home when you have the key", where he gave some hints how to introduce chess to prisoners and motivate them to learn. "They don't care how much you know, until they know how much you care about them. One of the things you need to realize that in the beginning it is not about explaining chess - how the pieces move or the tactics work. You first need to give them the idea that you care for them, that you are giving them the opportunity to learn again and to activate their learning mindset."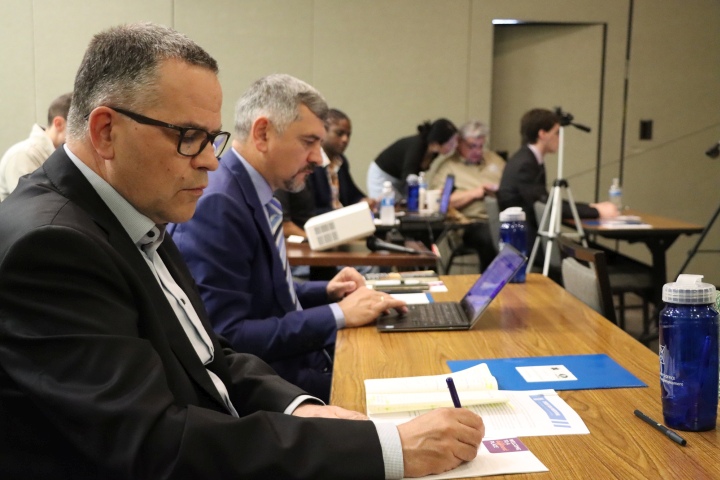 Hector Guifarro was one of those speakers, who proved by personal example that the game has a positive impact on the lives of people who have ended up in jail after making a wrong choice. A former convict picked up chess while serving his sentence, and, after being released from prison, he took the path of helping others and teaching more and more people to play chess. One of his recent undertakings is an idea to combine boxing and chess lessons via "Chess for Fighters" classes. A program that introduces chess to youth in his community helps these children in the ring and in life. "Our goal is to make a difference in the community by keeping kids off the streets and teaching them the fundamentals of boxing and chess. But we won't stop there. We want to build future chess champions and open the door for our youth to compete at chess tournaments at both state and national levels!" he said.
To learn more about national initiatives and approaches to teaching chess in prisons, watch broadcast of the conference on FIDE Youtube or download presentations of the speakers:
André Vögtlin - What can social chess do in society
Anna DeLuna Fergusson - Using Technology to Expand Access to Chess in Corrections
Arie van den Hurk - Chess in Dutch Prisons a promising new experience
Batchimeg Tuvshintugs - History of chess in prisons in Mongolia
Carl Portman - From Genesis to Revelation
Dana Reizniece-Ozola - Chess for Freedom
Grigg, Oldfield, Olson - Chess for Life
Hector Guifarro - Positive impact of chess on the lives of people who have ended up in jail after making a wrong choice
Indian Oil - Prison Sports Coaching Program
Jerry Nash - Chess as a Diversionary Strategy for Juvenile Offenders
Jop Delemarre - A prison becomes a home when you have the key. And maybe the key can be chess
Mirko Trasciatti - The Redemption moves
Nebojsa Baralic - Chess for Freedom project in Serbia
Russ Makovsky & Kevin Oneth - KDOC – Gift of Chess Partnership
Sergejs Klimakovs - How to turn a crowd into a united chess team
Sonja Johnson - Chess in Prisons Trinidad and Tobago
Susan Namangale - Partnerships for Chess in Prison Transformation Initiative
Tom Noiprasit - Chess program in Macquarie Correctional Centre