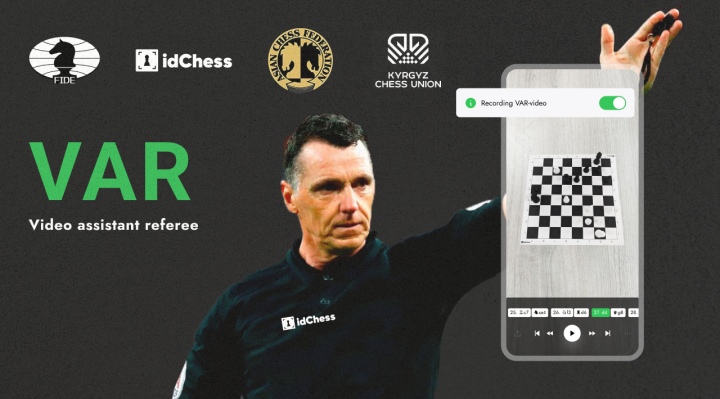 Thanks to technologies and the idChess platform, for the first time in chess, an assistant system for arbiters has appeared that allows you to track controversial moments in the game and make the right decisions.
What is VAR
VAR (Video assistant referee) is a set of technological solutions to help referees at sports competitions. In many sports, various technologies are already used to help referees make decisions. For example, there is a line-calling system (Hawk-Eye) in tennis that shows the projection of the ball on the line at controversial moments. A similar system is used in volleyball. In recent years, the VAR system has become widely accepted in football: VAR in football is a video surveillance system from different points of the football pitch. During the match, the video assistant referee team constantly checks for errors related to certain actions.
Video assistants pay attention to goals and situations leading to goals, penalties, and situations leading to penalties, mistaken identity, and red cards. The VAR team contacts the referee only in case of clear and obvious errors or serious missed incidents. At the same time, the match referee has the right to watch the video recording of the moment and make a decision.
In the English Premier League, the technology appeared in the 2019/2020 season, and the percentage of correct decisions in key game episodes increased to 94%. A year earlier, the figure was 82%; that is, almost every fifth decision of the referee in important moments was wrong. In all sports listed above, the final decision remains with the human referee. In other words, VAR systems provide additional information but do not make decisions for referees.
How VAR works in chess based on the idChess technology
The use of VAR in chess can be divided into three stages:
1) Controversial moments
One of the players called the arbiter to note the violation
A controversial situation has arisen; for example, the first payer claims that the second one touched a chess piece but did not move it, and the second player denies it.
The arbiter missed the moment and can only be guided by the presumption of innocence.
2) VAR review and recommendations
If there is a broadcast using the idChess platform, the arbiter can pause the game broadcast in the mobile application and watch the recording of the game using VAR, which shows the behaviour of the players.
3) Decision making
The arbiter watches the game and makes a decision.
The VAR technology allows you to increase the number of correct decisions made by chess arbiters and make the decision-making process simpler and more transparent for both arbiters and players.