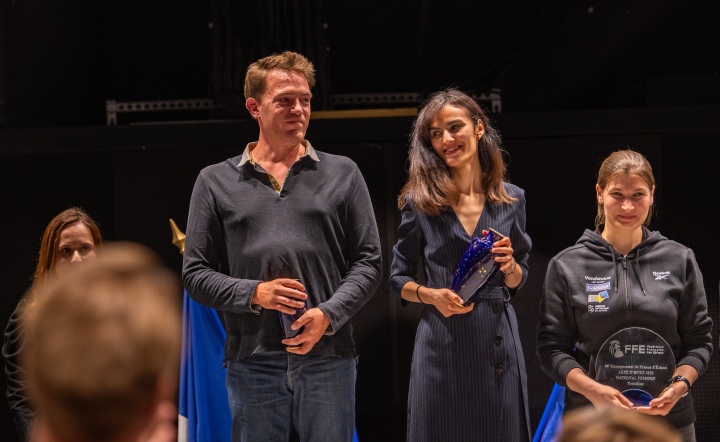 Yannick Gozzoli and Mitra Hejazipour are the new champions of France. Both won their maiden national titles.
The French Championship 2023, a 16-player knockout tournament held in open and women's sections, took place from August 18-27 in Alpe d'Huez, France. In case of a tie after two classical games, a 2-game Rapid (15+10) was played, followed by a 2-game Blitz (5+3) and an Armageddon (5 vs 4) if needed.
On his way to the final, Yannick Gozzoli played two gruelling matches in the Round of 16 and quarterfinals against Anthony Wirig and Joseph Girel prevailing only on a tiebreaker (the last one came down to Armageddon) and then beat Tigran Gharamian in the semis by 1.5-0.5.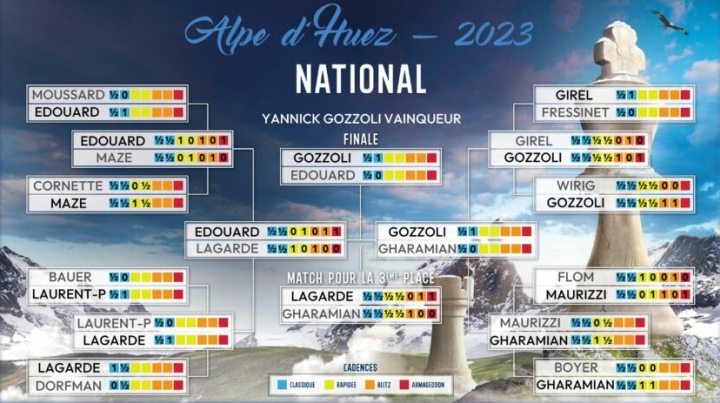 Romain Edouard's path to the final was even more challenging. After dethroning the 2022 French Champion Jules Moussard in the Round of 16 (1.5-0.5), he had to win two Armageddons over Sebastien Maze and Maxime Lagarde in the quarterfinals in the semis to reach the final.
After a quick draw in the first game of the final, in the second one, Lagarde completely misplayed an even rook ending, and Gozzoli did not miss his chance to win the title.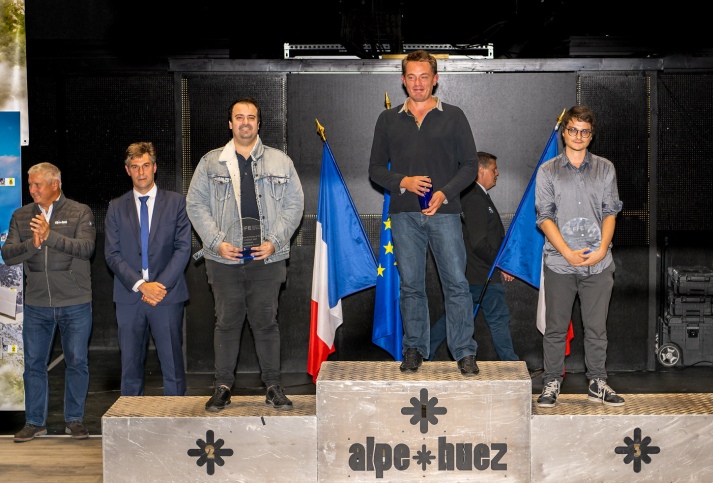 In the hard-fought third-place match, Lagarde only got the best of Gharamian in the Armageddon game to claim bronze.
Iran-born Mitra Hejazipour, who acquired French citizenship this year, smoothly advanced to the final, defeating the rating-favorite Pauline Guichard in the semis (2-0). Her opponent, Deimante Daulyte-Cornette, also needed no tiebreakers and cruised to the final.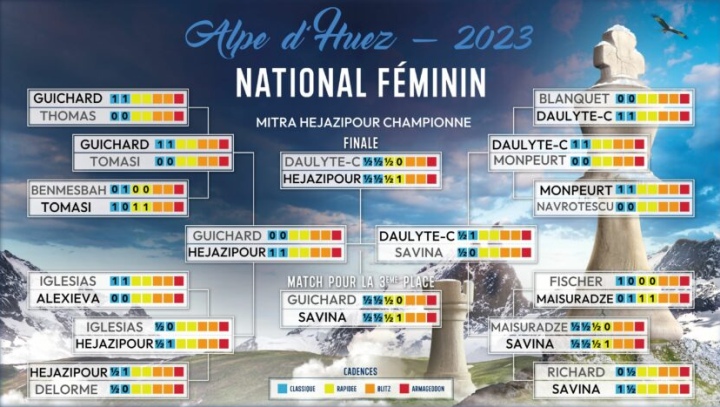 The match for gold was the toughest one for both opponents. After two draws in classical games (in both, White had a decisive advantage at some point), two rapid games were played. The first one was drawn, but in the second one, Hejazipour outplayed her opponent with the black pieces and won the match.
In the match for third place, Anastasia Savina defeated Pauline Guichard and took bronze.