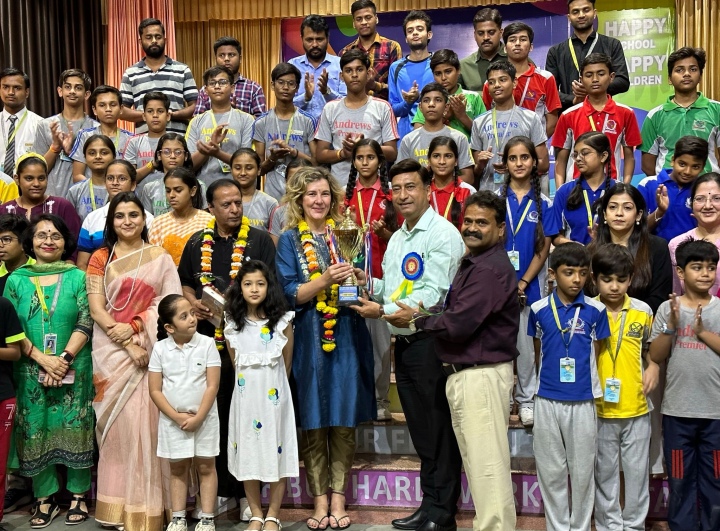 Following the invitation from the All India Chess Federation (AICF), Dana Reizniece-Ozola, FIDE Deputy Chair of the Management Board, had a tour around India to promote women in chess and educational chess. Within a week, Reizniece-Ozola and AICF officials visited New Delhi, Agra, Udaipur, Bengaluru, and Faridabar, covering different states of India. Motivational presentations, simultaneous games exhibitions, press conferences and official meetings were held everywhere.
These trips share common goals: doubling the number of kids going in for chess in education and increasing the representation of women in chess. These tasks have always been a priority for FIDE.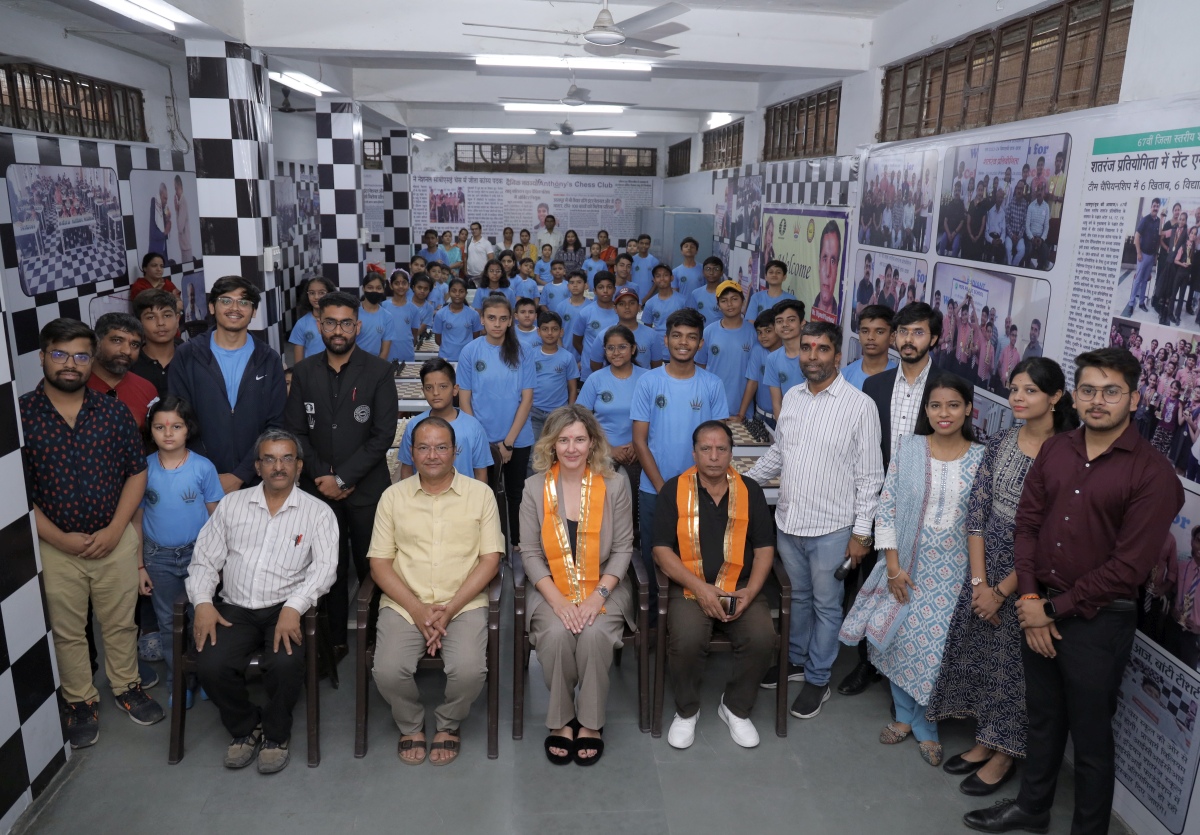 During her visit to Udaipur-Lakecity, Dana Reizniece-Ozola participated in an event organized at St. Anthony School and hosted by Chess In Lakecity's Secretary, Vikas Sahu, where she interacted with young chess enthusiasts. Impressed by the growing enthusiasm for chess among children and youth, Dana Reizniece-Ozola expressed her optimism for the future of chess in Udaipur. Chess In Lakecity has organized over 50 national and international tournaments and raised 200+ rated players there.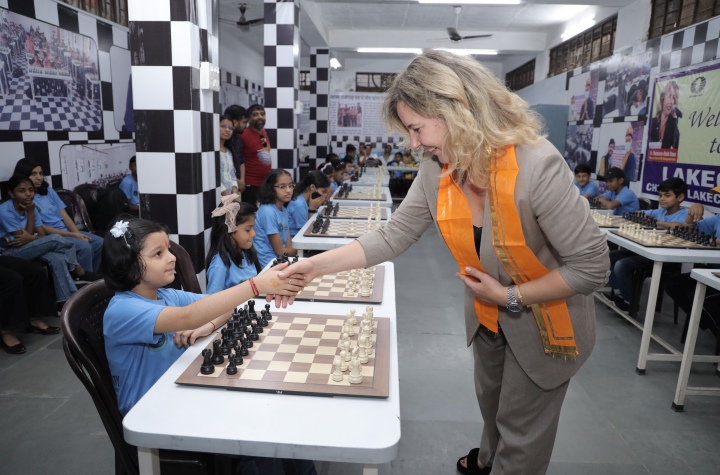 Dr. Vipnesh Bharadwaj, the Interim Secretary of the All India Chess Federation, highlighted the increasing role of youth and children in chess in India, which has led India to gain recognition in global chess competitions. This is a significant achievement for the country, and it is inspiring young children to take up chess and follow their dreams.
In Bengaluru, Karnataka, the Deputy Chair of the FIDE Management Board visited a rural Hallegere School, where chess was introduced with the help of Bengaluru Urban District Chess Association, Karnataka State Chess Association and the guidance of All India Chess Federation. The school is financially supported by Revathi Kamath, who emphasizes that the best asset one can give to children is education.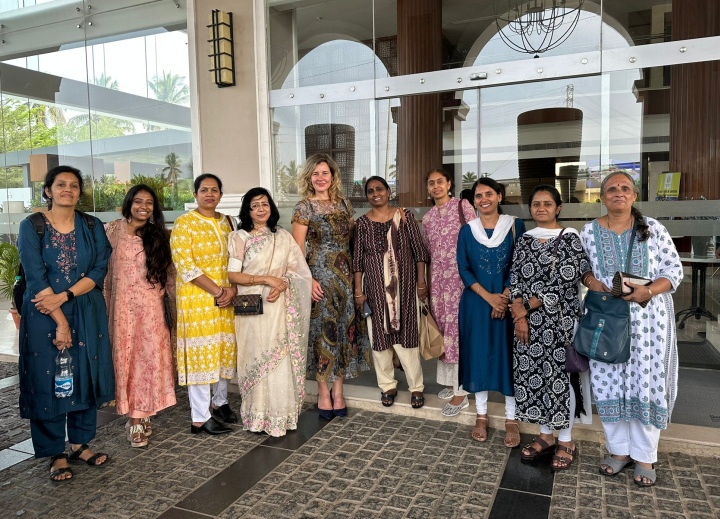 On 18-26 January 2024, Bengaluru Urban District Chess Association will host the first International Grandmasters' Tournament with more than 2500 people from 20+ countries expected. Led by Sowmya M Upadhyaya, the Association is a power force behind chess in Bangalore. Seven energetic, humble women do it all - open chess in schools, organize tournaments, support social initiatives, etc.
During the visit of Dana Reizniece-Ozola, the Bengaluru Urban District Chess Association organized a Discussion Panel with other sports celebrities, "Women in Sports: Pioneers and Trailblazers".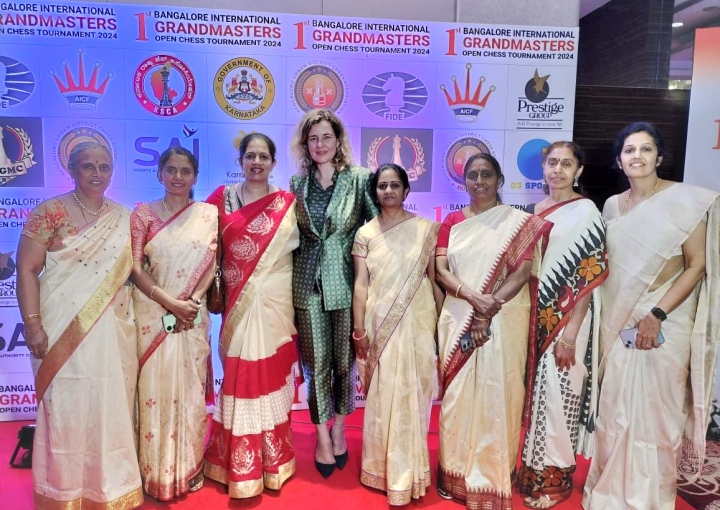 She also visited Bengaluru Central Prison in Karnataka. Following the 3rd Intercontinental Chess Championship for Prisoners, simultaneous games exhibition, an official meeting with prison authorities and discussions on developing a chess program within prison walls were held.
In Bhubaneswar, the Deputy Chair of FIDE Management Board visited the Kalinga Institute of Social Sciences and Kalinga Institute of Industrial Technology. The institutes have 65,000 students, among them - 40,000 girls from underprivileged families, who have been provided free education, accommodation and food by the founder of the institution H.E. Achyuta Samanta, Member of Parliament of Kandhamal. Dana Reizniece-Ozola was honoured to address the students and was deeply impressed by their warm joy and sparkling energy.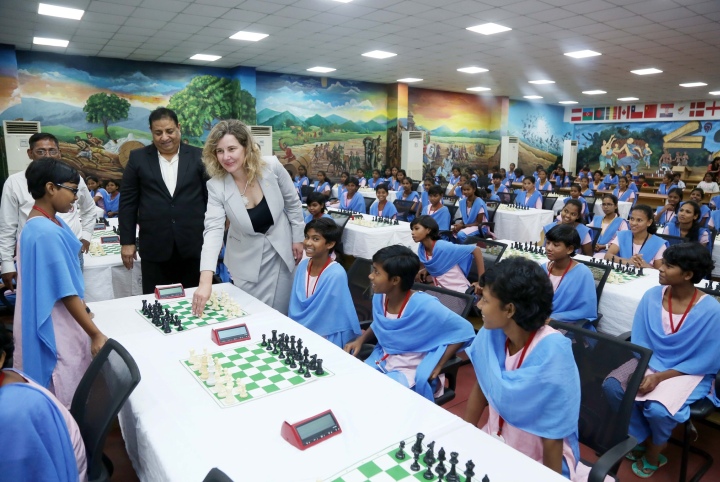 "When you come from a privileged place where education comes as a granted right, it is difficult to fully understand that in the modern world, access to education is still limited to so many. Poverty and illiteracy limit choices and deem lives to failure. God bless people like H.E. Achyuta Samanta, who provide opportunities to thousands and thousands of young girls. I am also happy that chess has become part of their education while this is another way to spot the talent and give them skills that would allow them to better navigate through complex positions of their lives," she said.
After this, Dana Reizniece-Ozola, along with Chairman FIDE Advisory Board Bharat Singh Chauhan, had a fruitful interaction with the Hon'ble Chief Minister of Odisha, Shri Naveen Patnaik, to discuss chess development programs in the state. The Chief Minister announced the plans to establish 100 chess centres and a chess academy and to equip 16,000 classes for teaching chess to pupils. In return, Reizniece-Ozola ensured that FIDE would help Odisha authorities with training chess teachers.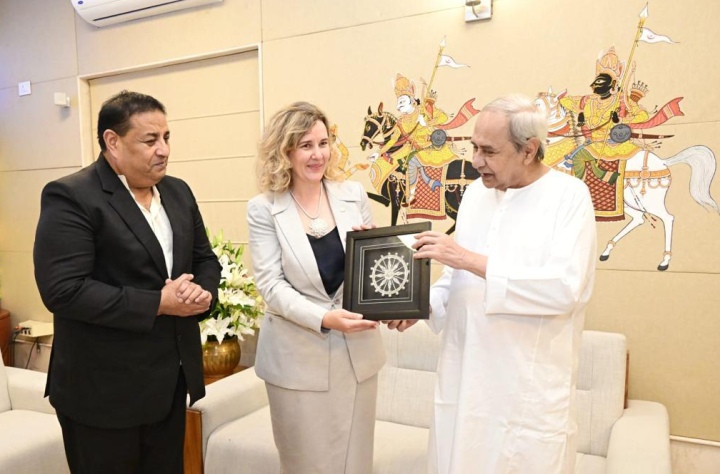 In Faridabad, the FIDE Deputy Chair of Management Board visited the opening of the AFCA Open Rapid Chess Tournament with 650 participants. All Faridabad Chess Association, led by its President Neetu Agarwal and General Secretary Alka Chhikara, organize such events on a regular basis.
Last year, All India Chess Federation Dr. Sanjay Kapoor and Bharat Singh Chauhan impressed the world with the great organization of the 44th FIDE Chess Olympiad. During the meeting of Dana Reizniece-Ozola with H.E. Anurag Singh Thakur, Minister of Youth Affairs and Sports of India, this achievement was acknowledged, setting new ambitions for Indian chess.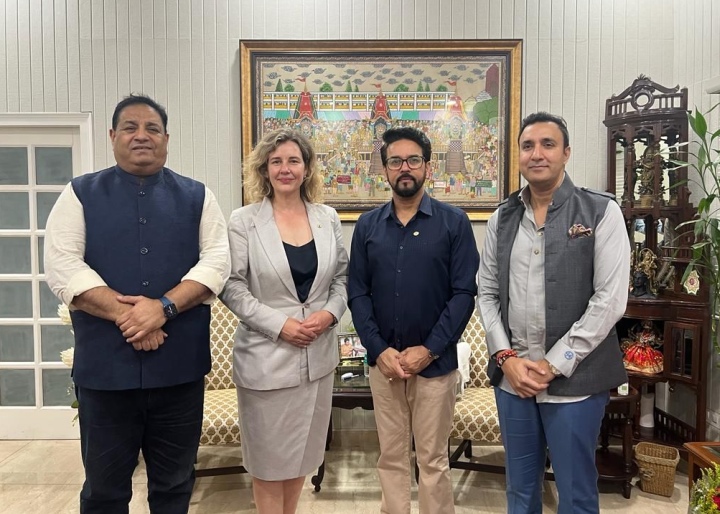 In 2024, India will host the inauguration of Chess Torch Relay in honour of the FIDE 100 Years Anniversary. The torch will travel around all continents from New Delhi to Budapest, Hungary, where the 45th FIDE Chess Olympiad will take place.