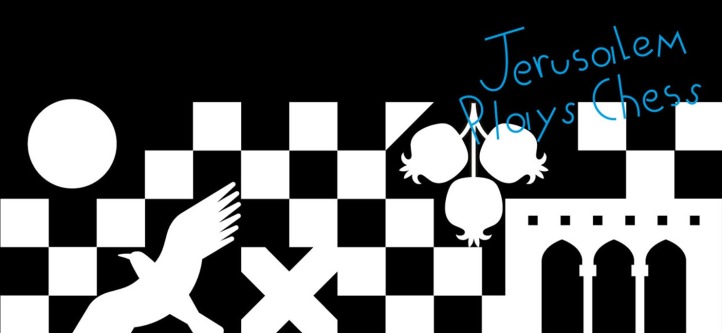 Wei Yi outplayed David Navara on the tie-break and advanced to the final of the FIDE Grand Prix, organized by World Chess.
Wei Yi and Ian Nepomniachtchi will meet in the final in Jerusalem, which will determine who will get a spot in the Candidates tournament. Ironically, the finalists have different motivations in this match – Ian Nepomniachtchi fights for the slot the Candidates, while Wei Yi has no chance to get higher than fourth place in the overall Grand Prix Series standings. However, the Chinese grandmaster can win a prestigious Jerusalem Grand Prix title, if he defeats his opponent in the final.
Maxime Vachier-Lagrave, who was eliminated in the semifinal by Ian Nepomniachtchi, cannot affect the tournament situation anymore but keeps his hopes to get to the Candidates if Ian loses the final match.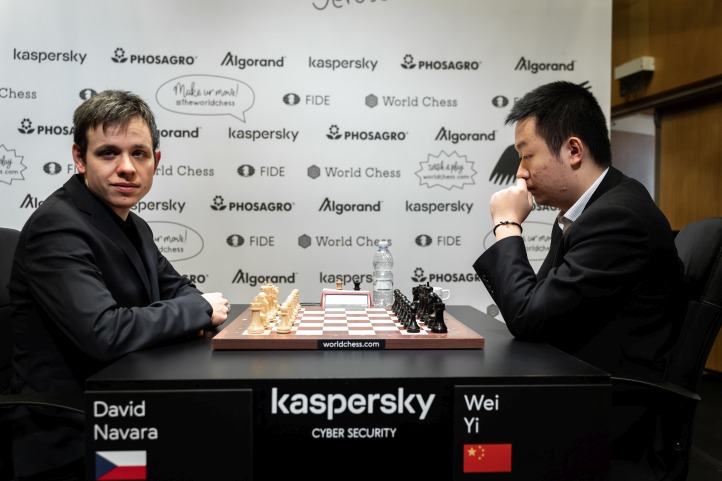 The match between Wei Yi and David Navara was decided in two rapid games on tiebreak. David Navara, who had white pieces in the first game today, got a position with an extra pawn in Anti-Grunfeld for which his opponent had some compensation in form of active pieces. The Czech GM didn't find the right way to keep his material advantage and according to him, opted for a strange line starting with 25.Ba5 and ended up a pawn down. Nevertheless, David defended well and managed to save the first rapid game. Similarly to the previous encounters the opponents played to bare kings.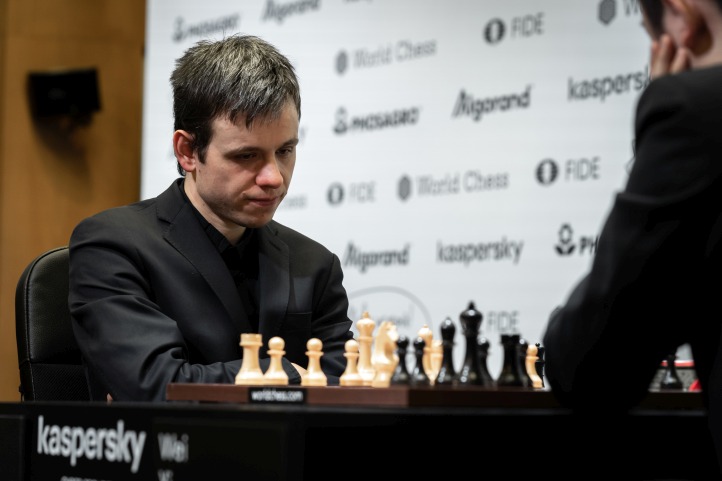 The second game became a crucial one for the outcome of the match. According to David, he mixed up something in a very silly way. He knew this idea e4 and saw it in various lines but not in the one which actually happened today. Wei Yi got a huge advantage out of the opening and gave his opponent no chance to escape. "My opponent just played better than me today and won deservedly", said David Navara. "I don't regret too much losing this match because I'm already tired and lack energy for the final anyway but of course I tried to play well. I'm a bit embarrassed about the way I lost the last game. I can play better sometimes but not today" added the Czech grandmaster.
Official website and LIVE broadcast: https://worldchess.com
Text: Anastasiya Karlovich
Photos: Niki Riga
World Chess contact: media@worldchess.com
Photos are available for the press from the following link to Dropbox.
Leading partners supporting the FIDE World Chess Grand Prix Series 2019 include:

Algorand as the Exclusive Blockchain Partner
PhosAgro as the Official Strategic Partner
Kaspersky as the Official Cybersecurity Partner
Usetech as the partner of the Jerusalem Grand Prix
Prytek as the Technology Transfer Partner