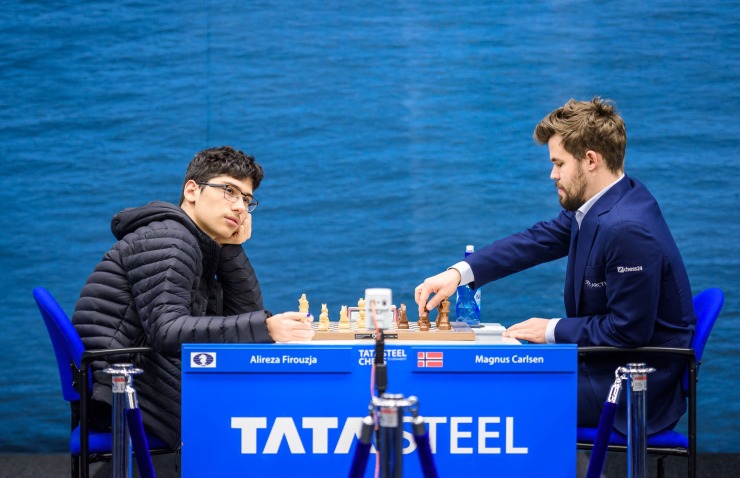 The first classical game between two of the biggest chess talents of the XXI century, 16-year-old Alireza Firouzja and the World Champion Magnus Carlsen, was a pinnacle not only of the 9th round but of the whole tournament. Playing with Black Carlsen completely outplayed his young opponent in Ruy Lopez and secured a historic win in the first game of an epic match-up that will inevitably last for at least a decade.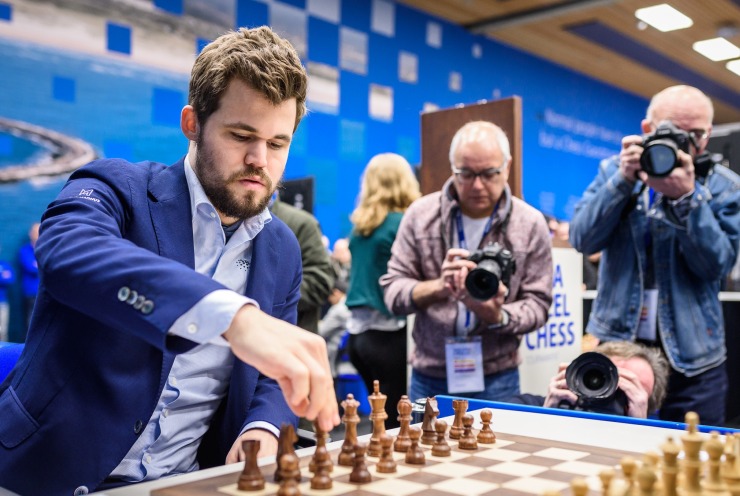 January 21, 2019, will be an important date in modern chess history as Firouzja and Carlsen played in classical chess for the first time. Their last blitz encounter ended with a scandal and that added some zest to the clash in Wijk aan Zee. Firouzja had a certain advantage as he was a point ahead and played with White. Carlsen admitted after the game that he was not frightened, but worried as he knew how dangerous his opponent could be in "his type of positions". Anyway, Magnus had no choice but to strive for a complex position as he was trailing the leaders. He went for an interesting psychological twist - Carlsen played Berlin Defense as he was sure that Firouzja wouldn't choose the main line with early queens' exchange. He guessed right and got what he wanted - a "playable" position with a number of options for both sides. Alireza was drifting as Carlsen pointed out after the game. The youngster couldn't find a clear plan and you can't afford it when facing Magnus. After move 20 Black was already better and kept progressing. In a strategically lost position, Firouzja tried to complicate the matters with 32.g3 and 34.h4, but the remedy was worse than the disease. Ironically when Carlsen decided to win a piece with 39...Bxf1 it was objectively a mistake that gave White some minuscule chances to escape, but Firouzja was so disappointed that he just resigned immediately. Tough one for a young Iranian, playing under FIDE flag, but this was definitely an important lesson for him.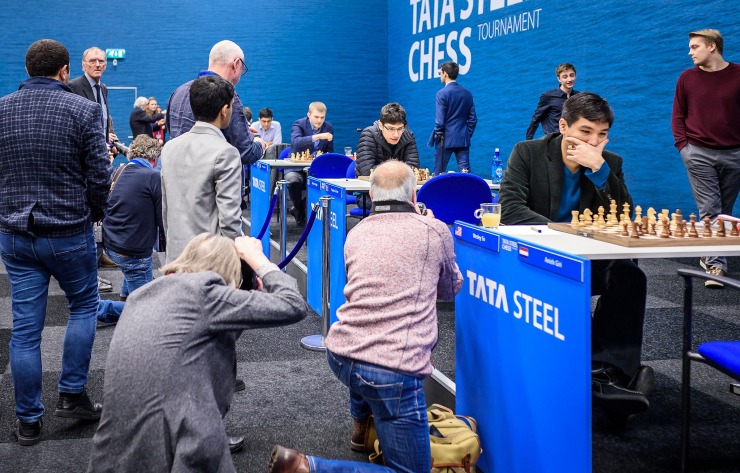 It looks like everyone else was aware of the importance of the moment as the other 6 games were drawn. Actually, it was the round with the fewest decisive outcomes in the entire tournament. Anand's game against Dubov ended first - Vishy was slightly better, but understandably not in a fighting mood after a drama in Round 8 game vs Caruana. Nikita Vitiugov played the lucky winner of that battle and went for the line in which Giri had tested the tournament leader in Round 2 - Fabiano Caruana came up with a slight improvement that triggered massive exchanges. Another quick draw was registered in So - Giri game - Anish sacrificed a pawn in the opening but seized control over the only open file leaving White no real chance for a win.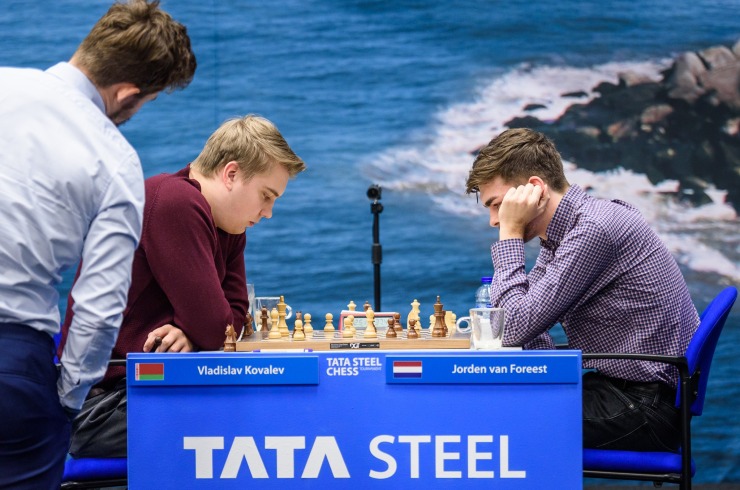 Jorden van Foreest who is having the time of his life in Wijk aan Zee missed a real opportunity to join Caruana on the top of the leaderboard. In his game with Black against Kovalev he faced a very rare line as Vladislav chose 6.Qe2!? against Najdorf. Valiant van Foreest went for an early queen sacrifice, but Kovalev suddenly changed his mind and didn't take the queen (10.Ne6 was mandatory) though he was forced into a very gloomy endgame after that. Soon White was down an exchange, but somehow managed to build a fortress - there is a strong feeling that Black was winning, but is not completely clear where van Foreest stumbled.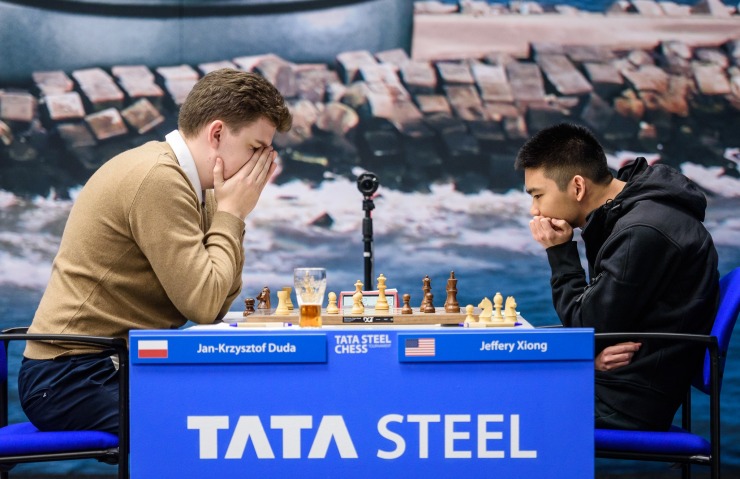 Artemiev - Yu Yangyi and Duda - Xiong became the two longest games of the round. Artemiev had a huge, probably decisive advantage after the opening, but failed to convert. Duda and Xiong have already had some history between them as they played a crazy match full of twists and turns in the Round of 16 at the latest World Cup. Xiong prevailed in blitz play-off and Duda was looking for revenge today - he tried to break Xiong's defense for 79 moves, but to no avail.
After Round 9 Caruana moved to a sole lead but Carlsen, So, van Foreest and Firouzja are only half a point behind. Caruana will have White against Firouzja on Wednesday. Carlsen has a much easier pairing as he plays with Kovalev - it's worth mentioning though that last time these two played each other (in the Grand Swiss) Carlsen was completely lost and miraculously saved a draw.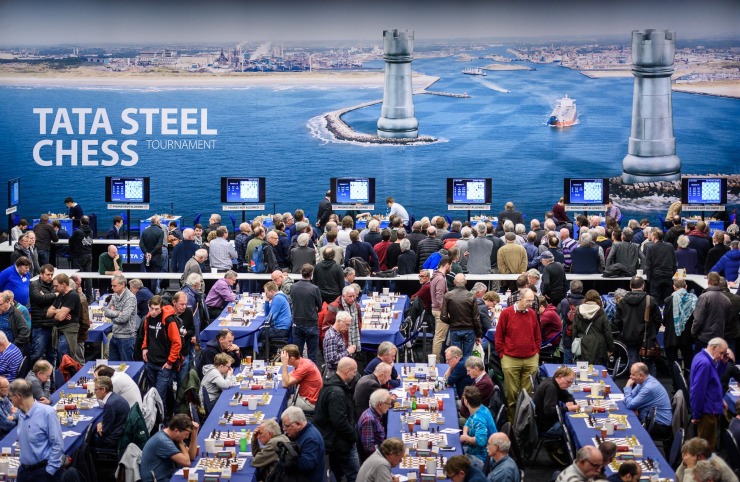 Official site: https://www.tatasteelchess.com/
Photo: Alina l'Ami
Tata Steel Masters 2020 Standings after Round 9:
1. Caruana - 6;
2-5. Firouzja, Van Foreest, So, Carlsen - 5½;
6. Duda - 5;
7-9. Dubov, Artemiev, Giri - 4½;
10. Anand - 4;
11. Xiong - 3½;
12-14. Vitiugov, Yu Yangyi, Kovalev - 3.