Photo: https://reykjavik.is/
The fourth FIDE President, Fridrik Olafsson, was born on this day in 1935. He served a single term —succeeding Max Euwe in 1978 and being followed by Florencio Campomanes in 1982— but he left an indelible mark in the history of this organization.
His brief period leading FIDE was only the culmination of a brilliant career - and a life devoted to chess. It was Olafsson who put Iceland on the world chess map, long before the Fisher - Spassky match was even conceived. You have probably heard this fun fact before: Iceland is the country with more Grandmasters per capita in the world, with 13 GMs on the island of approximately 325,000. Fridrik Olafsson was the first one of them, being awarded the title in 1958.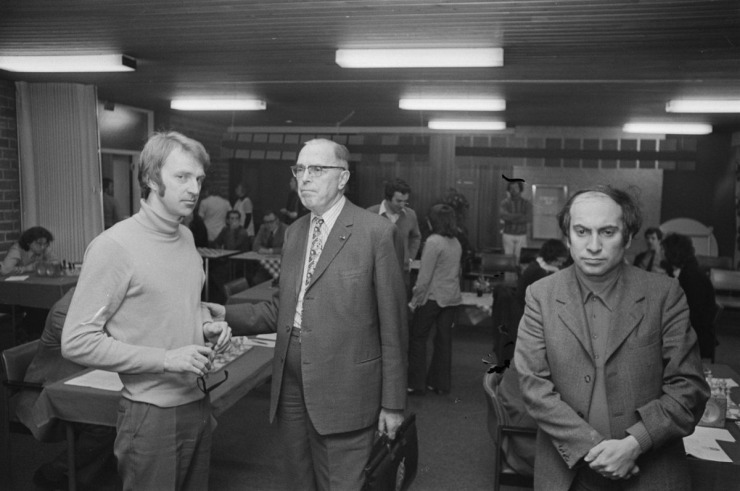 Photo: http://gahetna.nl
And he was not an ordinary Grandmaster, but a world-class one, who can boast victories over Bobby Fischer, Tigran Petrosian, and Mikhail Tal. He defeated these legendary world champions, not once, but twice each!

He added another illustrious scalp to his collection later on, when he defeated Anatoly Karpov under the most original circumstances. To begin with, Fridrik was already 45 years old, and his best days as a player were already behind him. Secondly, the year was 1980, and he was in the middle of his term as FIDE President. Nevertheless, he was invited to take part in the "Clarin Tournament" organized by the largest Argentinian newspaper in Buenos Aires, with the strongest possible field: the World Champion, as well as Larsen, Timman, Ljubojevic, Najdorf, and other stars.
Olafsson picked up the gauntlet and accepted to play. He achieved a very decent overall result with 6 points out of 13 games, but the highlight of the event was probably his victory over Anatoly Karpov. For the first and only time in history, the reigning President of the International Chess Federation crossed swords against the reigning World Champion in an official game - and the functionary won!
With this victory, Olafsson also joined what is called "the Mikhail Chigorin Club": those players who can boast a victory over a reigning world champion, without having been world champions themselves.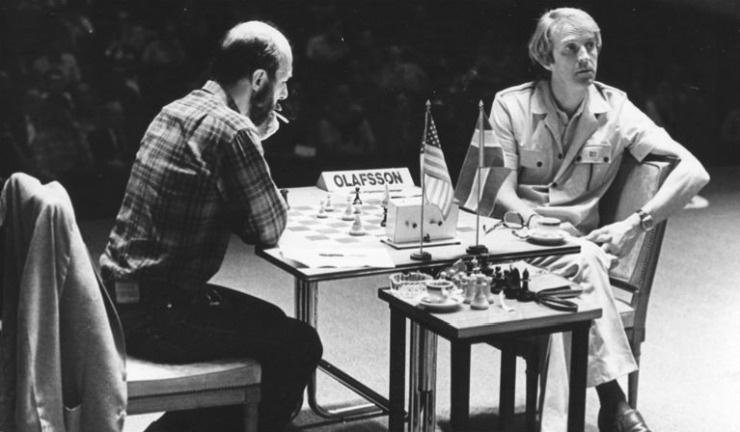 Photo: https://lifdununa.is/
Fridrik's successful career had taken off in 1952 when he became Icelandic Champion at the age of 17. This would be the first of a total of six victories he would achieve in this competition. It was also a golden ticket to travel abroad and compete in international competitions, where very soon he had the chance to prove his value. In 1953 he became Scandinavian Champion, and he also achieved a bronze medal in the World Junior Championship.
His first international success was the Hastings International tournament in England, played during New Year's 1955-1956. He started on the wrong foot because, having arrived in Hastings late, no hotel room could be found for him. The improvised solution was offered by a police officer, who kindly invited him to spend the night in a cell at the Hastings police station. This unusual experience left no traumas on him and he would go on to win the tournament, sharing first with Viktor Kortchnoi.
Olafsson took part in the World Championship cycle, finishing 5th/6th at the 1958 Interzonal tournament in Portoroz. This result gave him the Grandmaster title, as well as a spot in the 1959 Candidates Tournament played in Yugoslavia. These are the two events in which he scored his two victories over Bobby Fischer.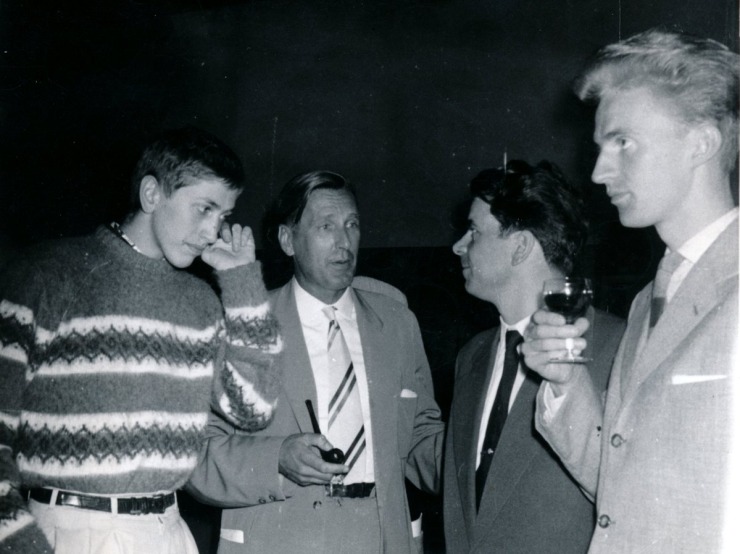 Photo: http://skaksogufelagid.is
But probably his most memorable victory in the Candidates was the one against Tigran Petrosian. His game had been adjourned, and when it was resumed, they played on a balcony overlooking Zagreb's Republic Square. According to the historian Golombek, "A giant demonstration board had been erected, and a crowd of 5,000 assembled to watch. Olafsson won, to great acclaim. When he tried to go back to the hotel the crowd insisted on carrying him on their shoulders".
Despite these great results, for most of his life, Olafsson juggled his chess career with a regular job, having worked as a lawyer at the Icelandic Ministry of Justice until 1974. Shortly after he lost the 1982 FIDE elections, he was appointed as the highest-ranking employee at the Icelandic Parliament: Secretary-General. And yet, his contribution to the game has been extremely valuable, earning him a very special place in the history of chess.

We rejoice with Fridrik Olafsson as he celebrates his 85 birthday today, and we wish him good health and happiness in life!
David Llada
(Chief Marketing and Communications Officer)