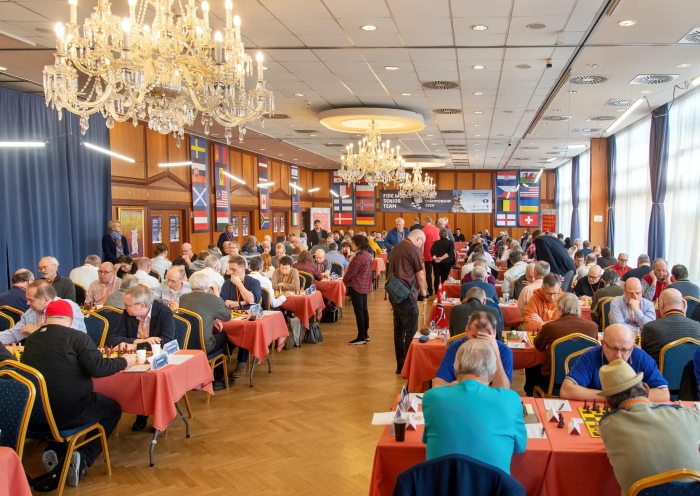 In connection with the current development of the situation in Europe, the government of the Czech Republic and the National Security Council have declared preventive measures against the spread of the coronavirus.

On Tuesday 10th, the National Security Council banned all cultural, sport, and social events with above 100 participants. Following the advice of the Czech Deputy Minister of Health of the Czech Republic Roman Prymula, the World Senior Team Championship was split across several smaller venues to be able to continue. It must be noted that Mr. Prymula, apart from being a FIDE Master, is an epidemiologist - the biggest national authority in this field. FIDE would like to take the chance to thank him for his personal involvement and support.

However, as the situation worsened, new measures have been put in place, effective today. The authorities have decided to cancel any event that involves the gathering of 30 or more people. In view of this new measure, the winners were declared after the seventh round.

The final ceremony was moved to 12th March 2020, 10 PM.

FIDE would like to thank the Tournament Director Jan Mazuch, the Deputy Director Petr Laušman, the tournament managers Jiří Petružálek and Michal Horacek, and all their team, for their professionalism and their many efforts into keeping this tournament going despite the difficulties.
50+ final standings:
1. USA – 12
2. LASKERSCHACHSTIFTUNGGK – 11
3. CZECHREPUBLIC1 – 11
4. ISLAND – 11
5. 1960-61 – 10
6. YAMAL – 10
7. ENGLAND1 – 10
8. CANADA – 10
9. SLOVAKIA – 10
10. MOSCOW – 9
65+ final standings:
65+ final standings:
1. RUSSIA – 12
2. FRANCE – 12
3. SCHACHFREUNDE LEIPZIG – 11
4. GERMANY 1 – 11
5. ISRAEL – 10
6. SWEDEN 1 – 10
7. SSC GRAAL-MUERITZ & FRIENDS – 10
8. CZECH REPUBLIC 1 – 10
9. DIE FRANKEN – 10
10. GERMANY 3 – 9
Official site: http://wstcc2020.net/