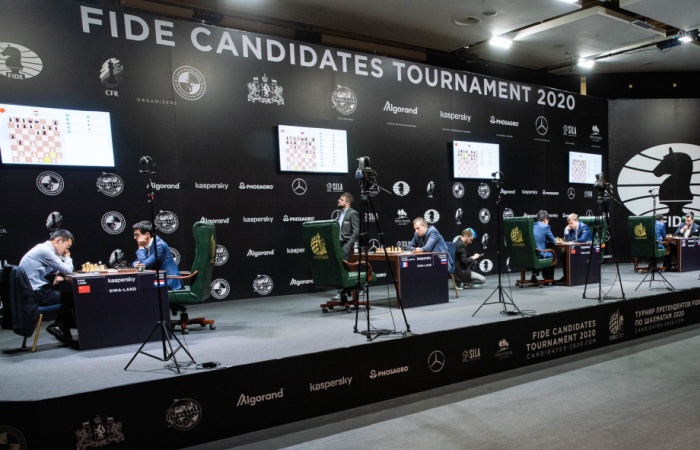 There has been no breakthrough at the 2020 Candidates Tournament as all four games of Round Four ended in a draw. Maxime Vachier-Lagrave of France was closest to scoring a full point but he missed his chances against Alexander Grischuk, despite the Russian being in severe time trouble. The longest game of the day was between American Fabiano Caruana and Russian Ian Nepomniachtchi which also ended in a draw. Altogether, there is no clear leader at the 2020 Candidates, as three players have 2.5/4 - Ian Nepomniachtchi, Maxime Vachier-Lagrave and Wang Hao
Round 4 started – and finished – with the Candidates tournament being wide open. Thanks to Ding Liren's comeback in Round 3, when he delivered a blow to Fabiano Caruana, all players entered the fourth round with a chance to make a significant step forward.
The round started with ceremonial moves made on all four boards. In the Game Caruana – Nepomniachtchi, the first move was made by Nikolay Karpol - legendary women's volleyball coach and President and Head coach of the VC Uralochka-NTMK Yekaterinburg. Andrey Simanovsky, President of the Chess Federation of the Sverdlovsk region opened the game Wang Hao – Kirill Alekseenko. Viktor Shepty, First Deputy Chairperson of the Legislative Assembly of the Sverdlovsk region, did the honors in the encounter Maxime Vachier-Lagrave – Alexander Grischuk. Finally, Albert Stepanyan, Executive Director of the Chess Federation of the Sverdlovsk region made the first ceremonial move in the game between Ding Liren and Anish Giri.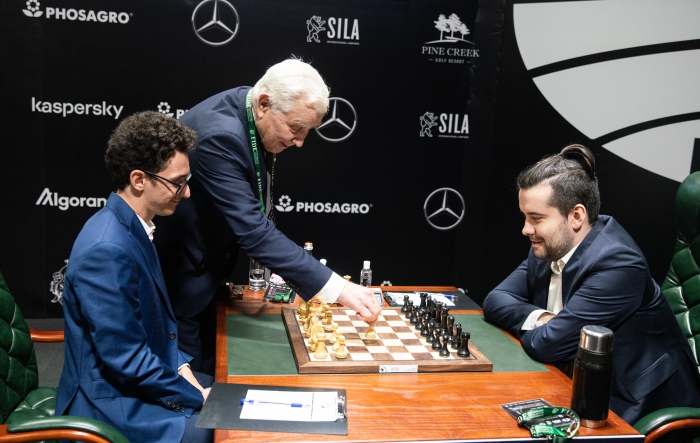 The most exciting game of the day was between Maxime Vachier-Lagrave and Alexander Grischuk (the only player to draw all his encounters). The Frenchmen opened with 1.e4 and Grischuk responded with the Berlin Defence in the Ruy Lopez. The game progressed quickly until one point: Grischuk spent 53 minutes on his 19th move before deciding to put his knight to e7. This was unusual, as the move seemed natural and had been played before (between Maxime Vachier-Lagrave and Hikaru Nakamura). On move 20, the Frenchmen sacrificed his c3-pawn and put some pressure on Black's position.
After 24 moves, White had the initiative as Black's king got stuck in the center and his a8 rook was cut-off from the action. The computer said the position was equal, however – Grischuk had under 10 minutes on his clock which suggested serious time trouble. By move 26, Grischuk had just two and a half minutes to make 14 moves! Then, unsurprisingly, Alexander made a serious mistake by taking White's pawn on a4, offered by Vachier-Lagrave. However, instead of 30.Re4 with the decisive advantage for White, the Frenchmen rushed with 30.Ba3+. (In an interview after the game, Maxime said he forgot about the 30.Re4 move. Even the greatest players make errors).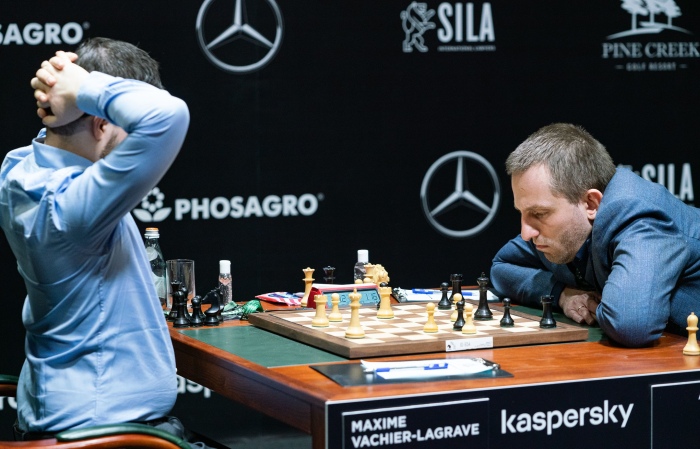 The game then transposed into a four-rook ending in which White had an advanced pawn on e6 and more active rooks. Nevertheless, after surviving major scare on 30th move, Grischuk safely reached the time control break and then confidently made a draw.
In an interview after the game, Alexander said that he "made a very stupid thing" by spending an hour thinking about an obvious move. Talking about the endgame, Grischuk said: "The position was extremely tactical despite it being an endgame. It could have gone either way."
This was a fourth consecutive draw for Grischuk in the 2020 Candidates.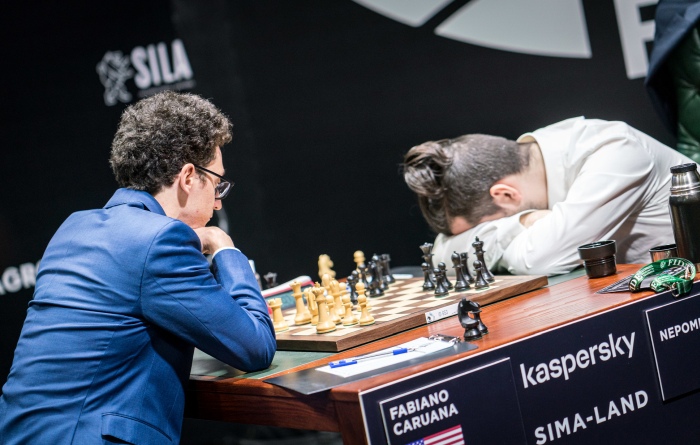 The game between Fabiano Caruana (white) and Ian Nepomniachtchi (black) developed quickly. After 1.d4 Nepomniachtchi went for Gruenfeld defense, his main weapon with Black. Caruana was blitzing his moves, launching his h-pawn towards the black king's fortress. The American secured his control over the center and advanced his pawn further to h6 hampering Black. Commenting on the game, Magnus Carlsen suggested that Nepomniachtchi is taking many risks. After exchanges in the center, Nepomniachtchi then offered to trade queens on move 26 but Caruana preferred to continue with the most powerful pieces on the board.
The American pinned his hopes on his d5-passer but Nepomniachtchi was defending accurately and patiently. Still White had some pressure but Fabiano made an inaccuracy with 31.Qf3, apparently overlooking the sequence 31...Qe1+ and 32…f5 after which Black was out of any danger, to say the least. After the exchange of queens, Ian tried to find some chances in the bishop endgame but Caruana did not give him any - a draw was called on move 55, after five hours of play.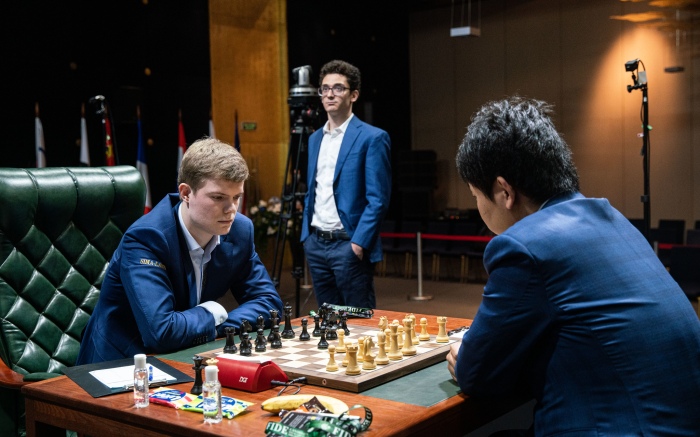 In their first duel ever, Wang Hao and Kirill Alekseenko agreed to split a point. Alekseenko obtained a solid position with Black and reached equality. Although Alekseenko was playing very carefully making sure he prevents White from activating his play – Peter Svidler, Alekseenko's second – noticed that his compatriot tends to overthink his positions sometimes thus creating needless complications. This was the case when Kirill played 13…Ra6 and found himself in an inferior position. In the following tense game with a lot of fine maneuvering, Alekseenko was defending with great accuracy and neutralized all White's active ideas. The opponents sealed a draw on 41st move.
Ding Liren – who got back into the tournament after defeating Fabiano Caruana in Round 3 – drew as White against Anish Giri. Both had a slow start to the tournament, with one point out of three.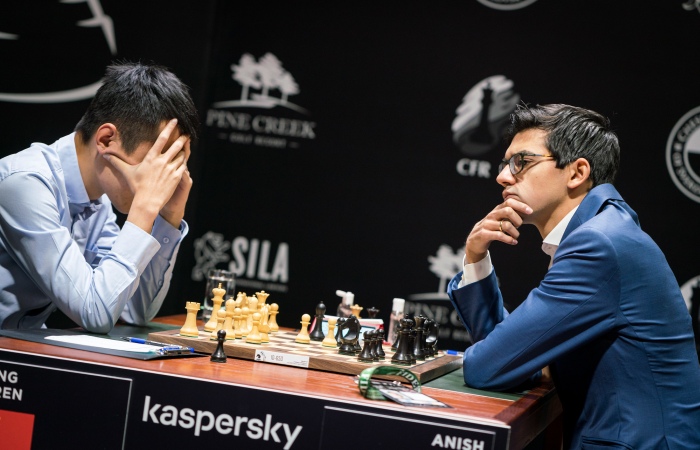 The opponents had a discussion in the Catalan Opening. White got a slight edge but there was no real way to make progress without serious missteps from Black's part. Naturally, Anish refused to cooperate – he demonstrated a very interesting idea of pushing his h-pawn and solved all his little problems. After massive exchanges, the game steered into an equal rook and bishop vs rook and bishop endgame in which a draw was a natural outcome.
Judit Polgar on the 2020 Candidates: An extraordinary situation but a great opportunity for chess
Joining the official commentary today (via Skype) was Judit Polgar – the strongest female chess player of all time. She reflected on the circumstances in which this tournament is being played:
"This is an extraordinary situation for the players. It is psychologically very tough. There are a lot of strange things happening. In the games, you could see that for some of the players their mind is hijacked. It's not only the results but the play itself. The checkups and everything must be having influence. It will take time before the players get used to this situation".
Polgar was, however, hopeful that the impact the coronavirus has on other sports events might help chess: "Now that the Candidates are running and there are no other sports, it is a great opportunity for chess. If games could have been played online, it would have also been a great opportunity. Also, now there is a lot of chess commentary online which is great."
Standings after Round 4:
1-3. Ian Nepomniachtchi, Maxime Vachier-Lagrave, Wang Hao – 2½
4-5. Fabiano Caruana and Alexander Grischuk – 2
6-8. Ding Liren, Kirill Alekseenko and Anish Giri – 1½
Round Five of the 2020 Candidates Tournament starts at 4 PM local time on March 22. The pairings for the fifth round are:
Anish Giri (The Netherlands) – Fabiano Caruana (USA)
Alexander Grischuk (Russia) – Ding Liren (China)
Kirill Alekseenko (Russia) – Maxime Vachier-Lagrave (France)
Ian Nepomniachtchi (Russia) – Wang Hao (China)
Official website: www.en.candidates-2020.com
FIDE website: www.fide.com
Chess Federation of the Sverdlovsk Region: www.ural-chess.com
Press inquiries: press@fide.com
Text: Milan Dinic
Photo: Maria Emelianova and Lennart Ootes

About the partners:
Sima Land - Title sponsor of the FIDE Candidates Tournament
Algorand - Official blockchain partner
Kaspersky - Official cybersecurity partner
PJSC PhosAgro - General partner of the CFR
Mercedes-Benz Russia - Official Auto Partner
Pine Creek Golf Resort - Partners
SILA International Lawyers - FIDE legal partner
You can find more information about the partners at
www.en.candidates-2020.com/partners