UPDATE 08/06/2020
The Checkmate Coronavirus campaign reached this morning the 500 hours milestone. Over the past three weeks, 1.779 tournaments have been played under this initiative, totaling 377.329 entries and 1.247.516 games of chess. We are very proud, and thankful, for the response of the chess community to this project. Acting together, in a coordinated campaign, allowed us to show the world the real potential of chess.

This has not passed unnoticed for the mass media: for instance, the prestigious American business magazine Forbes has published, not one, but two articles devoted to chess during the past few weeks. Wall Street Journal, the New York Times, Xinhua News Agency, and El Pais, have also published long reports about chess.

Remember that all participants are eligible to win a prize, no matter what their result was. You can check if you are one of the lucky winners at www.checkmatecoronavirus.com.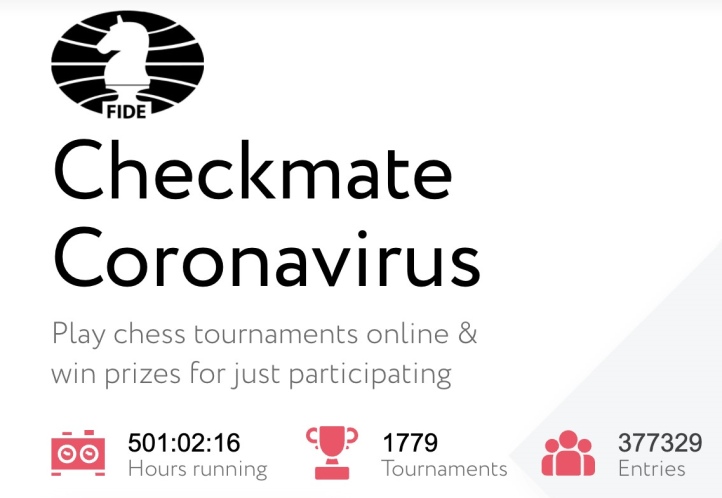 UPDATE 05/06/2020
"Checkmate Coronavirus" hit the one million game mark! The project has been running for more than 430 hours non-stop with almost 1500 tournaments played and 320,000+ entries made.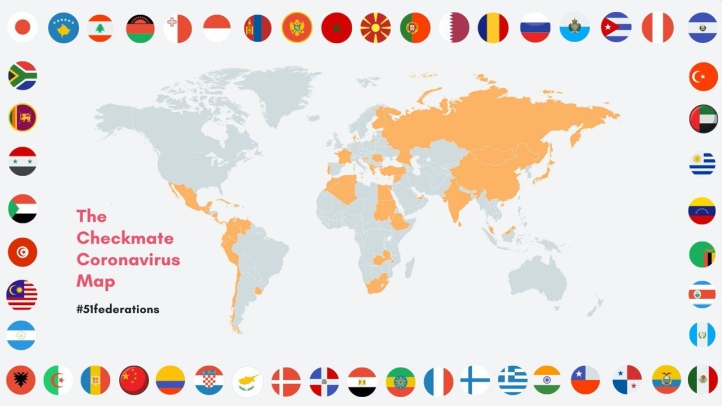 The number of federations that are joining their forces with "Checkmate Coronavirus" keeps growing fast. Currently, 51 National federations, unions, and associations responded keenly to FIDE President's call for action and supported the initiative.
Albania, Algeria, Andorra, Chile, China, Colombia, Costa-Rica, Croatia, Cuba, Cyprus, Denmark, Dominicana, Ecuador, Egypt, Ethiopia, France, Finland, Greece, Guatemala, India, Japan, Kosovo, Lebanon, Malawi, Malta, Mexico, Monaco, Mongolia, Montenegro, Morocco, Nicaragua, North Macedonia, Peru, Portugal, Qatar, Romania, Russia, Salvador, San Marino, Panama, Paraguay, South Africa, Sri Lanka, Syria, Sudan, Tunisia, Turkey, United Arab Emirates, Uruguay, Venezuela, Zambia and two Associations Affiliated to FIDE - the European Chess Union and the Mediterranean Chess Association. We would like to thank all of them for their support, enthusiasm and passion for chess!
Meanwhile, the winners of two prize draws are announced. The raffles conducted by Elisabeth Paehtz and Anish Giri were streamed live on May 25 and May 31. Twenty-two participants with ratings from below 1000 to impressive 2660 points are the lucky winners of the main prizes of the #checkmatecoronavirus project! Guest invitations to the 2021 Chess Olympiad and mini-matches with top GM go to Algeria, Australia, Azerbaijan, Bolivia, Brazil, Great Britain, Greece, Kenia, Netherlands, Philippines, Serbia, South Africa, Spain, and Singapore.
12 winners of guest invitations the Moscow Chess Olympiad 2021 are:
Khomisani (South Africa) (Chess.com, 05/24)
Thijscom (Netherlands) (Lichess, 05/20)
FizzyGum (India) (Chess.com, 05/22)
ChaosRamda (Canada) (Chess.com, 05/24)
Oprofdexadrez (Brazil) (Chess.com, 05/23)
YODITA (Bolivia) (FIDE rating: 2116) (Lichess, 05/25)
bakhtiinoureddiine (Algeria) (Lichess,05/22)
Random69 (country unknown) (Lichess, 05/24)
abdullayev_elshad (Azerbaijan) (Lichess, 05/29)
HisEloquency (Serbia) (Chess.com, 05/27)
2puddings (Great Britain) (Chess.com, 05/25)
victorpd16 (Spain) (Chess24, 05/29)
10 mini-matches with TOP GMs go to:
Bigyanghimire (Nepal) (Lichess, 05/25)
Astrapi (Cyprus) (Lichess, 05/19)
Ilhabela-SP (Brazil) (Chess.com, 05/20)
DoTheMath (Serbia) (Lichess, 05/22)
Simounn (Philippines) (Lichess, 05/25)
WhiteBug (Kenia) (Lichess, 05/20)
sravanrenjith (Australia/New Zealand) (Chess.com, 05/27) - this player is only 12 y.o. so he or she is the youngest winner of the main prize so far.
ramon_palatan (Philippines) (Chess.com, 05/29)
vbatman2004 (Greece) (Lichess, 05/19) - this winner has the biggest rating by now, 2660!
UncleLeoTheNovice (Singapore) (Lichess, 05/27)
Each prize winner is required to claim his/her prize before June 30, 2020, by sending an email to prizes@checkmatecoronavirus.com with the following data:
• player's nickname
• player's real name
• player's email address
• player's home address (only for players who won Checkmate Coronavirus Souvenirs)
Winners of the minor prizes are published on checkmatecoronavirus.com.
The next prize draw will be held on June 7.