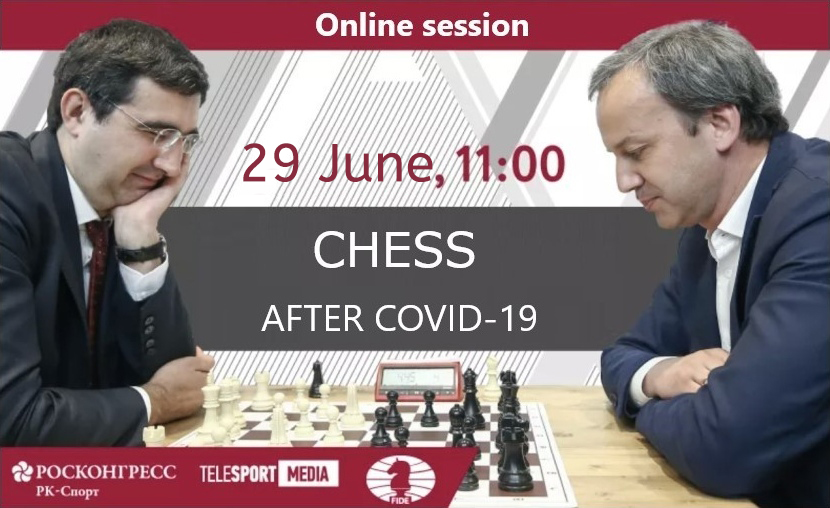 FIDE President Arkady Dvorkovich and the 14th World Champion Vladimir Kramnik will take part in an online discussion Chess after COVID-19, organized by Roscongress Foundation and FIDE. The event starts on June 29 at 11:00 Moscow time (8:00 GMT).
"We will talk about the last tendencies in chess, FIDE's initiatives aimed at promoting and developing online-chess and explosive growth of interest to our game during the pandemic. We are also going to discuss a possible resumption of live tournaments, the prospects of chess inclusion in the school curriculum, the legacy of the biggest chess events, and other relevant topics. As long-term partners with Roscongress Foundation, we have been holding chess receptions and other sports projects at the largest economic forums and continue our cooperation in the virtual environment." Arkady Dvorkovich said.
The discussion, powered by Telesport Media television studio, also features the executive director of Chess Federation of Russia Mark Glukhovsky, the rector of Russian State Social University Natalia Pochinok, State Duma Deputy Alikhan Kharsiev, the sports minister of Primorsky Kray Jan Kuznetsov and the director for development and strategic partnership of "Odnoklassniki" social media and social networking service Alexander Volodin. Vice Prime Minister of Udmurtia Mikhail Khomich will serve as a moderator.
You can watch it here: https://www.youtube.com/watch?v=ZRP17U1TAXQ
Roscongress Cup chess tournaments featuring Russian political and business elite have become a trademark of St. Petersburg International Economic Forum, Eastern Economic Forum in Vladivostok, and Russian Investment Forum in Sochi. During the pandemic, these events migrated into the online format.