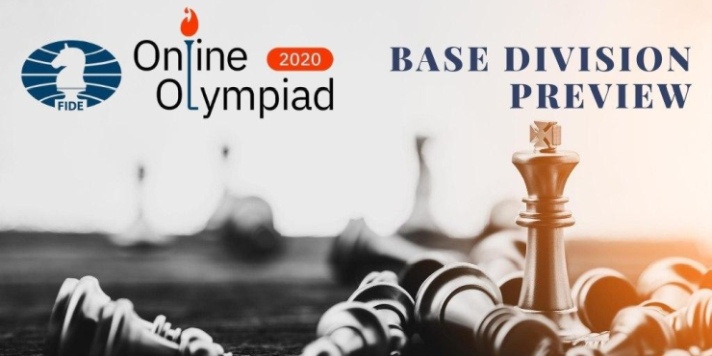 FIDE Online Olympiad starts on July 25 with matches in the Base Division, where 30 teams divided into three pools will fight for 12 seats in Division 4 - the next stage of this competition, scheduled for July 29-31. A total of 163 teams registered for the tournament, but the strongest squads will engage in a battle in a few weeks.
Usually, at live Olympiads, the teams that can't boast of the world's best players in their lineups are not in the spotlight, as the general chess audience focuses on favorites. The unique format of FIDE Online Olympiad gives us a chance to take a closer look at the teams bereft of chess stars but united by a sincere love for the game and a strong desire to develop and make progress. The qualifying format of tournaments in divisions also allows us to make some predictions and try to figure out the teams that will advance to the next stage.
Base Division consists of the teams that either have not performed well at the last live Olympiads or did not participate at all (five teams are making a debut at FIDE Online Olympiad: Bhutan, Cayman Islands, Grenada, Laos, and Saint Lucia). Four teams from each Base Division pool will qualify for Division 4.
Pool A (Brunei Darussalam, Bhutan, Guam, Laos, Oman, Macau, Somalia, Pakistan, Fiji, Myanmar)
Myanmar is a clear favorite in this group – with 3 IM (Wynn Zaw Htun, Nay Oo Kyaw Tun and Myint Han) in its ranks, this team will most likely take first place and a spot in Division 4, in which it is going to be one of the favorites as well. Myanmar chessplayers have been playing online a lot lately and this format suits this rapidly growing chess country very well.
Brunei Darussalam also looks like a strong contender for a slot in Division 4 – all the players of this team headed by FM Azahari Aliuddin have FIDE rating. Since the two main favorites of group A will clash in the first round this match promises to be the centerpiece of the starting day.
As for the teams taking two other qualification spots, it is a tough call. If we use rating as the main reference, then Fiji, Guam, and Oman are going to contest for third and four places in this pool. On the other hand, it is hard to evaluate the level of players who have not participated in international tournaments and have no FIDE rating. It might be very interesting to follow the Pakistani team – chess has just begun to grow in this country, but who knows, maybe the local federation already managed to find some future champions.
Pool B (Mali, Democratic Republic of the Congo, Lebanon, Qatar, Burundi, San Marino, Liberia, Gambia, Gabon, Bahrain)
There is a clear favorite in this group as well - Lebanon put together a strong, balanced team headed IM Eid Fadi with two WFMs on women's boards.
Two neighboring countries Qatar and Bahrain also have a very good chance to qualify for Division 4. Both teams are staffed with experienced players. With a well-known GM Hicham Hamdouchi as a coach, Qatar is headed by IM Nezd Husein Aziz.
Burundi turned in the best performance among all Base Division teams at the last Olympiad in Batumi and will try to prove that it was not a fluke. One of the two European teams in Base Division – San Marino – enlisted just six players and will have to play all matches without substitutions.
Pool С (Cyprus, Cayman Islands, Mauritania, Aruba, Libya, Antigua & Barbuda, Haiti, Saint Lucia, Cape Verde, Grenada)
In this most unpredictable group three teams – Cayman Islands, Saint Lucia, and Grenada (that registered at the last moment) – make debut in such a high-level competition. Most likely they will have a hard time fighting with, say, Haiti, on equal terms. Indeed, Haiti has no stars in its lineup but all the team members are quite experienced players with FIDE rating.
Apart from Haiti, team Cyprus with the head of FIDE Social Commission FM Paris Klerides playing under its banner looks like a strong candidate to progress to Division 4. It will be interesting to watch Cape Verde in action – the highest-rated player in Base Division IM Ortega Amarelle Mariano competes for this island nation but his teammates lack chess experience.
The matches in Base Division will be held over July 25-27 with three rounds of speed chess (15+5) played every day. FIDE.com and the official website of the FIDE Online Olympiad will be covering the competition daily.
More information on the official website: https://olymp.fide.com