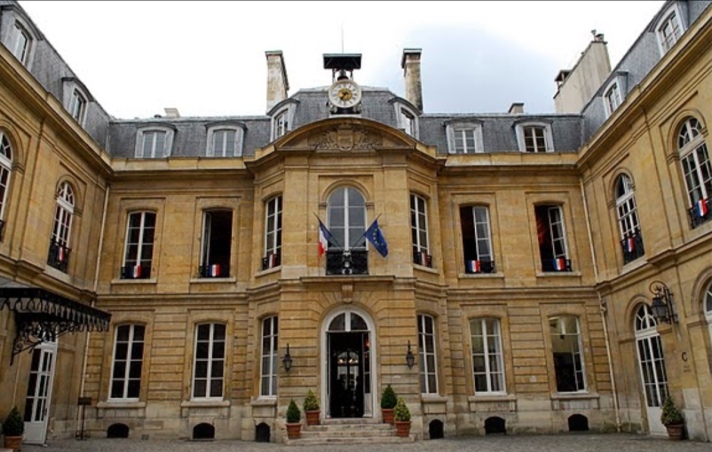 Birthplace of FIDE. Photo: Google Maps
This article was originally published on the FIDE Newsletter #10 (July 21, 2020). If you want to receive this biweekly publication directly in your inbox, please subscribe here.
On July 20, 1924, FIDE was born in Paris. This is hardly news to any chess lover since the echoes of our birthday celebrations still resound on social media. But, where exactly was our Federation born, and who were its parents?
FIDE was born at the Town Hall of the IX Arrondissement of Paris (6 Rue Drouot). This building is located a 2-min walk from the Richelieu-Drouot metro station and the Musée Grévin.

As you probably know, that summer Paris was hosting the 1924 Summer Olympics, and a group of very determined men who truly loved chess decided to organize an important event alongside the Olympic Games: the first international team chess tournament, which is considered the first "unofficial" Chess Olympiad. This tournament was held at the "Hotel Majestic", now known as "The Peninsula".
Among these men, there were two key figures. One was the secretary of the French Chess Federation, Pierre Vincent, who is described by "The Swiss Chess Review" as "the devoted and tireless secretary who was the initiator and soul of the tournament". The other one was the world-champion-to-be, Alexander Alekhine, who back then was living in Paris under the status of "stateless refugee".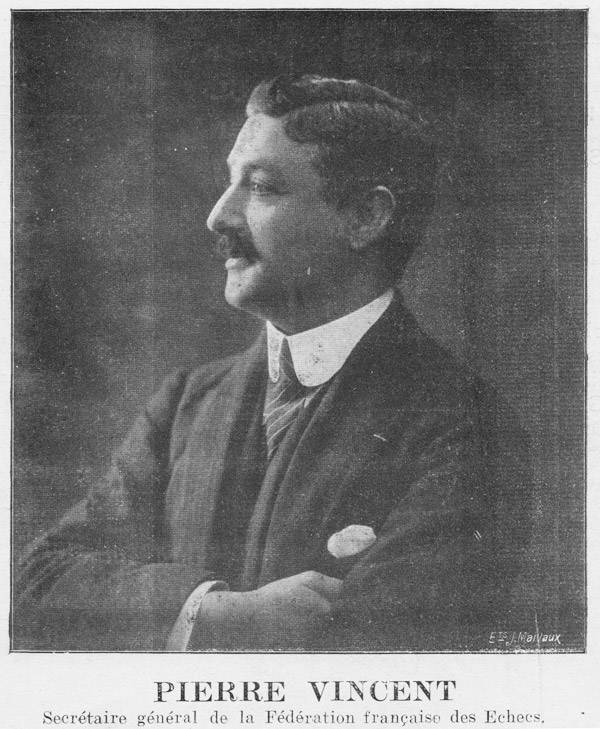 Pierre Vincent. Photo: January 1926 issue of L'Echiquier.
On 20 July, the last day of the games, 15 delegates from all over the World signed the proclamation act of what was originally known as "Fédération Internationale des Échecs" or "FIE" (shortly after the acronym was changed to "FIDE").
These were the 15 founding signatories:
Ignacio de Peñalver y Zamora (1857-1933) of Spain.
Florenziano Marusi (1860-1936) of Milan, Italy.
Francis Hooper Rawlins (1861-1925) of Bath, England.
Steven Francis Smith (1861-1928) of British Columbia, Canada.
Anatol A. Tscherpurnoff (1871-1942) of Helsinki, Finland.
Marc Nicolet (1876-1942) of Biel, Switzerland.
Jakov Ovadija (1878-1941) of Belgrade, Yugoslavia.
Pierre Vincent (1878-1956) of France.
Alexander Rueb (1882-1959) of The Hague, Holland.
Istvan Abonyi (1886-1942) of Budapest, Hungary.
Leon Willem Weltjens (1887-1975) of Anvers, Belgium.
Ion Gudju (1897- 1988) of Bucharest, Romania.
Karel Skalička (1896-1979) of Prague, Czechoslovakia.
Izaak Towbin (1899-1941) of Korets, Poland.
Roberto Gabriel Grau (1900-1944) of Buenos Aires, Argentina.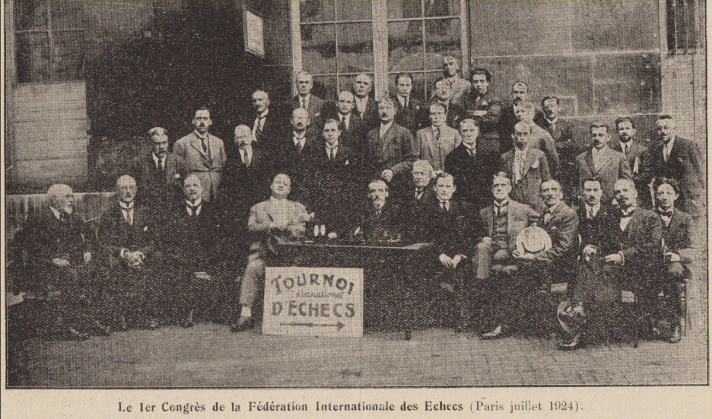 Attendants to the first FIDE Congress, Paris 1924
Alexander Rueb, President of the Dutch Federation, was appointed as the first FIDE President. By profession, he was a lawyer at the Dutch Supreme Court and diplomat. As a player, he was a mere amateur, and not particularly strong, but he wrote books on endgame studies and he was a passionate collector of chess books (his collection is now in the library of the University of Amsterdam).
Dr. Rueb served as president of Fide for 25 years, from 1924 to 1949, and you can find more information about his life in this article.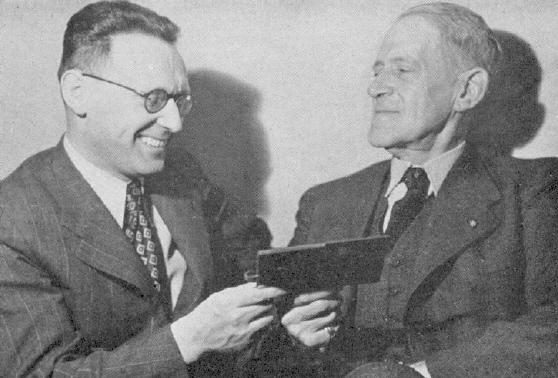 Mikhail Botvinnik and Alexander Rueb