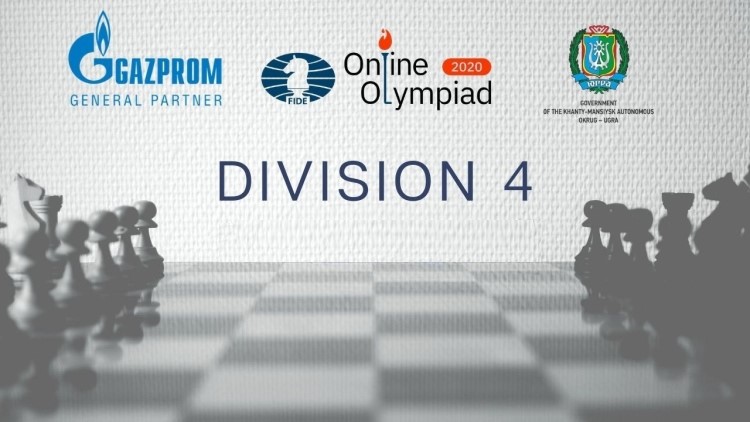 It was a relatively quiet day in most pools as many top teams had won the most important matches in previous rounds. Nevertheless, at the very end, we saw a real drama in group E.
Pool A
In Round 7, team Nepal, demonstrating some attractive chess lost its chance to qualify for Division 3. One of the team leaders, Bibek Thing, erroneously traded queens in a winning queen endgame, and after realizing that the emerged pawn ending was drawing he choked up and forfeited on time. As a result, Nepal lost to Hong Kong 2:4 and had to play a supporting role in the last round.
On the other hand, Nepal did a great job even with this supporting role, ruining hopes of the rating-favorite Myanmar. After a disastrous first day, Myanmar was trying to make up but stumbled in Round 8. After Maynmar lost to Nepal the trio of qualifiers for Division 3 was finally formed - Hong Kong, Thailand, and Chinese Taipei. Hong Kong finished first after beating Thailand in the final round. It should be noted, that team Thailand gave a rest day to its leader FM Thanadon Kulpruethanon (6/6) and Pornouma Promsirinimit (5.5/6), playing on the fourth board.
Pool B
Since three teams - Syria, Mozambique, and Malta – had a good cushion after two days, only connection problems could have prevented them from advancing to Division 3. Everything went smoothly and the leaders carried their quest in this pool to its logical conclusion.
Round 9 was decisive in terms of top-3 finals standings. Mozambique somewhat unexpectedly fell to Qatar 2:4 - apparently, due to misconnection on board 5. As a result, the African team finished third, Malta is second and Syria came in the top.
Pool C
The clear favorites Nigeria and Lebanon along with the "revelation of the tournament" Mauritania progressed to Division 3 with a round to spare. After loosing to Mauritania Lebanon might have had some problems but the team resolved all the issues in a key match with Nigeria.
The most spectacular move in this Division is authored by the Lebanon leader IM Fadi Eid – in the game with IM Oladapo Adu, the Nigerian, playing with Black, was dominating the entire game but let his guard down in time trouble:
Fadi Eid - Oladapo Adu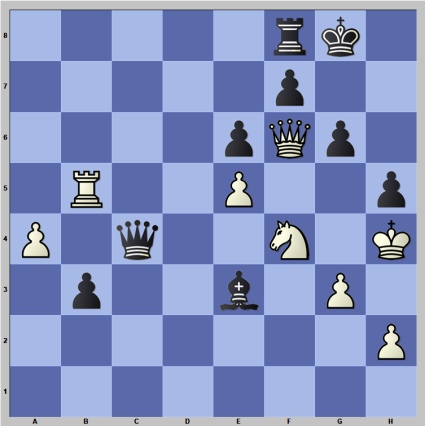 A careless 45...Qxa4? was met with a stunning 46.Kg5!!, and there is no adequate defense against 47.Kh6 followed by checkmate on g7-square. The game went on 46...Kh7 47. Rb7! Qe8 48. Qxg6+ Kh8 49. Qh6+ Kg8 50. Kf6! Qd8+ 51. Re7 and Black gave up his queen but got checkmated soon anyway.
Despite losing the match 1.5:4.5 Nigeria had a great chance to take first place, as in the last round encounter with Mauritania the team looked like a clear favorite. After Rahilou Hemam (Mauritania) did not find an elegant checkmate in a few moves, one may have thought that Nigeria would eventually prevail, but then the unthinkable happened on first board:
Abimbola Osunfuyi – Sidi Boidiya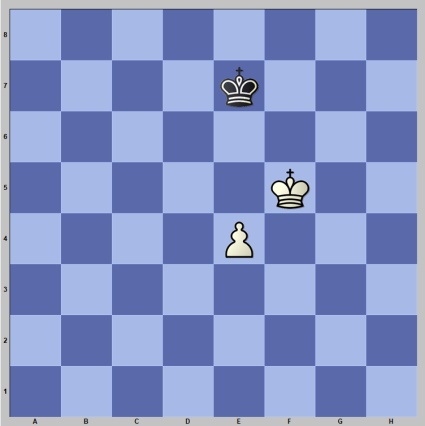 Abimbola Osunfuyi (Nigeria) made a misclick - 67.e5?? which resulted in a draw both in the game and in the match. Mauritania sensationally won the tournament in Pool C, Lebanon came second, Nigeria is only third. All three teams will be in the spotlight in Division 3.
Pool D
Again, we knew all three teams progressing to the next stage before the final round. Palestine, that shined on the starting day, first complicated its task by conceding an important point to Ghana in Round 7, and then blew all chances after losing a key match against Puerto-Rico (2:4). By winning this encounter Puerto-Rico secured third place, whereas the first two spots had been already taken by Angola and Suriname, the teams that comfortably defeated their opponents throughout the day.
Angola also gave a day-off to its leaders in the last round. It is clear that this African team, scoring the absolute best result in Division 4, is capable of giving a hard time to many favorites.
Pool E
Unlike other pools, we saw a nail-biting finale in this group. After losing a key match vs. Trinidad & Tobago, Jamaica had to take at least one point against Honduras and the team succeeded - 3:3 thanks to whitewashing on the women's boards.
In Round 8 all the favorites routed their opponents and before the final round, we had a very interesting situation. Nicaragua (15 points) locked up a spot in Division 3, Trinidad and Tobago (14 points) and Honduras (13 points) were playing each other, whereas Jamaica was more than likely to whitewash Sierra Leone (the team defaulted in the end).
A simple calculation showed that a draw in the key match guaranteed both teams advancing to the next stage, but in chess, such a cynical approach and violation of fair play principles is a very rare case. Honduras won a very close match over Trinidad and Tobago 3.5:2.5 and climbed to the second position. FM Marlon Miller (Honduras' second junior board) played the best game of the match; it is worth watching in its entirety (https://www.chess.com/events/2020-fide-online-olympiad-division-4-pool-e/09-Miller_Marlon-Mc_Intosh_Isaiah) – a sound positional play combined with a well prepared, spectacular attack. Any GM would be proud of it.
As a result, Trinidad and Tobago fell back to fourth place and arguably became the unluckiest team in Division 4. Jamaica owes its third place to unstoppable Rachel Miller (pictured below) – one of the best young players in the Americas, she won all her nine games in an impressive style.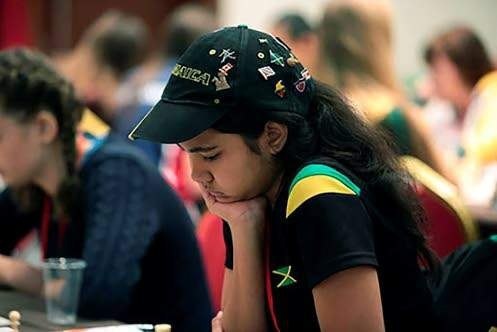 In conclusion, let's check out all the teams to advance to Division 3:
Hong Kong
Thailand
Chinese Taipei
Syria
Malta
Mozambique
Mauritania
Lebanon
Nigeria
Angola
Suriname
Puerto Rico
Nicaragua
Honduras
Jamaica
They will be joined by 35 seeded teams lead by Denmark. FIDE Online Olympiad 2020 will resume on Friday, August 7. The composition of all the pools in Division 3 will be published within one-two days after the verification of Division 4 results by the Fair-Play Panel.