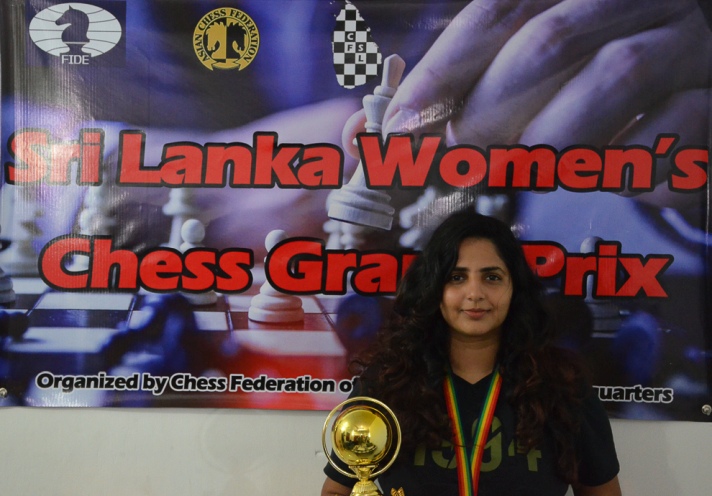 WIM Sachini Ranasinghe (Nf3 Chess Club) became the champion of the inaugural Sri Lanka Women's Chess Grand Prix 2020. Despite losing her last round game against young Tharushi Sandeepani of Devi Balika Vidyalaya, she finished with an excellent score 9 ½ points out of 11. The four-time women's National Chess Champion (2009, 2011, 2012 & 2013), Sachini played at four FIDE Chess Olympiads in 2010, 2012, 2016, and 2018). The champion was awarded a trophy, gold medal, and prize money in the amount of Rs. 30,000.
WFM Dinushki Premanath of the University of Moratuwa took a poor start (including a loss in a key first-round game to eventual champion) but picked up steam in the middle of tournament reeling off six straight wins to finish on 8 points. Dinushki took the National Women's Chess Champion title in 2010 and 2018 and has participated in a couple of Chess Olympiads in 2012 and 2018. Dinushki got silver and a prize of Rs. 12,000.
WCM Tharushi Niklesha (Visakha Vidyalaya) and WIM Nelunika Methmani (University of Sri Jayawardenapura) also scored 8 points each and tied for second place but had to settle for bronze and fourth place respectively due to inferior tiebreaks. Both received equal money with Dinushki Rs. 12,000 each. Asvini Pavalchandran finished fifth scoring 7½ points and she was awarded Rs. 4,000 in cash.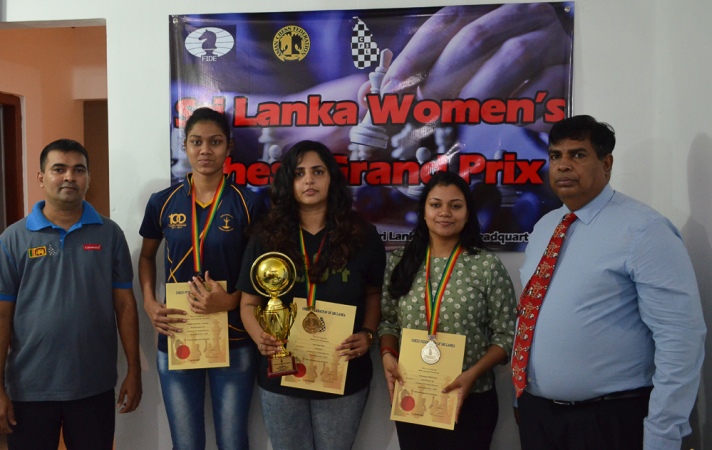 The tournament, organized by the Chess Federation of Sri Lanka, became the first women sports event in the country after the COVID 19 outbreak. The competition was held at the Chess Federation Headquarters, Delkanda, Nugegoda, and stretched from July 25 to August. The total prize fund of the event amounted to Rs 70,000. Mr. Luxman Wijesuriya, General Secretary of South Asian Chess Council & Commonwealth Chess Association and Vice President of the Asian Chess Federation attended the awards ceremony as the guest of honor.
Sachini, Niklesha, and Ashvini are the members of the national team which will take part in the FIDE Online Chess Olympiad.
Final Standings:
1. WIM, Sachini Ranasinghe – 9½
2. WFM, Dinushki Premanath – 8
3. WCM Tharushi Niklesha – 8
4. WIM, Nelunika Methmani – 8
5. Ashvini Pavalachandran – 7
6. Sandeepani Tharushi – 6½
7. Prasansa Premanath – 5½
8. Janadani Abeysinghe – 5½
9. Oneli Weerawardena – 3½
10. Sayumi Gamage – 3
11. Sayumi Vimansa Piyumanthi – 1½