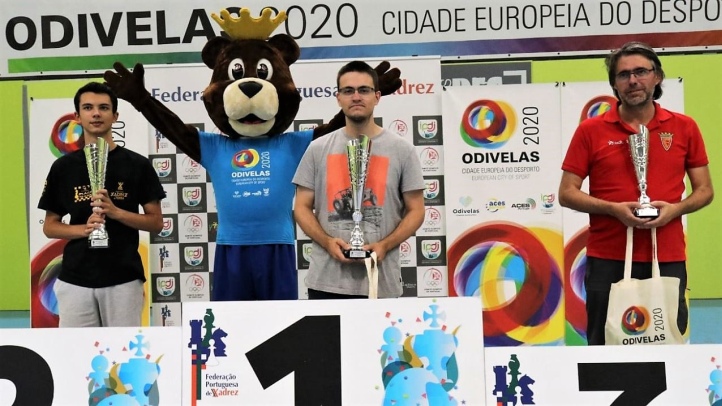 Held from September 7 to September 14 in Odivelas, the Portuguese Chess Championship became the first live sports event in the country after the coronavirus outbreak.
IM André Sousa clinched his third national title – previously he won the Portuguese championship in 2017 and 2019. In Odivelas he scored 7 out of 9 in the round-robin tournament losing only one game in the starting round – to NM Bruno Martins. This promising junior, who is still under 18, became the discovery of the championship.
Martins finished clear second with 6.5 points, picked up 97.6 rating points, and completed the FM title requirements. Despite last round defeat, IM Sérgio Rocha held the third place with a better tiebreak over José Francisco Veiga – both scored 5.5 points.
Final standings:
1. Sousa André Miguel Vale Ventura – 7
2. Martins Bruno André Leite – 6.5
3. Rocha Sérgio Manuel Colaço – 5.5
4. Veiga Jose Francisco Reis Pedreiras – 5.5
5. Fernandes António Manuel De Almeida – 5
6. Dias Paulo Jorge Guimarães – 5
7. Fidalgo André Neves – 4
8. Reis Luis Miguel De Sousa Almeida E – 3
9. Diogo Vasco – 2.5
10. Santos Antonio Pereira – 1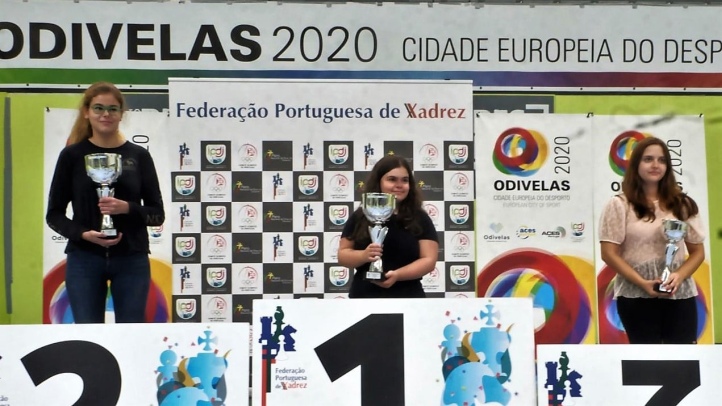 14-year-old Sara Soares from Porto surprised the higher-rated field at the 5-round Portuguese Women's Championship, winning the starting four games and securing her first national title with one round to spare. In the last round, Soares was defeated by Filipa Pipiras who claimed the silver medal, giving herself a perfect present for the 15th birthday that she celebrated on that very day. Defending champion WCM Mariana Silva and Camila Avelino shared for second with 3.5 points but the tiebreak put them in the third and fourth place respectively.
Photo: https://fpx.pt/site/