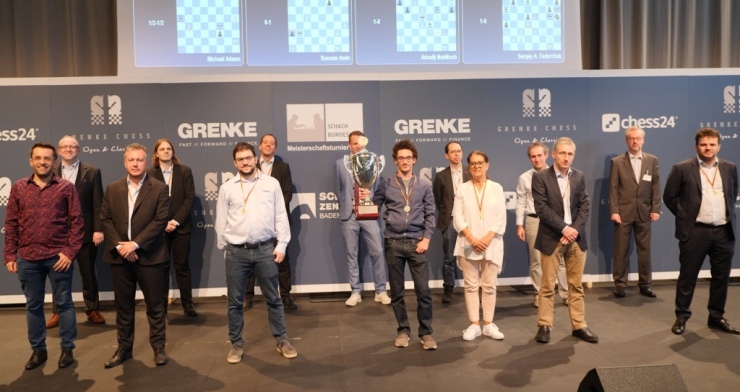 The ending of the 2020 German Championship tournament in Karlsruhe turned into a real thriller. OSG Baden-Baden defeated SC Viernheim in the last round 4.5: 3.5 in a tense battle and defended the German Champion title. Viernheim was on the verge of springing a big surprise but had to settle for the runner-up position. Third place went to Schachfreunde Deizisau, which clobbered Solingen 6.5: 1.5. In the final round, Werder Bremen prevailed over Berlin 5.5:2.5 and finished in fourth place. Solingen came fifth ahead of Bayern Munich which beat Aachen 5.5:2.5. Berlin and Aachen found themselves at the bottom of the final standings.
Before the final round battle between Baden-Baden and Viernheim, the setup was clear. Thanks to the better board points a draw was enough for the reigning champion to defend the title. This topsy-turvy match was ultimately decided on the tail boards.
Fabiano Caruana and Shakhriyar Mamedyarov were the first players to shake hands - after 20 moves an absolutely even endgame emerged on the board. Three more draws on boards two, three, and four followed shortly.
The first decisive outcome was registered on board eight. Here Sergei Fedorchuk won a fine positional against Etienne Bacrot. However, Viernheim's optimism was short-lived as Francisco Vallejo Pons quickly leveled the score by defeating Amin Bassem.
With 3:3 on the scoreboard, it looked like the final result would be 4:4, as David Anton Guijarro had a clear advantage against Michael Adams while Arkadij Naiditsch had a winning position in his game with Kovalenko although his king was exposed to various threats. Eventually, Naiditsch maneuvered his king to safety and scored the full point. Meanwhile, Anton Guijarro missed a forced win and allowed Adams to transpose into an equal rook endgame so that Baden-Baden even won this great fight. As a result, the defending champion scored a hard-fought victory.
OSG Baden-Baden expanded the winning streak, which was only interrupted by SG Solingen in the 2015/16 season, and won the German championship for the 14th time in 15 years.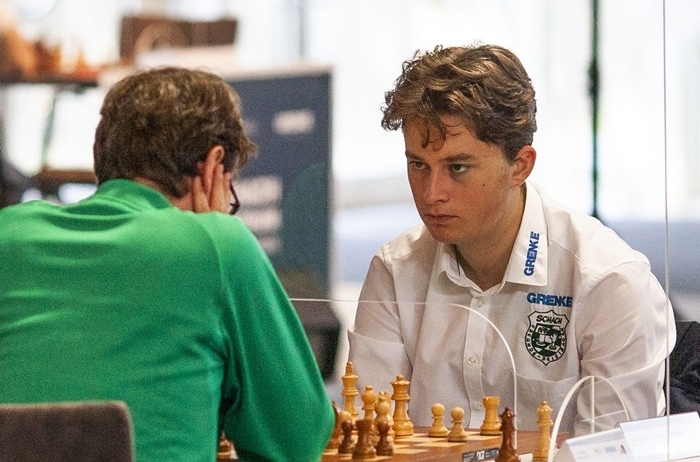 The tournament went very well for Vincent Keymer. The 15-year-old grandmaster won the last encounter against Jan Smeets and with 5.5/7 result he picked up 20 rating-points.
Final standings:
| | | | | | | | | | |
| --- | --- | --- | --- | --- | --- | --- | --- | --- | --- |
| Place | Team | 1 | 2 | 3 | 4 | 5 | 6 | 7 | 8 |
| 1. | OSG Baden-Baden | + | 4½ | 6½ | 5 | 6 | 7 | 7 | 7 |
| 2. | SC Viernheim | 3½ | + | 5 | 6 | 5 | 5½ | 6 | 7 |
| 3. | Chess friends Deizisau | 1½ | 3 | + | 5 | 6½ | 4½ | 5 | 7½ |
| 4. | SV Werder Bremen | 3 | 2 | 3 | + | 4½ | 5 | 5½ | 6 |
| 5. | SG Solingen | 2 | 3 | 1½ | 3½ | + | 5 | 7 | 5½ |
| 6. | FC Bayern Munich | 1 | 2½ | 3½ | 3 | 3 | + | 5 | 5½ |
| 7. | SF Berlin | 1 | 2 | 3 | 2½ | 1 | 3 | + | 4 |
| 8. | Aachener SV | 1 | 1 | ½ | 2 | 2½ | 2½ | 4 | + |

Official website: https://www.schachbundesliga.de/
Text: Georgios Souleidis
Photos: Christian Bossert