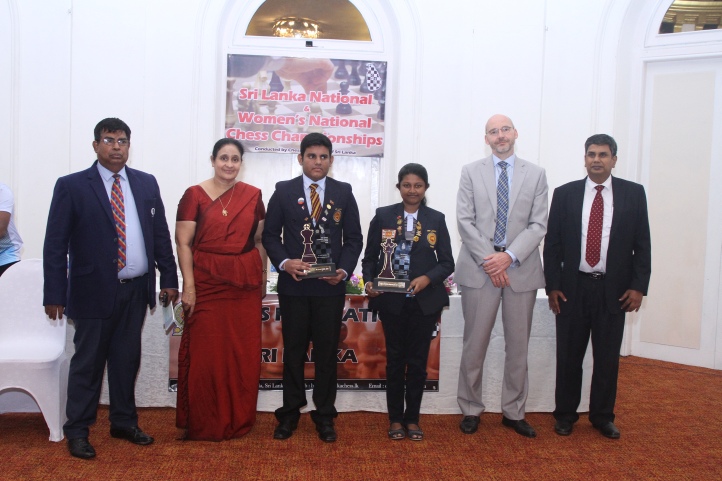 A 16-year old schoolboy from Ananda College, Colombo, Ranindu Liyanage is crowned as the National Chess Champion. Ranindu who was playing excellent сhess from the very start on 11th September finished with an excellent score of 10 ½ points out of 13. On his way to the top spot Young Ranidu suffered an unnecessary loss to CC Weerasinghe at the penultimate round but conceded only three draws to LMST De Silva, Lakshitha Randil and Gayantha Dissanayake. Ranindu won the National Chess Champion title, Rs. 100,000/= with a trophy and gold medal.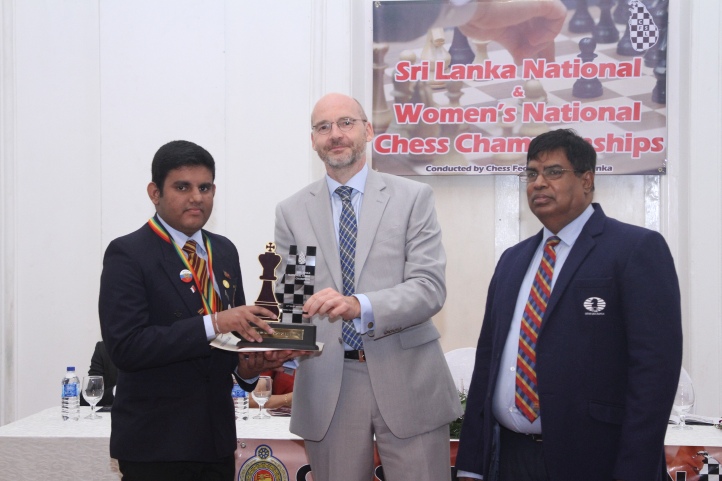 Minul Doluweera of Royal College Colombo also had a good tournament, scoring 10 points out of 13, but lost the race for the title to Ranidu and had to settle for silver. The youngest participant, 14-year old Susal De Silva of Nalanda College took bronze.
Nethmi Fernando of Girls High School clinched the title of Sri Lanka Women's National Chess Champion scoring 10/13. After an impressive start 6½ points out of 7 she lost two games to Sandeepani Tharushi and Newanji Hewawasam in the second half of the event but came back strongly to earn 3 ½ out of 4 in the last four rounds. Along with the title the 16-year old Nethmi received Rs. 60,000/= in cash plus a trophy and gold medal.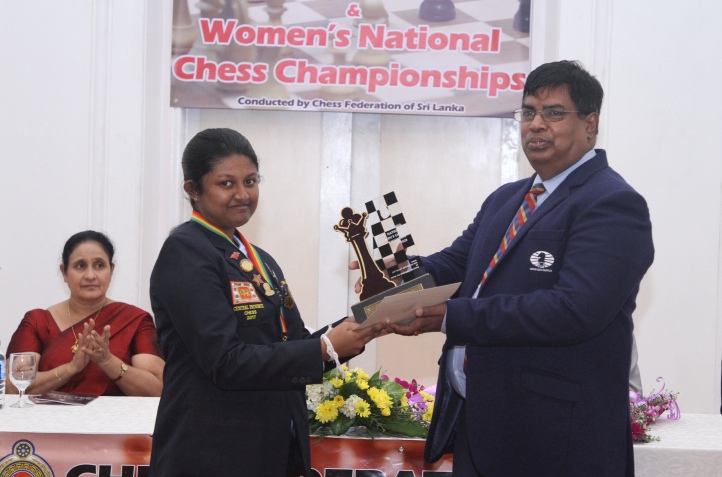 After losing her first three games of the event Sandeepani Tharushi of Devi Balika rebounded strongly to score 9 ½ points, shared the second place with Ashvini Pavalachandran of Wicherly International School, and got silver thanks to better tiebreaks.
The Sri Lanka National Chess Championship 2020 held by the Chess Federation of Sri Lanka at Taj Samudra Hotel, Colombo, from September 11th to 21st September 2020 was a great success. Mrs. Sandamali Aviruppola, Principal and Mr. Luxman Wijesuriya, the President of Chess Federation, General Secretary of South Asian Chess Council and Commonwealth Chess Association, and Vice President of Asian Chess Federation presented the awards to the winners.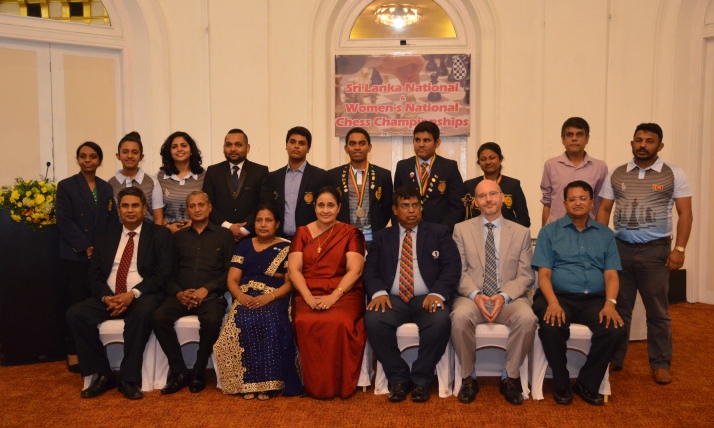 The Chess Federation of Sri Lanka invited several National Champions such as Harinlal Aturupane and Suneetha Wijesuriya who attended the closing ceremony.
Final Standings - Men
| | | | | |
| --- | --- | --- | --- | --- |
| Rk. | | Name | Club/City | Pts. |
| 1 | CM | Liyanage Ranindu Dilshan | Ananda College - Colombo | 10.5 |
| 2 | FM | Doluweera Minul Sanjula | Royal College - Colombo | 10 |
| 3 | FM | De Silva L M S T | Nalanda College - Colombo | 8 |
| 4 | | Theekshana H G Denuwan | Ananda College - Colombo | 8 |
| 5 | IM | Weerawardane Romesh | | 7.5 |
| 6 | | Randil Lakshitha | Japura Chess Club | 7 |
| 7 | | Dabarera G W D M | Maliyadeva College - Kurunegala | 6.5 |
| 8 | FM | Galappaththi Chinthaka Anuruddha | Kandy YMCA Chess Club | 6.5 |
| 9 | | Amarasinghe A A C B | Japura Chess Club | 5.5 |
| 10 | | Samaranayake K P R N | Pera Knights Chess Club | 5.5 |
| 11 | | Bandara Dhanushka | Kandy YMCA Chess Club | 5 |
| 12 | | Sivathanujan S | Kokuvil Hindu College | 4 |
| 13 | | Weerasinghe C C | Maroons Chess Club | 4 |
| 14 | | Dassanayake D M G S | St Sylvesters College - Kandy | 3 |
Final Standings - Women
| | | | | |
| --- | --- | --- | --- | --- |
| Rk. | | Name | Club/City | Pts. |
| 1 | | Fernando Nethmi L | Girls' High School - Kandy | 10 |
| 2 | | Sandeepani M Tharushi | Devi Balika Vidyalaya - Colombo | 9.5 |
| 3 | | Pavalachandran Ashvini | Wycherley International School | 9.5 |
| 4 | WCM | Tharushi T H D Niklesha | Visakha Vidyalaya - Colombo | 9.0 |
| 5 | WIM | Ranasinghe S D | Nf3 Chess Club | 8.5 |
| 6 | WCM | Jayaweera Sayuni Gihansa | Dharmasoka College - Ambalangoda | 7.5 |
| 7 | WCM | Pallie Ehsha Mishela | Visakha Vidyalaya - Colombo | 7.0 |
| 8 | | Wijesinghe W M M N | Girls' High School - Kandy | 7.0 |
| 9 | WFM | Hewawasam H Y Nevanjee Dimanya | Visakha Vidyalaya - Colombo | 6.5 |
| 10 | | Abeysinghe H M H Janandani | NSBM Green University | 5.0 |
| 11 | WCM | Wickramasinghe Minethma Lasandi | Sujatha Vidyalaya - Matara | 3.5 |
| 12 | | Ranganath Tharuli Vihasna | Yoshida Shokanji International Scho | 3.0 |
| 13 | | Koswatte C T | Sri Lanka Airport & Aviation | 2.5 |
| 14 | | Mapa M M W H | Girls' High School - Kandy | 2.5 |
Text and photo: Luxman Wijesuriya, President of CFSL and Vice-President of Asian Chess Federation