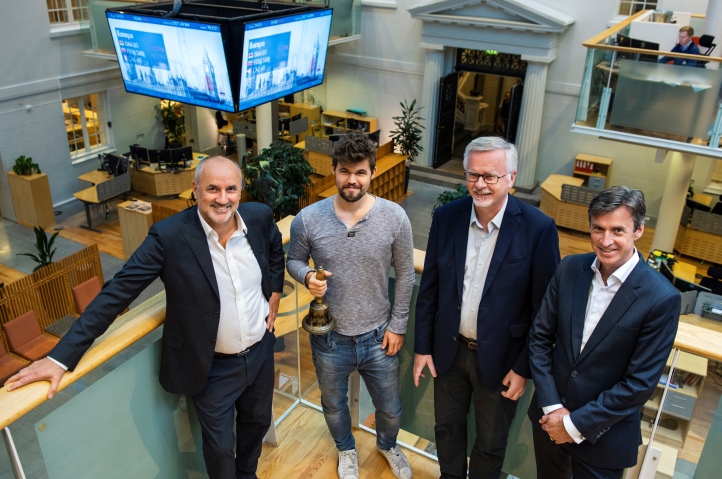 First chess company traded since the 1990s
The ancient game's biggest investment ever
Founded by World Chess Champion Magnus Carlsen
(Oslo, 8 October 2020) Play Magnus Group, the tech firm founded by World Chess Champion Magnus Carlsen, has been listed on the Oslo Stock Exchange today. The company has now gained more than 250 shareholders and is trading on Oslo's Merkur Market.
Shareholders have provided the company with NOK 300 million ($30.2m) in fresh equity, which will be used for technology development and further growth.
"This is a milestone in the company's history, and we are proud that many strong institutional investors have decided to join the team. Now, we are ready to take the next step for the company, and a listing on Merkur Market will be important for the company's ability to continue its strong growth," said co-founder and chairman of the board of Play Magnus Group, Anders Brandt.
In combination with the capital increase, some of the existing shareholders sold a small part of their shares. The transaction implies a valuation of the equity of Play Magnus Group at NOK 796 million ($85.8m).
Following the share issue, the American asset manager Luxor Capital is the largest shareholder with 10.96% of the shares.
Magnus Chess, owned by Magnus Carlsen and his family owns 9.5% of the company. The issue was also significantly oversubscribed. In total, the company now has just over 250 shareholders.
The World Chess Champion said: "The company's unique vision is to make chess available to new target groups all over the world. In addition, our model will help many more chess players and coaches to be able to make a living from chess. The company has just started on this journey and I look forward to being part of it going forward."
Play Magnus Group offers services where everyone can play, watch, and learn chess. The group's services consist of the Play Magnus App Suite, chess24, Chessable and CoChess. In addition, in 2020 the group launched a professional online chess tournament, the Magnus Carlsen Chess Tour, which gained significant interest and viewership worldwide. Play Magnus Group has more than 3 million registered users across the platforms and approximately 35,000 monthly paying customers worldwide.
Play Magnus Group has an annual revenue run-rate of approximately USD 7 million, with around 120% YoY revenue growth for H1 2020. ABG Sundal Collier ASA and SpareBank1 Markets AS are acting as Joint Bookrunners in connection with the Private Placement.
About Play Magnus
Play Magnus AS was established by Magnus Carlsen, Espen Agdestein, and Anders Brandt in 2013. Play Magnus Group offers solutions for chess players all over the world through its ecosystem of products and services. The company offers eLearning and entertainment services through its market-leading brands: chess24, Chessable, CoChess, Play Magnus, and The Champions Chess Tour. Play Magnus' group's vision is to grow chess to make the world a smarter place