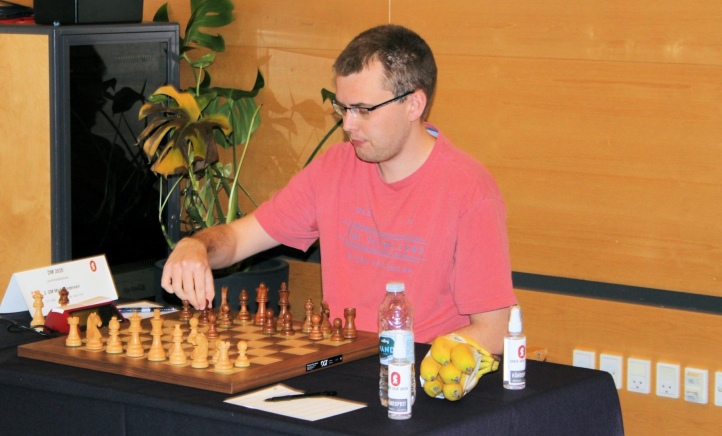 Grandmaster Mads Andersen from Skanderborg Skakklub became Danish champion for the 3rd time on Saturday. The winner repeated his success of 2016 and 2017.
The Danish Chess Championship took place in Svendborg from October 09 to October 17. The event should have been held in the spring but due to the epidemiological situation was postponed to the fall. The tournament became one of the strongest in the history of Denmark's chess with six GMs and the highest rated IM of the country Bjørn Møller participating.
Before the final round, Mads Andersen was a full point ahead of the two closest competitors Bjørn Møller Ochsner and Allan Stig Rasmussen but faced his young clubmate Jonas Bjerre with Black. Bjerre put some pressure on the leader but Andersen was defending with precision and eventually reached a draw and clinched the title.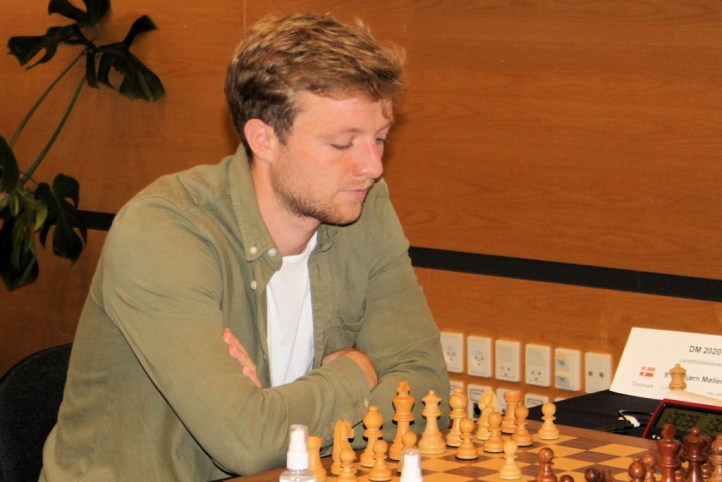 Bjørn Møller Ochsner (pictured above) came second with 6 points out of 9. In order to complete his second GM norm, he had to win his last round game against Jesper Søndergård Thybo and was up to the task.
Final standings:
1. GM Mads Andersen (2589) – 6½
2. IM Bjørn Møller Ochsner (2484) – 6
3-4. GM Allan Stig Rasmussen (2560) – 5½
3-4. GM Boris Chatalbashev (2517) – 5½
5-7. GM Jesper Søndergård Thybo (2570) – 4½
5-7. GM Jonas Buhl Bjerre (2537) – 4½
5-7. IM Martin Haubro (2407) – 4½
8. GM Sune Berg Hansen (2565) – 3½
9. FM Nicolai Kvist Brondt (2214) – 3
10. IM Jens Ove Fries Nielsen (2395) – 1½
Photo: Thomas Vestergård
Official site: https://skak.dk/