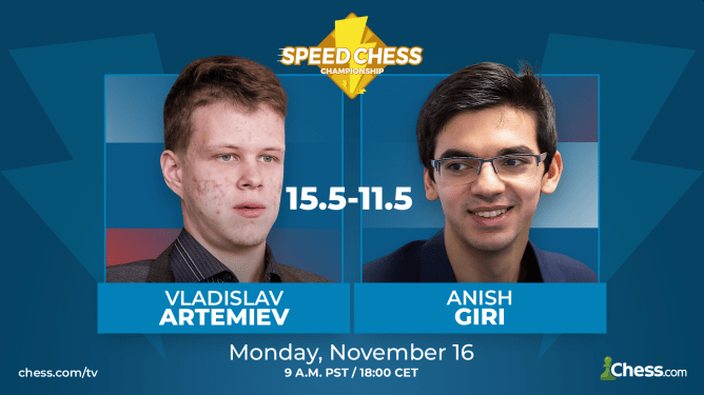 GM Vladislav Artemiev (@Sibelephant) will be GM Magnus Carlsen's opponent in the quarterfinals of the 2020 Speed Chess Championship Main Event. The Russian grandmaster beat GM Anish Giri (@AnishGiri) 15.5-11.5.
Based on his online experience and the Chess.com ratings, Artemiev was the slight favorite and he lived up to the expectations. Playing just a little bit faster than his opponent and with great tactical vision, the Russian player deservedly won this match.
It was a result even Giri himself had expected. In fact, he moved up to a shared 12th place in the standings of our Fantasy competition (yep, he plays!) as he accurately predicted the four-point margin with which he'd lose to Artemiev.
The match started quite even and was still tied after four games. Artemiev had won a nice, smooth first game and after a draw, Giri won his first. That was one of the rare moments in the match where Artemiev stumbled in a winning position.
Usually, it was the other way around, with Artemiev being the one throwing in little tactical tricks here and there that were often completely missed by the commentators and sometimes by Giri as well.
Artemiev won game five in a technical endgame and then also game eight, this time again with a small tactical shot. The score at the end of the five-minute segment was 5.5-3.5 and never in the match could Giri level the score again.

Occasionally, Giri got the chance to show what he's worth. That was the case in the second 3+1 game. Afterward, he revealed that he hadn't prepared much, but that he did look at the Neo-Veresov (GM Baadur Jobava's 2.Nc3 and 3.Bf4) because he "always loses against that system in bullet." The Dutchman got a great position out of the opening and finished it off in style.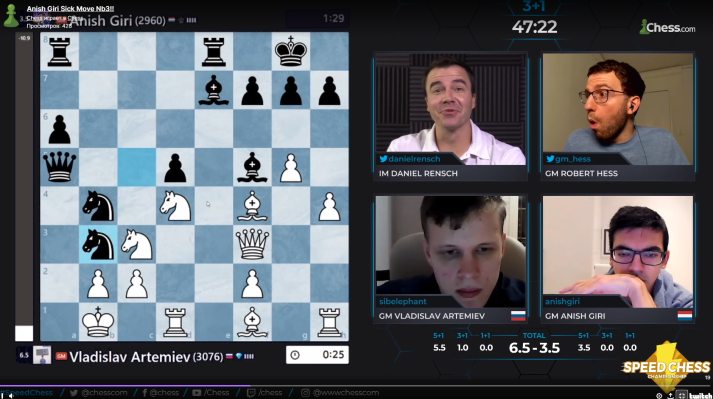 Giri held on and even ended up winning the three-minute segment with a one-point margin. He got a little help in one of the games as Artemiev briefly had issues with his internet and flagged in a drawn position, shortly after missing a win.
With 9-8 for Artemiev, the players started the bullet segment and in that phase, more than before, the Russian player was faster and more accurate. The impression was that Giri didn't make the most out of his promising positions. In the post-match interview, he didn't agree he was doing so well in the openings:
"Maybe the computer will say I had 0.40 here or there but it was not like there was anything I was thrilled about and he was pretty familiar with the positions and I think he was doing OK. I think too often I was down on the clock and I had not a great position but otherwise, in terms of time scrambles, I think I played OK."
Giri won $851.85 based on win percentage; Artemiev won $2,000 for the victory plus $1,148.15 on percentage, totaling $3,148.15. He moves on to the quarterfinals, where he will play GM Magnus Carlsen.
"It should be a very interesting and also a difficult match for me," said Artemiev. "It was a good motivation for today because it was clear that the winner of our match would go to Magnus. I'm happy and probably I will prepare, I don't know, a few hours maybe."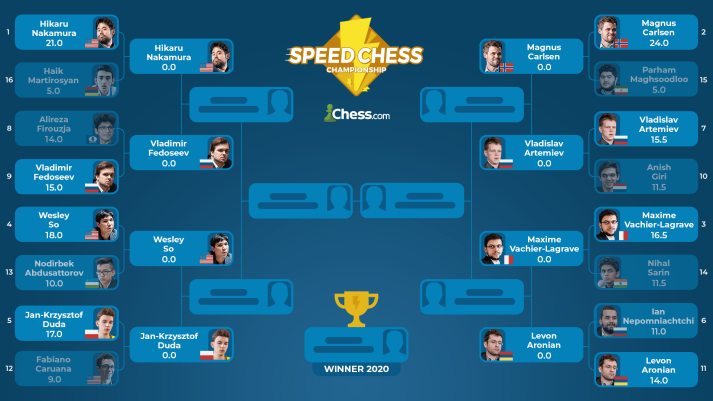 The first quarterfinal has been scheduled and will be played on Thursday, November 19, at 9 a.m. Pacific / 18:00 Central Europe between GM Wesley So and GM Jan-Krzysztof Duda.
Text: Peter Doggers
Photo: chess.com