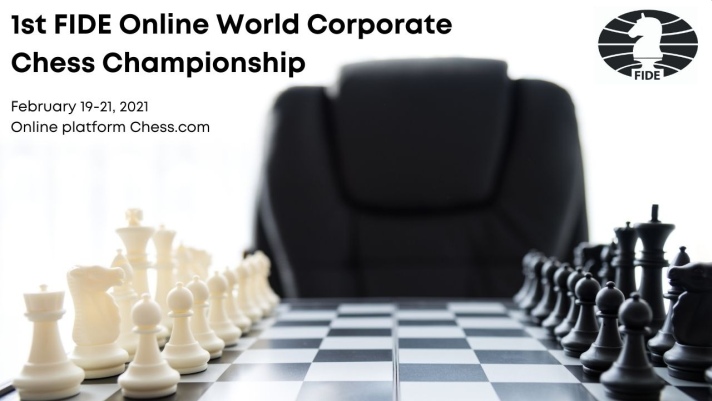 We couldn't have dreamed of a better welcome for the inaugural edition of the FIDE Online World Corporate Chess Championship that will be played next weekend (February 19-21). With 284 teams registered from 78 different countries, the event will bring together 1,467 players. This turnout widely surpassed all our estimations, and we would like to thank our partners at Chess.com and the Chief Arbiter, Alex Holowczak, for the extra effort they are making to accommodate all the participants.
However, quality is even more important than quantity, and here is where things get really exciting. Most of the top companies in the world have joined the competition. So much so, that it would be just easier to name the ones that did not!
The list of participating teams includes giants like Amazon, Samsung, Ford, Microsoft, Gazprom, Facebook, Siemens, Dell Technologies, Bosch, Airbus, IBM, Boeing, Sony, Intel, ArcelorMittal, Equinor, HP, Twitter, Goldman Sachs, Morgan Stanley, Vodafone, Sberbank, American Express, Deutsche Bank, UBS, Oracle, Credit Suisse, and Airbnb – just to name a few prominent names from the Fortune Global list.
And the line-ups are no less impressive, with none other than the World Champion himself topping the list! Magnus Carlsen will defend the first board for Kindred Group (which encompasses Unibet, the company that sponsors him), while Anish Giri will play for Optiver, a Dutch trading firm that has supported him during the past five years of his career. Companies are allowed to have just one invited player for the event, so we also find Ian Nepomniachtchi playing for Sberbank, Vladislav Artemiev playing for Aeroflot, and Salem Saleh playing for Emirates Airlines, among many others. In total, 204 titled players will take part in the competition, including 36 Grandmasters. We hope that some of these collaborations will turn into long term sponsorship agreements for many of these players.
We also find top executives playing for their teams, like Bernhard Spalt, CEO of Erste Group Bank, and Tomislav Topic, who is now the CEO of a telecom company in Ecuador, Telconet. However, the strongest executive is the two-time French Champion and former top-player Joel Lautier, a Member of the Supervisory Board of Sovcombank, who will make a temporary comeback to play in the championship.
There was no entry fee of any kind for this competition. However, FIDE is organizing a fund-raiser in cooperation with the platform Softgiving, and participant companies are encouraged to donate towards one of three social projects currently being developed by FIDE: Chess in Education programs for underprivileged children, Chess for people with Disabilities, and the FIDE veterans support program. If you also want to contribute, you can do it through this link: https://give.softgiving.com/FIDE