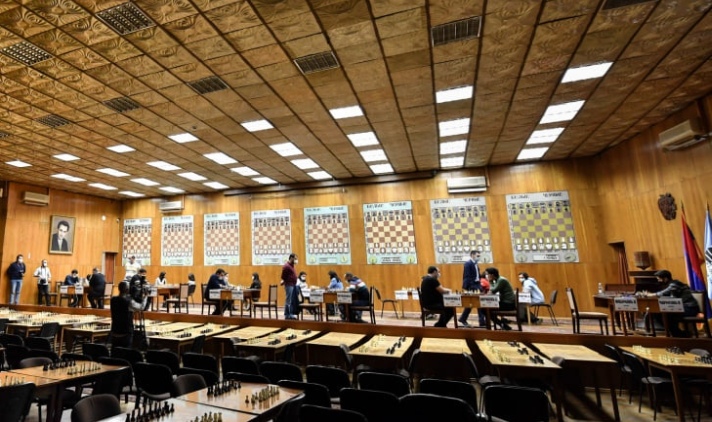 GM Hovhannes Gabuzyan and WIM Susanna Gaboyan are the new champions of Armenia.
The Armenian Championship (so-called the Highest League) took place from 16-28 February 2021 in the Tigran Petrosyan Chess House (Yerevan).
Although the top-5 rated Armenian did not participate in the open section, the round-robin brought together eleven grandmasters and one IM. The two highest-rated players Robert Hovhannisyan (2642) and Samvel Ter-Sahakyan (2640) entered the tournament as main favorites but it was 9th rated Hovhannes Gabuzyan (pictured below) who called the shots in this competition.
The Yerevan-born GM grabbed the lead in Round 4 and never looked back, finishing with an excellent score 8½ out of 11, 1½ points ahead of Arman Pashikian. GM Samvel Ter-Sahakyan tied for second but had to settle for bronze due to inferior tiebreaks.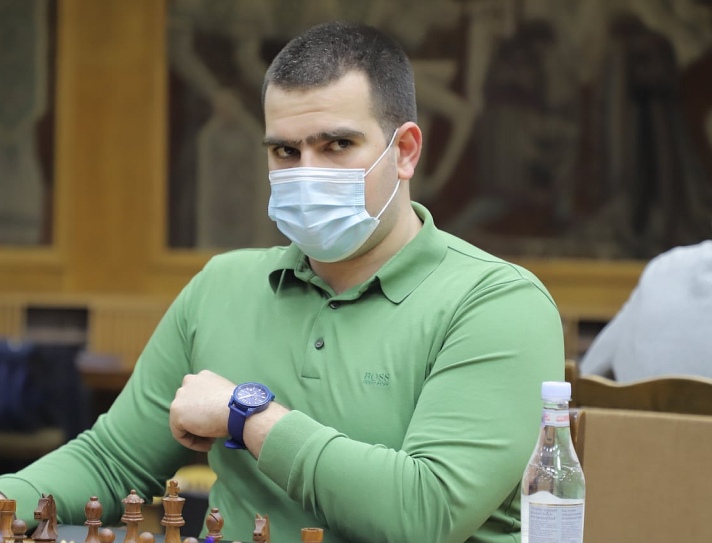 This is Gabuzyan's second title after the victory in 2017. The champion had a couple of dubious positions along the way but routinely outplayed his opponents in complications and suffered his only defeat in the penultimate round after already sealing the title.
Final standings:
1. Hovhannes Gabuzyan (2557) – 8½
2. Arman Pashikian (2606) – 7
3. Samvel Ter-Sahakyan (2640) – 7
4. Manuel Petrosyan (2628) – 6
5. Shant Sargsyan (2596) – 6
6. Haik Martirosyan (2622) – 6
7. Tigran Harutyunian (2549) – 6
8. Robert Hovhannisyan (2642) – 5½
9. Mamikon Gharibyan (2423) – 5½
10. Zaven Andriasian (2606) – 3½
11. Levon Babujian (2455) – 3
12. Tigran Petrosian (2601) – 2
One of the rating favourites of the 10-player round-robin tournament in the women's section, along with defending champion WGM Maria Gevorgyan and WIM Siranush Ghukasyan, Gaboyan had a solid start with three wins and three draws in six rounds, but her loss in round seven complicated the tournament situation. It all came down to the last round – the leader Gevorgyan lost to Ghukasyan, while Gaboyan won the last two games and finished clear first with 6½ out of 9.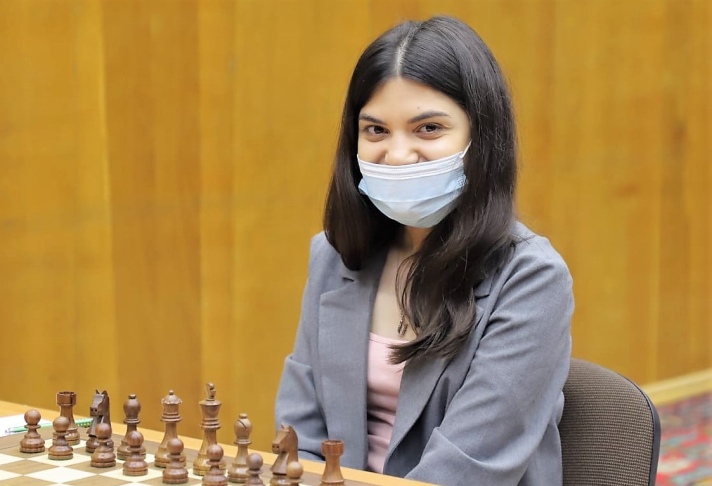 WFM Mariam Mkrtchyan and WGM Maria Gevorgyan shared for second place, with tiebreaks putting Mkrtchyan higher.
Final standings:
1. Susanna Gaboyan (2211) – 6½
2. Mariam Mkrtchyan (2075) – 6
3. Maria Gevorgyan (2228) – 6
4. Siranush Ghukasyan (2222) – 5
5. Astghik Hakobyan (1820) – 4½
6. Veronika Khachatryan (1767) – 4½
7. Nare Arakelyan (1953) – 4
8. Mariam Avetisyan (2092) – 3½
9. Anna Khachatryan (2086) – 3
10. Arpine Grigoryan (2091) – 2
Photo: Gevorg Perkuperkayn (ARMENPRESS)