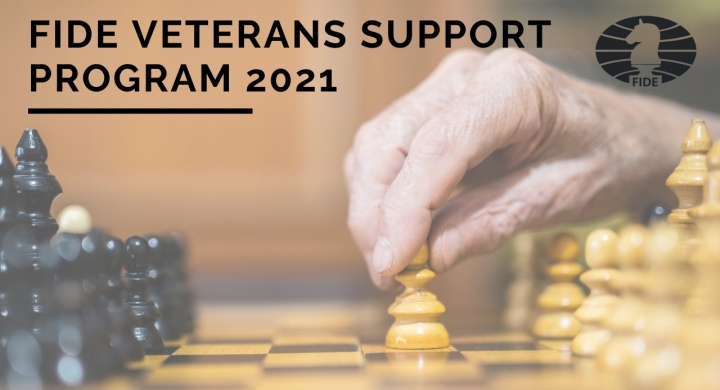 FIDE is pleased to announce the names of the additional fifteen chess seniors who will benefit from the FIDE's support program to chess veterans this year:
Andrei Lukin (RUS)
Jan Plaсhetka (SVK)
David Dzhanoev (GEO)
Sergio Mariotti (ITA)
Ewen Green (NZL)
Svetlana Mednikova (RUS)
Nathan Zilberman (KGZ)
Mikhail Marandyuk (UKR)
Tõnu Truus (EST)
Khandsuren Sandagdorj (MGL)
Nelson Borges (DOM)
Luben Popov (BUL)
Rakhil Eidelson (BLR)
Silvino Garcia (CUB)
Maria Macieja (POL)
They will join the twelve recipients already announced back in March:
Sergey Makarychev (RUS)
Tamaz Giorgadze (GEO)
Hanna Erenska-Barlo (POL)
Roman Hernandez (CUB)
Avigdor Bykhovsky (ISR)
Juzefs Petkevich (LTV)
Anatoly Noskov (KAZ)
Bosko Abramovic (SER)
Jan Kalendovsky (CZE)
Nina Medyanikova (RUS)
Julio Ostos (VEN)
Irina Ostry (KGZ)
Each one of them will receive a grant of €2,500, with the total amount allocated to this program during 2021 rising to an unprecedented €67,500.
As we did in March and in other previous occasions, we will pay tribute to these illustrious veterans with a few words about each one of them, summarizing their careers and achievements:
Andrei Lukin (Russia)
International Master (1982), Master of Sports of the USSR (1966) and Honored Trainer of Russia, Andrei Lukin combined participation in chess tournaments with his job as an engineer for some time but later devoted himself to the profession of chess trainer.
Andrei Lukin is a five-time champion of Leningrad (1972, 1978, 1981, 1983, 1988) and a prize winner of the Russian Chess Championship (1993). His best results in international competitions include Nałęczów (1981, 1st - 2nd place) and Leningrad (1984, 2nd-3rd place).
As a part of the St. Petersburg chess team, he won the Russian Team Chess Championship (1992). He is also a medalist of the Russian Club Chess Championship (1995) as a member of the "University" team (St. Petersburg).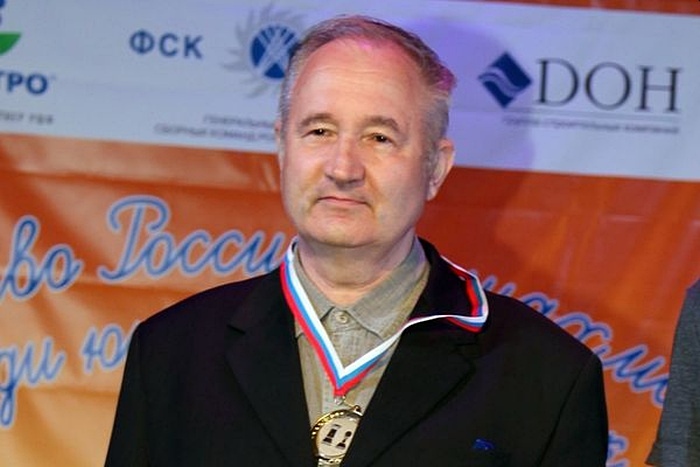 Photo: Vladimir Barsky
For his achievements in fostering many talented chess players, Andrei Lukin was awarded the title of Honored Trainer of Russia. Andrei Lukin trained grandmasters Konstantin Sakaev (until 1993) and Peter Svidler (since 1993). He headed the youth team of Russia at world tournaments, became the winner of the Russian Chess Federation "Coach of the Year" award. Peter Svidler attributed his breakthrough into the elite of world chess to his cooperation with Andrei Lukin and stated that he was lucky to have him as his chess trainer. Lukin also trained grandmasters Kirill Alekseenko (since 2008) and Anastasia Bodnaruk (since 2013).
Jan Plachetka (Slovakia)
Born on February 18, 1945, in Trencin (Czecho-Slovakia) Jan made his debut in the national championship in 1962 and soon joined the Chezco-Slovakian student team. After graduating from university, he climbed to the podium of the Chezco-Slovakian championship (1973) and became a member of the national team. Five years later he earned the grandmaster title.
His tournament resume includes the victories in Rimavska-Sobota (1975), Polanica Zdrój (1975), Maribor (1977), Vincovici (1977), Sofia (1979), Champagnol (1984), Prague (1984), Strasbourg (1985), Metz (1986), but his glory moment came at the Olympiad in Luzern (1982). Jan turned in an excellent performance and helped his team to win silver.
Overall he participated in Chess Olympiads (seven as player, seven as a team captain)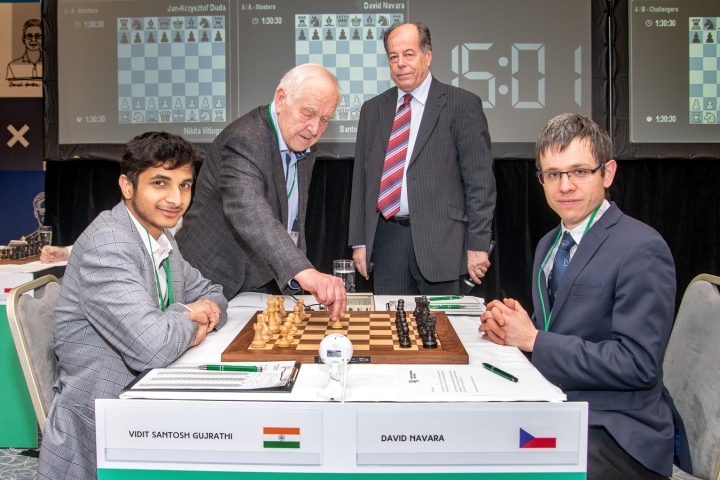 Jan is making first move at Prague Chess Festival 2020
Photo: praguechessfestival.com/
FIDE Senior Trainer since 2010, he served as coach of men´s and women´s team of Slovakia in the period 1992 - 2014. With Plachetka at the helm, Slovak women were the European Champions in Batumi in 1999.
A prolific author, Jan penned many articles in several chess magazines.
David Dzhanoev (Georgia)
David Dzhanoev (born on November 22, 1938, in Tbilisi) is one of the most successful chess trainers, working in Georgia (when it was a part of the USSR). He is most known as the coach of Nana Alexandria with whom he productively worked from 1977 to 1991. He also helped Gennady Zaichik, Sergei Movsesian and Giorgi Bagaturov (the Senior World Champion 50+) at different periods of their careers.
After moving to Russia he coached Sanan Sjugirov, Pavel Shkapenko and Evgeny Reshetnikov. David lavishly shared his coaching experience consulting national teams of Bolivia, Ecuador, Syria and Columbia.
Sergio Mariotti (Italy)
Born in Florence (Italy) on 10th August 1946, Sergio Mariotti had quite a successful career in chess: after becoming Italian junior champion in 1964 (Turin), he won the international tournament in Naples in 1968-69 and became Italian champion for the first time in 1969 in San Benedetto del Tronto.
One of his best tournament results is second place at the Venice international tournament in 1971 (behind GM Walter Browne and ahead of champions like GM Vlastimil Hort, GM Lubomir Kavalek and GM Svetozar Gligorić), also scoring his maiden GM norm.
Sergio represented Italy at the Chess Olympiads in 1972, 1974, 1986 and 1988. At the 21st Olympiads in Nice (1974) he won the individual bronze medal on the first board and got my final GM norm, becoming the first-ever Italian chess player to get the title. British Chess Magazine nicknamed him "The Italian Fury", referring to his enterprising, tactical style.
Mariotti is still one of the most successful Italian players in World Championship cycles, winning the zonal tournament held in Caorle in 1975 and qualifying for the Manila Interzonal tournament of 1976, where he reached 10th place together with former World Champion GM Boris Spassky.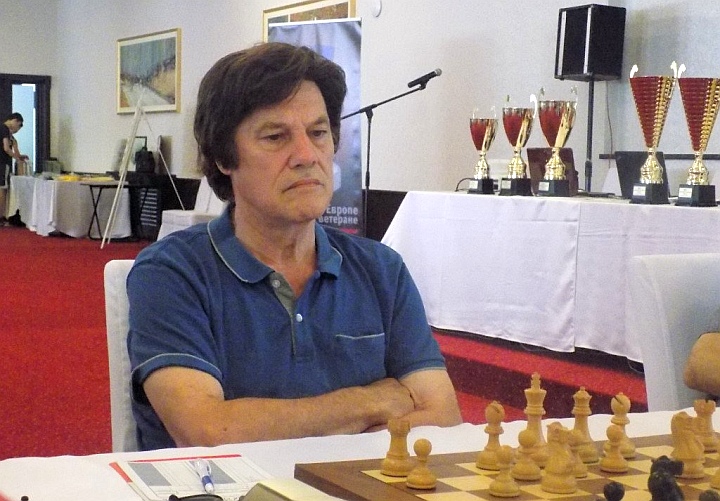 Photo: novisad2017.org
He served as President of the Italian Chess Federation (Federazione Italiana Scacchi - FSI) between 1994 and 1996, and later worked as a Technical Director (Direttore Tecnico) of Italian national teams between 2002 and 2007.
A true ambassador of the game he has been supporting spreading chess across Italy and launching a long-term valorization process of Italian young talents. A milestone has been the creation of a team of young players for the 37th Chess Olympiad (Turin 2006), that represented the first opportunity for the new generation of Italian chess players to appear at the international level.
Ewen Green (New Zeland)
Born on April 4, 1950, Ewen Green represented New Zealand in World Under-20 Chess Championship in Stockholm 1969 and later played under the banner of his country at the 1970, 1974 and 1976 Olympiads. He participated in many NZ Championships jointly winning the 1979-80 New Zealand Championship and represented New Zealand again in the 1977 Asian Teams Championship and 1978 Zone 10 Championship in Japan. He was awarded the FIDE Master title in 1992 and more recently placed 2nd in the 65+ division at the 2017 Asian Seniors Championship held in his home city Auckland. He earned an IM norm coming only behind GM Eugene Torre.
Ewen is a resident coach at the largest club in Auckland, the Auckland Chess Centre where he lives. He spends days and evenings on chess especially coaching chess to promising juniors. This has been his life for many years and became a FIDE Trainer 2005.
He coached New Zealander Bobby Cheng (FIDE# 4300033) in his early years. Bobby placed 3= at the World Under 10 Championships in Turkey (2007) and 2 years later winning World Under 12 Championship. Bobby subsequently moved to Australia and earned the GM title.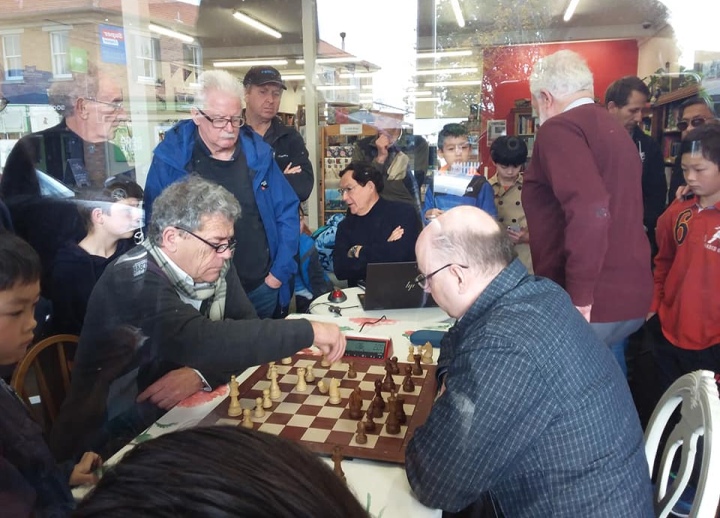 Green (pictured left) in a blitz-match with Dreyer Photo: newzealandchess.nz/
Currently, Ewen coaches New Zealand's top juniors including 13-year old Felix Xie (FIDE# 4308174 and 11-year-year-old Isabelle Ning. Isabelle was selected as the Board 3 player for New Zealand for the cancelled 2020 Women's Olympiad team in Moscow.
Ewen has been a key person in the growth of chess participation at Auckland Chess Centre (New Zealand's largest club) and in Auckland schools. Ewen assisted in 'Chess the Musical' when it toured New Zealand and more recently as coach to Cliff Curtis and other cast members of the internationally acclaimed film 'Dark Horse' set in New Zealand.
Ewen holds the Oceania record for Simultaneous Blindfold play on 17 boards (+13, =1, -3) arbitered by Hilton Bennet.
In 2021, the outgoing President of NZ Chess Federation, GM Murray Chandler granted Ewen his 'President's Award' for lifelong contribution to chess.
Svetlana Mednikova (Russia)
International Women's Grandmaster (2014), master of sports of Russia, champion of the USSR among female students (1974, Kaliningrad), Women's Champion of Leningrad (1977, 1979) and St. Petersburg (1992) Svetlana Mednikova has a long and successful career in chess.
She also had some great results in individual senior events: Svetlana Mednikova is a bronze medalist of the individual World Senior Chess Championship among women (2007, Gmunden, Austria), World Senior Chess Champion among women (2014, Katarini, Greece), European Senior Chess Champion among women (2015, Eretria, Greece), bronze medalist in the individual European Senior Chess Championship among women (2016, Yerevan, Armenia).
As a member of the Russian women's team, Svetlana Mednikova took first place in the European Senior Team Chess Championship (2015, Vienna, Austria) and second place in the World Senior Team Chess Championship (2015, Dresden, Germany), first place in the World Senior Team Chess Championship (2016, Dresden, Germany).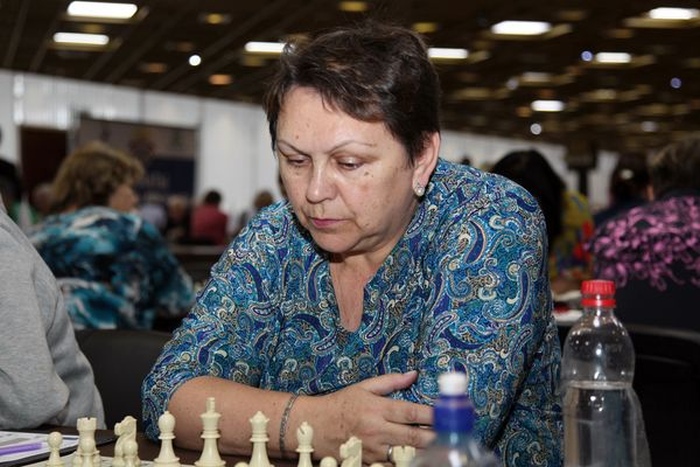 Photo: Vladimir Barsky
Since 1983, Svetlana Mednikova has been a coach at a sports school at the Leningrad State University sports club; since 1990 - Deputy Director, and since 1998 - Director of the Olympic Reserve Sports School. From 2001 to the present, Svetlana Mednikova is the Head of the Youth Center Chess club in Vasileostrovsky district, St. Petersburg.
Her most outstanding students are GM Vasily Yemelin (champion of St. Petersburg in 1993, 2002 and 2011 and a member of the second national team of Russia in 1994 and 1998) and GM Alexei Popov, Russian Champion in chess compositions (2021).
Natan Zilberman (KGZ)
Born in 1940 in Odessa, Natan Zilberman made a case for himself after winning USSR Youth Championship as a member of Team Ukraine (1958). In 1972 he climbed as high as second place in Ukraine Championship ahead of Belyavsky, Romanishin, Lerner and Palatnik (1972). In 1989 he made a double winning the tournaments in Bled and Moribor.
Back in 1962 he tried himself as a coach and succeeded in this new sphere. Many of his pupils from Odessa became Grandmasters: S. Palatnik, K. Lerner, V. Beim, K. Legky, V. Eingorn, M. Podgayets.
In the early 1970s, he moved to Kyrgyzstan where he coached youth teams for many years and raised the winners and runners-up of the Kyrgyzstan Championships. He was also a member of the National Olympic Team of Kyrgyzstan (1992-2004) and a four-time national champion.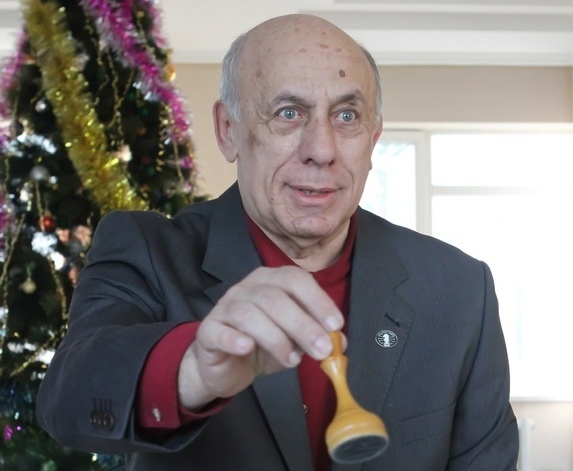 Photo: Vladimir Pirogov
Among the students there are members of the National Olympic team:
WGM S. Matveeva - USSR Girls Сhampion (1983), USSR Women Сhampion (1984, 1989)
GM B. Kantsler - USSR Youth Champion (1979) GM L. Yurtaev - The only Grandmaster in the history of Kyrgyzstan, Multiple Champion of Kyrgyzstan
IM V.Magai - Multiple Champion of Kyrgyzstan
FM T.Imanaliev - Multiple Champion of Kyrgyzstan
National Master A. Umarbekov - Champion of Kyrgyzstan (2000)
National Master A. Maznitsin - Champion of Kyrgyzstan (2011)
Overall Natan Zilberman raised 10 grandmasters.
Mikhail Marandyuk (Ukraine)
Born January 17, 1949, in Novoselitsa, Chernivtsi region, Ukraine, Mikhail Marandyk graduated as a mechanical engineer in the food industry.
He tapped into chess composition back in 1968; the first problem authored by him was published on November 19, 1968. Over 52 years, he published a total of 1,300 problems of different genres, 1,150 of which were awarded distinctions in tourneys and championships, in particular 650 prizes, including 330 first prizes.
Mikhail's compositions were reprinted in more than 140 chess books. In FIDE Albums, he has 415 problems, 347 points and 3rd position in the world ranking of all times. There are 16 FIDE Albums with his entries: 1968-70, 3 problems; 1971-73, 4; 1974-76, 8; 1977-79, 9; 1980-82, 10; 1983-85, 13; 1986-88, 14; 1989-91, 14; 1992-94, 7; 1995-97; 22; 1998-00, 28; 2001-03, 39; 2004-06 , 18; 2007-09, 64; 2010-12, 45; 2013-15, 49; and 2015-18, 68. In 2016, a book of his selected problems (573) "Grandmaster Mikhail Marandyuk" was published.
Marandyuk was awarded the title of International Grandmaster on September 10, 2004.
Mikhail officiated 130 tournaments, including 75 international ones. In particular, he acted as section judge in WCCT-6, 1997-01, WCCT-9, 2012-13, WCCT-10, 2016-17, WCCI 2010-12, World Chess Olympiad Batumi 2018, 3rd FIDE World Cup 2013, 5th FIDE World Cup 2017, and 8th FIDE World Cup 2020. Mikhail judged six consecutive FIDE Albums: 1995-97 (moremovers); 1998-00 (moremovers); 2001-03 (moremovers); 2004-06 (moremovers); 2007-09 (threemovers); and 2010-12 (moremovers).
He is 4-fold champion of the World Chess Composing Tournament of the FIDE.
In the FIDE Olympic Tourney "Khanty-Mansiysk-2010," he was awarded the gold medal in the moremovers section. Also, he won the first FIDE World Cup 2010 and the 4th World Cup in the moremovers section.
Marandyuk was awarded the gold medal in the moremovers section and the silver medal in the threemovers section in the FIDE Olympic Tourney "Khanty-Mansiysk 2010" and the FIDE World Cup in Composing 2010 in the moremovers section.
Tonu Truus (Estonia)
Tõnu Truus is a well-known Estonian chess trainer/organizer with 60 years of work experience. At the turn of the century, he was voted the best Estonian chess trainer of the 20th century by the Estonian Chess Federation's special commission.
His work in the field of chess began in 1961 when he was elected the president of the chess club of the Tallinn 21st School. In that position, he started organizing competitions and training sessions, initially only for students and teachers of the school, but later also with participation from other schools.
His first notable student was Leo Selmet (b. 1957) who was later among the best youth players in Estonia and worked as a chess trainer himself. In the 1965/66 academic year, Tõnu Truus was the trainer of two Tallinn school teams who participated successfully at Estonian school championships (21st School came second with Kalle Käsper winning the first board). These school championships were not only important on the republican level but were also part of the Soviet all-union "White Rook" team tournament series.
In 1971, after completing the five-year chess program of the State Central Order of Lenin Institute of Physical Education (SCOLIPE), Tõnu Truus became one of the first chess trainers in the world to have a higher education diploma with a specialization in chess.
Among his students, there are such well-known GMs as Jaan Ehlvest and Alexey Rychagov.
Khandsuren Sandagdorj (Mongolia)
Professor and Senior Professor at the School of Economics of the Mongolian National University, Khandsuren Sandagdorj excelled in both academic and chess fields.
Her chess career started in 1958 after Khandsuren received the award for excellence in the National Women's Chess Championship. Three years later she participated in the Women's Candidates Tournament in Vrnjačka Banja (1961). The champion and gold medalist of the 9th Asian Continental Championship (1972), Khandsuren became the first WIM in Mongolia. Her achievements were recorded in the Golden Book by FIDE.
In 2000 she founded the chess club at the National University of Mongolia for its staff
and actively organized chess tournaments among students and professors. Eight years later Khandsuren was awarded a trophy at the academic conference held among trainers and teachers of national universities on the 60th anniversary day of the Physical Education Department of the National University of Mongolia.
She also received several state awards including the Honorary Labor Medal (third highest state order).
Nelson Borges (Dominican Republic)
Nelson Pinal Borges (born in Cuba on 28/02/1955) showed early promise in National Champion School Games, Havana, 1967 and 1968, and became national champion in 1970. Two years later he won both individual and team gold medals at the Central American and Caribbean Championship (Mexico 1972). Later or he earned IM title in Zonal Tournament (Manzanillo, Cuba 1981) and came first twice in the Joaquín Hurtado Tournament (Managua 1984 and 1985).
In 2006 he became a citizen of the Dominican Republic and demonstrated some good results in his new home country and representing it in Istanbul (2012), Norway 2014 (RD women's team coach) and Baku (2016).
A respected trainer in his region, a popular blogger, he authored two books "Chess for fans" (1996) and "From Capablanca to Magnus Carlsen" (2020).
Luben Popov (Bulgaria)
Born in 1936 in Plovdiv, Luben Popov was a member of the golden Bulgarian team, the winner of the World Student Championship in 1959. He achieved the rank of International Master in 1965 and five years later won the national championship. Overall he took part in 24 such tournaments setting a national record. Over two decades in the 1960s and 1970 Luben was one of the top Bulgarian players.
He participated in three zonal tournaments Budapest (1960), Enschede (1963), and Warsaw (1979) but did not manage to qualify. His tournament record includes the victories in Plovdiv (1973), Reggio-Emilia (1973/1974), Albena (1977) and Rome (1981).
Luben played for team Bulgaria at seven Olympiads and three European Team Championships.
Rakhil Eidelson (Belarus)
Born in 1958, WGM Rakhil Eidelson is the Belarusian Women's Chess Championship eight times (1985, 1989, 1993, 1995, 1997, 1998, 2003, and 2004). She represented Belarus at Chess Olympiads in 1994, 1998, 2000, and 2004.
Rakhil learned the game when she was 8 years old and since then her whole life has been subordinated to chess. USSR Junior vice-champion (1975 and 1976) and many-time participant of the USSR Women Championships she took prizes in various tournaments, including victories in Belgrad (1988) and Visla (2001), 2nd in St-Petersburg (1999), Kharkiv (2003), Rudenko Memorial (2004).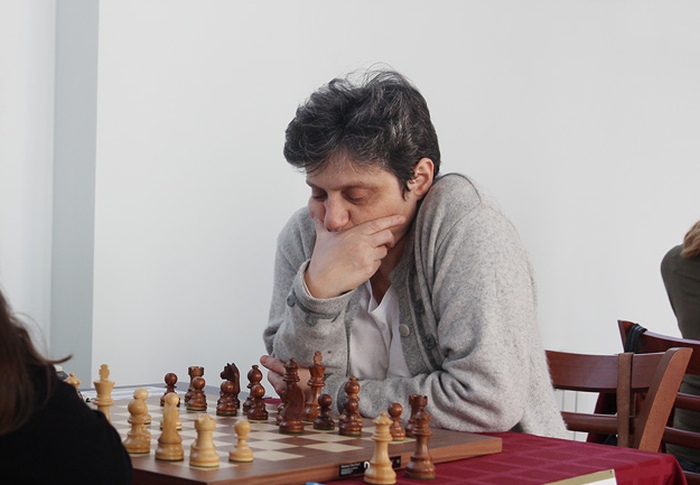 Photo: Pavel Kosolapov
The life history and chess career of Eidelson Rakhil are living examples of exceptional dedication and love for chess.
For many years Rakhil Eidelson has been a prominent representative of the elder generation of chess players.
Silvino Garcia (Cuba)
Born in Havana on the 4th of July of 1944, Silvino learned the game at the relatively late age of 15. However, he quickly became one of the strongest players in Cuba, winning the national championship a total of four times (1968, 1970, 1973 and 1979), and representing Cuba as a player in ten Chess Olympiads between 1966 and 1986. He also won the Pan American Championship in 1968 and, following his victory in the Torneo Costa Brava 1975 (Spain), Silvino became the first Cuban Grandmaster after Jose Raul Capablanca.
Silvino scored victories against many chess legends, like Vasily Smyslov, Lajos Portisch, Svetozar Gligoric, Arturo Pomar, and William Lombardy, to name a few. He also scored draws against Boris Spassky and Mikhail Tal.
Garcia also has a prolific career as a coach and a chess officer. He was the founder and first director of Isla, the Latin American Institute for Chess, an institution that aims at promoting the game among children. He was also President of the Cuban Chess Federation for a number of years.
A FIDE licensed coach, Silvino is still very much active at 77 years old, teaching chess in schools and chess clubs in the northern Spanish region of Asturias, where he moved a few years ago.
Maria Macieja (Poland)
A well-known figure of Polish chess, Maria Macieja (born 1952) was honoured by the Polish Chess Federation with the Gold Badge (the highest award) in 2010 and with the Queen of the Year award (in 2014) for lifetime achievements.
Maria Macieja served as a chair of the Polish National Team for the Olympiad in 2000 and the European Individual Championships in 2002 and 2003. But she is most widely known for her role as an organizer of dozens of international events and a manager of Polonia Warsaw chess team.
Under Maria Macieja's supervision, Polonia Warsaw chess team won 6 medals of the European Club Cup (5 silver, 1 bronze) and 16 medals of the Polish Team Championship (including 12 gold). Moreover, juniors of the club won 7 times the classification for the best youth club in Poland, sponsored by the Ministry of Sport.
Maria Macieja was the Chief Tournament Director of various international competitions including European Rapid Championships (2005-2013), European Blitz Championships (2010-2013), Individual Polish Championship 2004, and Najdorf Memorial (2007-2019 and 2021).