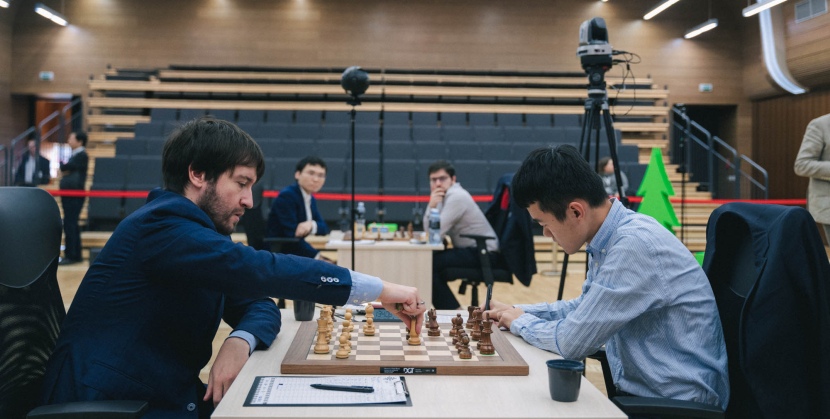 The third games of the FIDE World Cup Final and the 3rd place match were played in the Ugra Chess Academy on October 2.
Following their first game of the match, Teimour Radjabov and Ding Liren continued the discussion in the Marshall Attack of the Ruy Lopez. However, this time Teimour opted for a different line, that he actually had prepared for the first game. The grandmaster from Azerbaijan demonstrated a better knowledge in the arising position and put a grip on his opponent right in the opening. After the queens were swapped, Radjabov came up with an interesting tactical trick, won a pawn and transposed into an ending with rooks and bishops of the same color. White was gradually increasing pressure, making Black's task more and more difficult. Eventually, Radjabov achieved a winning position, and Black resigned on the 45th move. Teimour Radjabov equalized the score, which is now 1.5:1.5.
"I have a lot of lines in general, that I can play. Sometimes during the preparation on a professional level, there is some kind of hesitation before the game: "Should I try this line or that one?". Something seems risky at the last moment. Especially with all these nerves, pressure and so on you are just not sure what line to play. To be honest I decided, that if he finds it, OK, bye-bye and that's it. But if he doesn't there is some play. Eventually, it went my way, and that's nice," Radjabov explained his opening choice in the post-game interview.
In the match for third place Maxime Vachier-Lagrave once again took a stand in the Gruenfeld Defense. According to the Frenchman, he underestimated one of the replies from his opponent and ended up in an inferior position. Black seemed unable to protect all his weaknesses, however, Yu Yangyi made an inaccuracy on the 25th move, and the position became equal. Seven moves down the road the opponents shook hands. The score in this match is 1.5-1.5.
The concluding games with the classical time control will be played on Thursday, October 3. If the score remains equal, the tie-breaks will follow on October 4.
The competition is organized by the Government of Khanty-Mansiysk Autonomous Okrug – Ugra, International Chess Federation (FIDE), Ugra Chess Federation, and Ministry of Sports of the Russian Federation.
Official website: https://khantymansiysk2019.fide.com/en/

General partner – Gazpromneft-Khantos LCC.
Official airline – Utair.
Official partners of the competition: OJSC Rostelecom, Ugra Chess Academy, Russian Chess Federation, AB InBev Efes, and PJSC Rosneft.
FIDE official partner – JSCo "RZD".
General media partner – News Agency TASS.
Media partners – Match TV, World of Chess social network, OTRC "Ugra", Ugra-news.ru News of Ugra regional newspaper, AIF-Ugra newspaper.