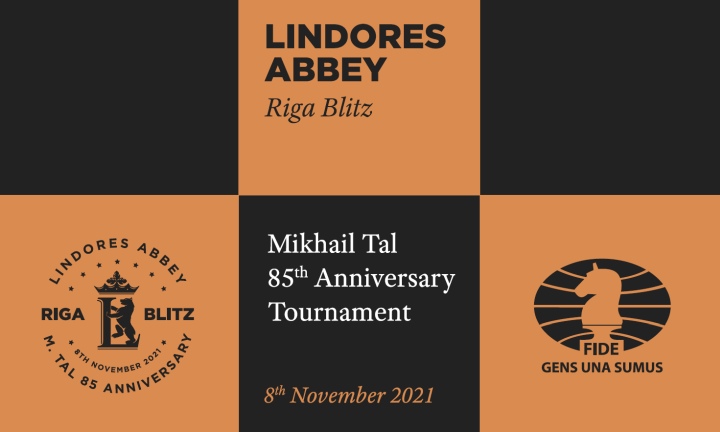 In honour of the 85th anniversary of the birth of the 8th World Chess Champion Mikhail Tal, FIDE is delighted to endorse The Lindores Abbey Blitz, which will take place on 8th November in the historical Hanzas Perons venue in Riga, Latvia
A number of leading world Grandmasters – many of whom are taking part in the FIDE Chess.com Grand Swiss and Women's Grand Swiss - have confirmed they will be playing in the Blitz tournament. The line-up includes leading world players such as the third-rated player in the world Fabiano Caruana, Maxime Vachier-Lagrave, Yu Yangyi, Levon Aronian, David Navara, David Howell, the former contender for the title of World Champion Boris Gelfand, former world youth champions Jeffery Xiong and Parham Maghsoodloo, and others. Among female players, former Women's World Champion and this year's winner of the Women's Chess World Cup, Alexandra Kosteniuk as well as top women GMs Nana Dzagnidze, Harika Dronavalli, Polina Shuvalova, and others will be playing. Altogether 120 players will be taking part in the tournament.
The FIDE endorsed event is a part of a series of Lindores Abbey chess tournaments involving top-world Grandmasters following Lindores Abbey Chess Stars (2019) and Lindores Abbey Rapid Challenge (2020).
Georgiy Tal, the son of Mikhail Tal, will be the guest of honour at the Blitz event. In 2019 he visited Lindores Abbey and, together with the company's General Manager Andrew McKenzie Smith, presented the World Champion Magnus Carlsen with a chess set made of amber. This amber chess set was presented by the Latvian Government to Mikhail Tal in 1960, following his victory in the World Championship match against Mikhail Botvinnik.
Tournament rules and details:
The tournament is organised by "RTU Sports" with the support of the Latvian Chess Federation and FIDE.
The Swiss System tournament will have nine rounds. Each round will consist of two games played against the same opponent, one game with each colour. Players will be seeded based on their FIDE Blitz rating. In the absence of such a rating, the player's FIDE standard rating will be used.
The time control will be 3 minutes plus 2 seconds per move, from move one.
If the two or more players score the same points, the tie is decided by the following criteria, in order of priority: a) Buchholz; b) Most games won; c) Direct encounter between the players in tie.
The total prize fund is 60,000 USD. This includes a 10,000 USD fund provided by FIDE for prizes intended for female players only.
Regulations for the FIDE Endorsed Tournament Lindores Abbey Blitz (pdf)
The official page of the tournament: https://lindoresabbeyblitz.fide.com/
The list of participants can be found here:
http://chess-results.com/tnr588607.aspx?lan=1&art=0&flag=30
Discover the Lindores Abbey chess initiative.