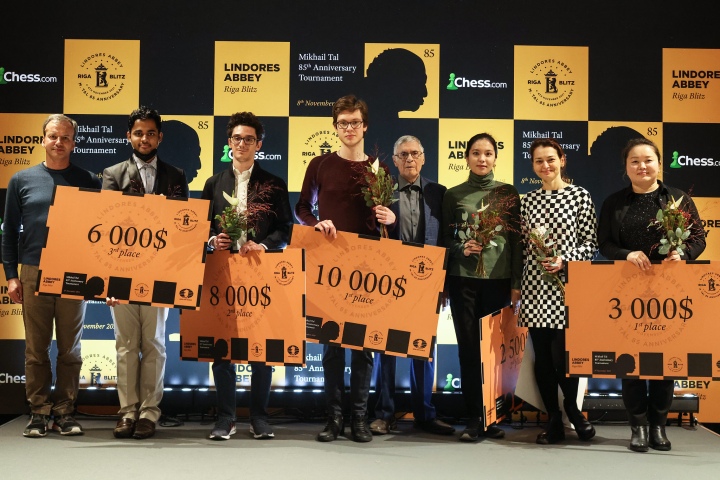 Ukrainian GM has stunned the chess world with a surprise victory in the Lindores Abbey Blitz organized in honour of the 85th anniversary of the birth of Mikhail Tal
Kirill Shevchenko (19) scored 14 points out of 18 games in a nine-double-round tournament. The former contender for the title of World Champion, American Fabiano Caruana, finished second, and Arjun Erigaisi of India is third, both on 13.5 points.
Shevchenko came out on top in a field of 120 leading world Grandmasters, including the likes of Fabiano Caruana (world number three and this year's runner-up in the Grand Swiss), world number ten Maxime Vachier-Lagrave, Levon Aronian, Peter Svidler, David Navara as well as the former contender for the title of World Champion Boris Gelfand and Women's Chess World Cup winner and former women's World Champion, Alexandra Kosteniuk.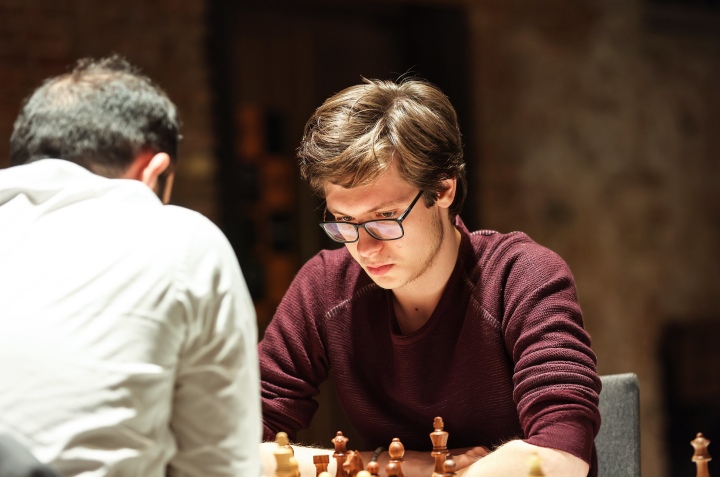 Another big surprise of the event was 18-year-old Indian GM Arjun Erigaisi (pictured below), who dominated the tournament early on. Playing in the spirit of Mikhail Tal, with lots of combinations and sacrifices, the Indian secured 9.5 points out of 10 games, crushing along the way strong players such as Levon Aronian, David Howell and Rauf Mamedov with 2:0, and convincingly beating Fabiano Caruana in their first game of the match. But in the final rounds of the tournament, it was Shevchenko who took the spotlight, delivering a 2:0 blow to the Indian in their direct duel.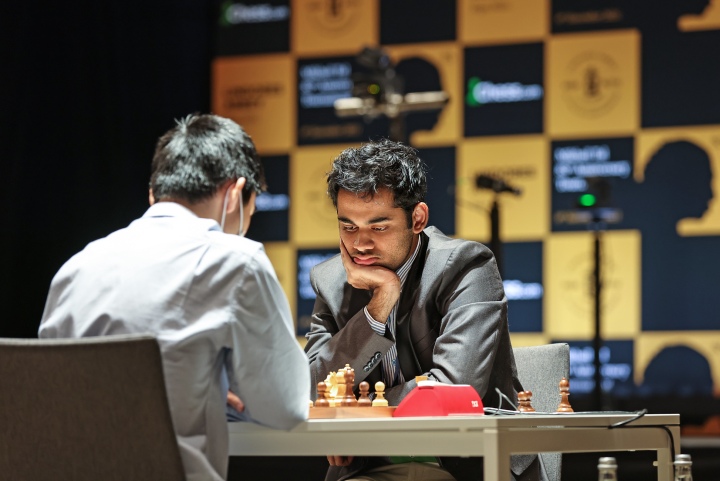 In the final round, it was a three-way race between Caruana, Erigaisi and Shevchenko. Caruana drew his game with world heavy-weight Levon Aronian to finish on 13.5 points, hoping to be first on tie-breaks. Erigaisi also scored a victory, meaning that he was on 13.5/18 as well. Shevchenko now had to win to take first place. In a wild game with many ups and downs, he defeated the Armenian GM Martirosyan (who blundered a checkmate in one in a drawn position) and finished half a point ahead of everyone else.
"I didn't believe I could win this tournament with half a point advantage. The last game was a roller coaster… I would like to play much more Blitz tournaments than I do in my country [Ukraine]", said Shevchenko, who is one of the most promising Ukrainian players.
The winner will receive a 10,000 USD prize which he said he would give to his parents and then decide what to do with it.
The total prize fund for the event was 6,000 USD. This includes a 10,000 USD fund provided by FIDE for prizes intended for female players only.
With nine points, Batkhuyag Munguntuul from Mongolia won the prize for the highest-ranked female player in the tournament and pocketed a special prize of 3,000 USD. Dinara Saduakassova won second place among women, and Alexandra Kosteniuk was third.
Final standings:
| | | | | |
| --- | --- | --- | --- | --- |
| 1 | Shevchenko, Kirill | UKR | 2574 | 14 |
| 2 | Caruana, Fabiano | USA | 2765 | 13½ |
| 3 | Erigaisi, Arjun | IND | 2616 | 13½ |
| 4 | Martirosyan, Haik M. | ARM | 2656 | 12½ |
| 5 | Navara, David | CZE | 2758 | 12½ |
| 6 | Xiong, Jeffery | USA | 2699 | 12 |
| 7 | Dubov, Daniil | RUS | 2747 | 12 |
| 8 | Aronian, Levon | ARM | 2767 | 12 |
| 9 | Svidler, Peter | RUS | 2709 | 12 |
| 10 | Sevian, Samuel | USA | 2668 | 12 |

Remembering "The Magician from Riga"
The Blitz tournament was held in memory of the great Latvian chess player and eighth World Champion, Mikhail Tal (1936 – 1992), who would have turned 85 on the 9th of November.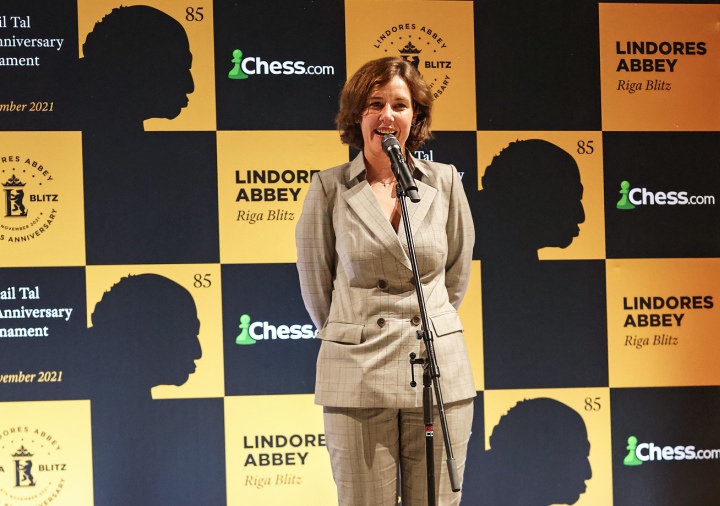 FIDE Managing Director Dana Reizniece-Ozola reminded the players and guests of Tal's spirit, echoed in his comment that "life would be very boring if you wait for luck to happen". Speaking about the Magician from Riga, Reizniece-Ozola said that Tal left a great footprint in the chess world which should serve as inspiration to us all.
FIDE President Arkady Dvorkovich revealed that he had the privilege of meeting Tal as a child, at one of the tournaments in Tallinn, Estonia. "I played chess with his daughter while our fathers were enjoying the evening", Dvorkoich said.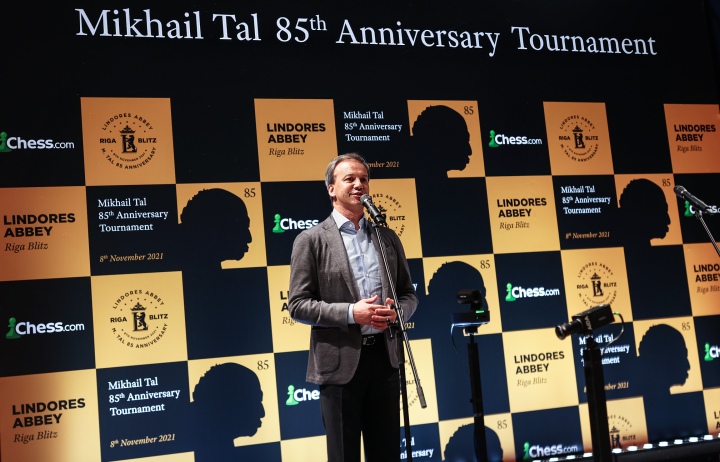 Dvorkovich said that the idea about this Blitz event came from Alexander Bakh, Mikhail Tal's friend and a prolific chess tournament organizer from Russia, who was the guest in Riga on behalf of Lindores Abbey.
The tournament was opened by Alexander Bakh, who said that this event is a part of the cycle of chess events organized by the Scottish company.
"In 2019, Lindores Abbey organized its Chess Start tournament, and then we had the Lindores Abbey Rapid Challenge in 2020. This Blitz event is the next stage in our cycle of chess tournaments and we hope there will be more events to come".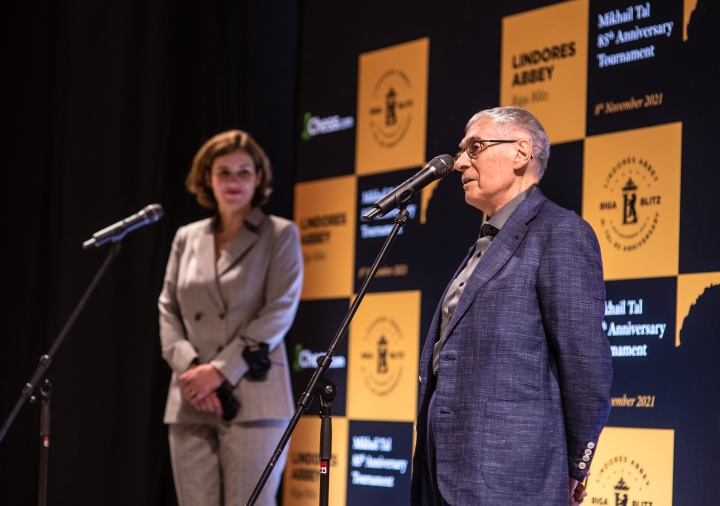 Georgiy Tal, the son of Mikhail Tal, was supposed to be the guest of honour at the closing ceremony of the Blitz event but, at the last moment, was prevented from attending.
The tournament took place in the same venue where the 2021 FIDE Chess.com Grand Swiss was held from the 27th of October to the 7th of November.
The official page of the tournament: https://lindoresabbeyblitz.fide.com/.
Complete final standings can be found here.
Discover the Lindores Abbey chess initiative.

Official Partners:

Lindores Abbey
Kaspersky