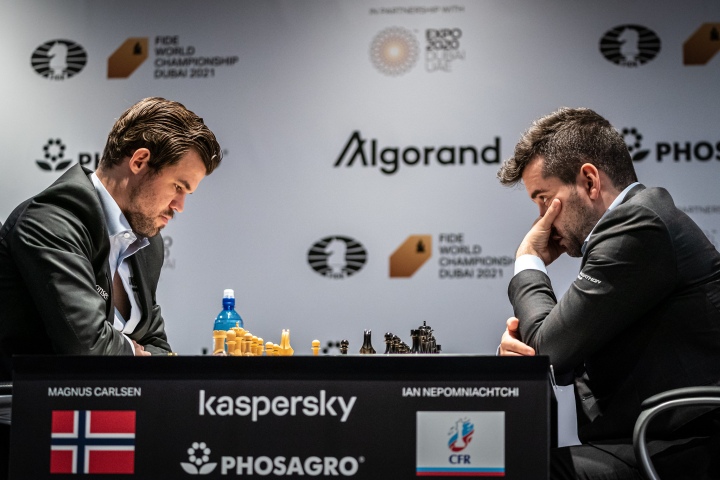 Time is running out for challenger Ian Nepomniachtchi. A successful comeback would arguably be a miracle at this point, but with a shot at the world title, a miracle has to be his business. Today, playing black, he will have to decide whether to stop the rot and reach a rest day, when he can prepare a final assault – or go all in from a position of weakness.
On the flip side, will champion Magnus Carlsen aim to shut things down and safely draw his way home to another title defence, or will he show his ruthless streak and try to keep hitting his opponent while he is down?
As Carlsen famously said after defeating Polish talent, Grandmaster (GM) Jan-Krzysztof Duda, who had recently eliminated the champion in a major knock-out event: "I don't get revenge by beating people once!" Carlsen's three-point lead here in Dubai has evened out his lifetime score against Nepomniachtchi.
Engines started
Today's ceremonial start saw the first move was made by local celebrity Amna Al Qubaisi, the first Emirati female racing driver, who joined Deputy FIDE President Bachar Kouatly onstage. Magnus directed her to play 1.e4, and this move was official seconds later.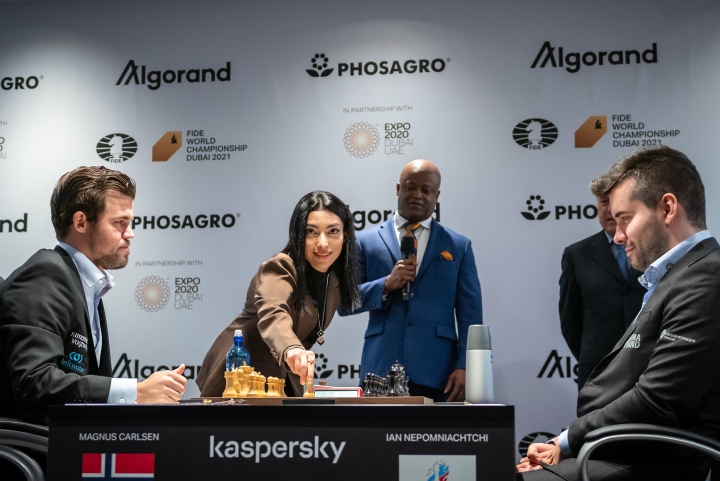 Those expecting – or hoping – for the challenger to lash out and try to win despite defending the black pieces were startled to see yet another Petroff, or Russian Defence, one of the driest and most solid choices, though popular in the war of attrition that is often the setting for a title match.
Little faith in miracles
Elite GM Anish Giri had argued for the Petroff Defence just before the start of play in his commentary, saying it made sense to try and stabilize, have a rest day, and then see if a miracle could be started with Ian's next white.
Giri's read of the match is that this decision signals a change of mindset from the challenger, who has acknowledged that victory is virtually impossible. "It is not about winning (now)," Giri said. "It is about playing well," arguing that he would now content himself with reminding the world that he can play good chess and was a worthy opponent.
The champion sank into thought early, with experts assuming this was due to inner dialogue, trying to choose between safe and solid, or trying to infuse complexity into the position – going for a bigger kill, but also giving his adversary a chance to land a blow with the black pieces.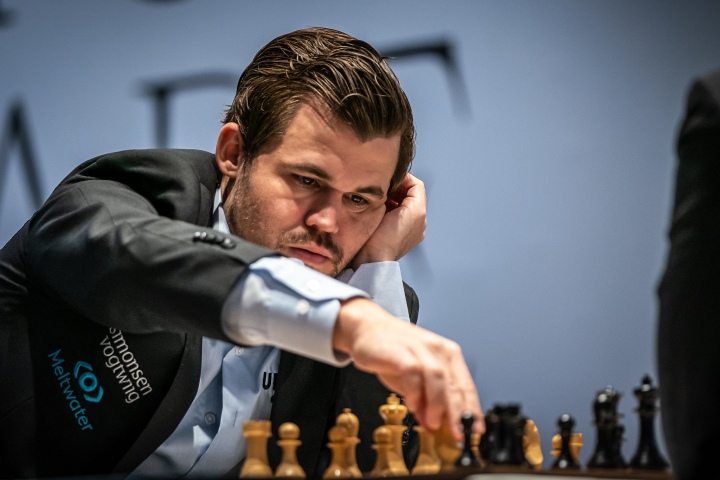 The answer
Carlsen chose a pragmatic approach, avoiding risk and looking instead to create some kind of subtle pressure in a simplified position. Nepomniachtchi played at his preferred brisk tempo, soon leaving the champion over half an hour behind on the clock while keeping Carlsen puzzled about how to keep, or inject, some life in the game.
This proved too much of a challenge, and while he and various expert commentators searched for some hidden possibilities, Nepomniachtchi had recovered his sense of care and danger. After methodical simplifications, the game was agreed drawn once they cleared the time control at move 40.
Post-game thoughts
On his way to the press conference, Carlsen confessed that he had not really expected the dry Petroff from the challenger and inferred that it meant Nepo was in 'damage limitation mode'. Carlsen said he felt he had managed to extract a tiny edge from the position but that the game was 'pretty boring', and a draw was fine.
The champion was once again the last to arrive at the post-match press conference, led by Master of Ceremonies Maurice Ashley. Today's session was quite subdued, with the game tame, and the match situation still grave. The challenger had one quick and cold response when asked if he was still trying to win this match: "That's an absurd question."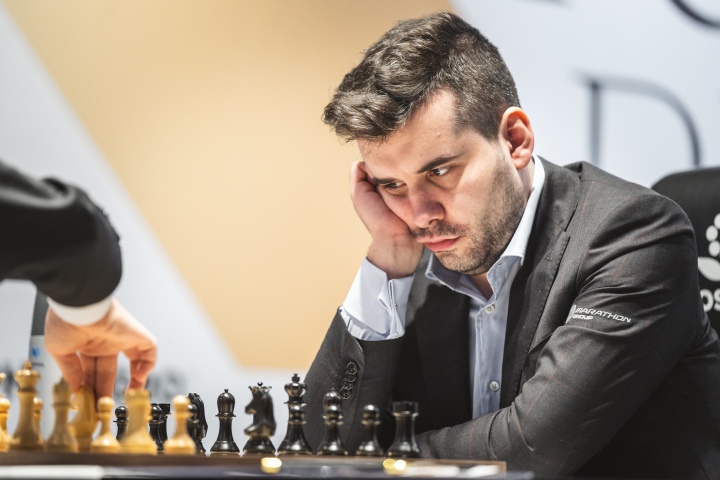 The players learned that new Covid precautions had eliminated Kazakhstan as the planned venue of the World Rapid and Blitz championships in late December, with FIDE scrambling to find a viable alternative. The players agreed that this was only to be expected now and hoped that the event could be staged. Nepomniachtchi said he had not decided if he was going to participate, but Carlsen said that he had been hoping to play.
FIDE's Twitter followers produced the final question, asking the challenger what he would do differently if he could reset the match. In a terse mood, Ian replied: "I guess I would lose less and win more."
Next
Game 11, with challenger Ian Nepomniachtchi having the advantage of the white pieces, will take place on December 10, with tomorrow being a rest day.
FACT SHEET, Game 10, FIDE World Championship:
White: Magnus Carlsen
Black: Ian Nepomniachtchi
Result: ½-½
Match score: 6½-3½
Game length: 41 moves
Opening: Petroff Defence
Trivia: Carlsen dropped his alternating suit routine of light for white games, and dark for black games today.
Amna Al Qubaisi was invited to make the first move by Kaspersky, the official cybersecurity partner of the FIDE World Championship.
Text: Jonathan Tisdall, Press Officer press@fide.com
Photo: Eric Rosen and Niki Riga
Official website of FIDE World Championship Dubai 2021