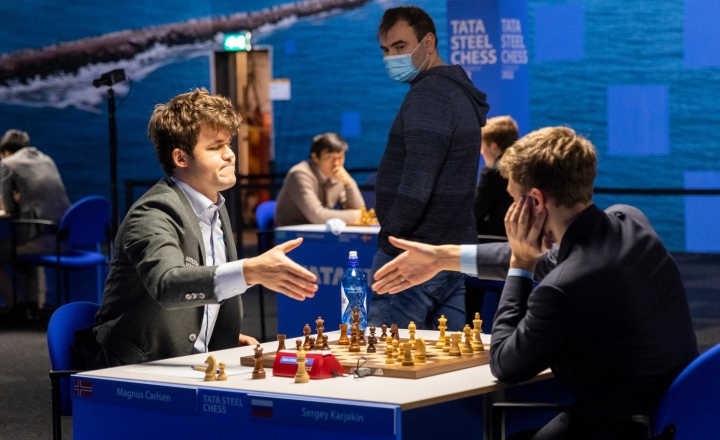 All the players in the leading group drew their games in Round 10 of Tata Steel Masters except for Vidit Gujrathi, who fell to his compatriot Rameshbabu Praggnanandhaa in a long gruelling Inian derby. Nils Grandelius scored his first victory in the event defeating Daniil Dubov.
Sergey Karjakin and Magnus Carlsen played one of the shortest games at Tata Steel 2022 – the opponents made a quick draw in a well-known theoretical line of the Berlin system in Ruy Lopez.
Anish Giri essayed a sharp variation of English Opening as White against Jan-Krzysztof Duda, but the Polish GM demonstrated an excellent preparation and got a slight edge. Anish had to switch to defence and work hard for a draw he reached right before the time control.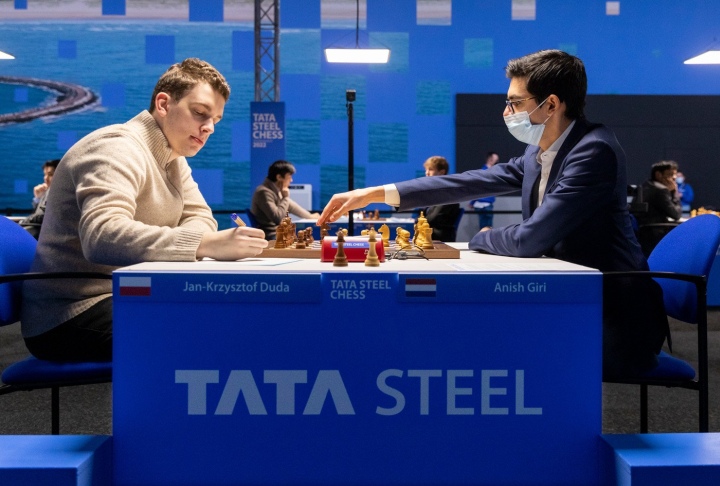 The game Fabiano Caruana – Richard Rapport saw the same line of English Opening as the above-mentioned encounter, and again, Black had no problems reaching a comfortable position. Things took an unexpected turn after Fabiano blundered with 21.Rd4, apparently missing a strong intermezzo 22…e5! which gave Black a favourable endgame with a strong bishop vs a knight and powerful pawn mass on the kingside. Richard instructively conducted this ending and scored a clean victory of the #2 rated player in the world.
Andrey Esipenko gradually outplayed Jorden Van Foreest on the white side of the Italian Game. The Russian GM got an overwhelming position by move 31, but when the time came to reap the harvest, he missed a forced win and gave Black some hopes for escape. Still, White emerged with an extra pawn which he eventually converted after a series of mutual inaccuracies.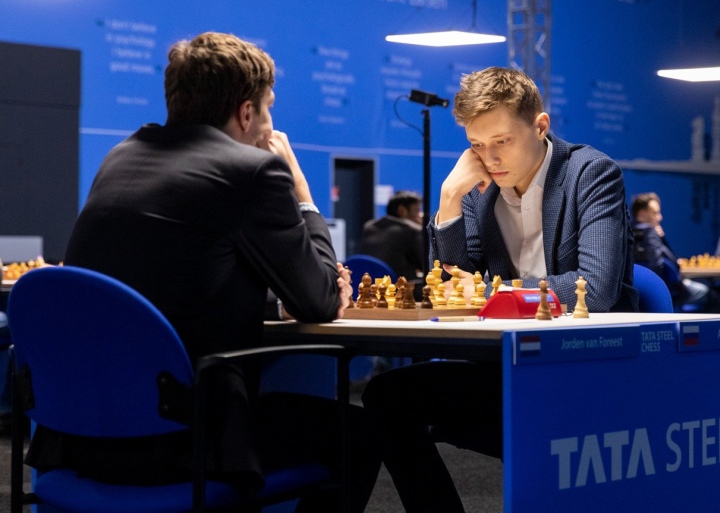 Shakhriyar Mamedyarov repeated the line that he had tried against Magnus Carlsen in the game with Sam Shankland but did not solve all his opening problems either as White prevented a thematic c7-c5. However, after a couple of Sam's inaccuracies, Shakhriyar engineered some counterplay on the kingside to secure a draw.
In a game ridden with mutual mistakes, Nils Grandelius scored his first victory at Tata Steel Masters over Daniil Dubov. The evaluation changed several times throughout this encounter, with Dubov making the final error (72.Kf4?? instead of 72.e6 or 72.Re6) when a draw was just a step away.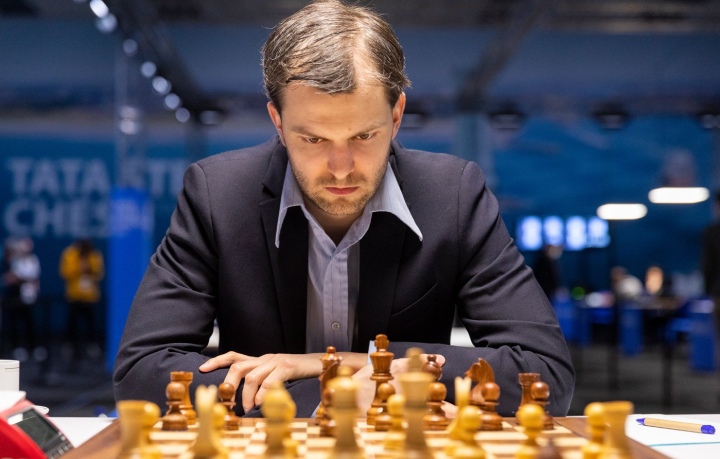 Vidit Gujrathi and Rameshbabu Praggnanandhaa tested a topical line of the Nimtzo-Indian in which White emerged with an extra pawn but paid the price of weakening his king. After Vidit missed a couple of chances to consolidate his position, he committed a severe error 33.Qxh6? and handed Rameshbabu a dangerous initiative. Black, in turn, wasted several opportunities to finish off the opponent with a direct attack and took a much longer route in an endgame. White built some sort of a fortress, but Black managed to trade the knights and sailed to victory in a rook endgame with just seconds on the clock.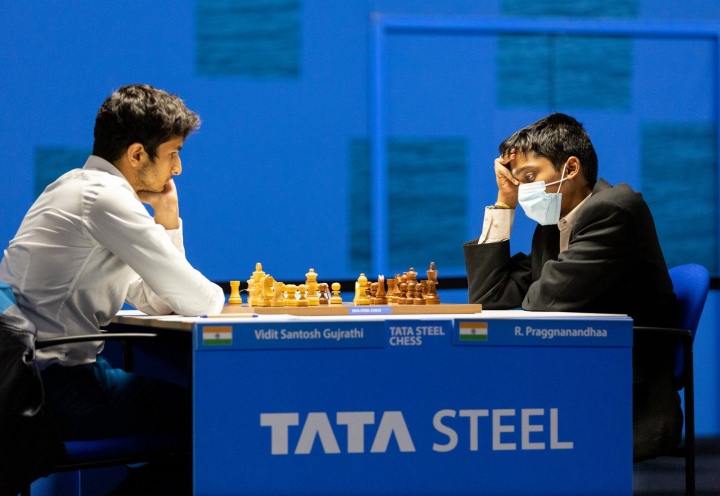 Standings after Round 9: 1. Маgnus Carlsen – 7; 2. Anish Giri – 6½; 3-4. Shakhriyar Mamedyarov and Richard Rapport – 6; 5-7. Vidit Gujrathi, Sergey Karjakin and Andrey Esipenko – 5½; 8. Fabiano Caruana – 5; 9-10. Jan-Krzysztof Duda and Sam Shankld and Jorden Van Foreest – 4½; 11. Sam Shankland – 4; 12-13. Praggnanandhaa R.and Daniil Dubov – 3½; 14.Nils Grandelius – 3.
Official website: tatasteelchess.com/
Photo: Jurriaan Hoefsmit and Lennart Ootes – Tata Steel Chess Tournament 2022