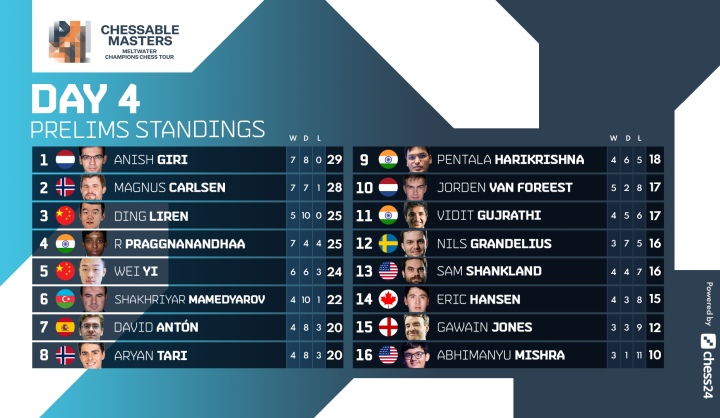 The all-star field in the Chessable Masters was cut in half today as a nervy climax to the $150,000 event's prelim stage saw eight go through to the knockout.
Anish Giri finished top of the leaderboard on 29 points and $7,250 earned, pipping World Champion and long-time Meltwater Champions Chess Tour rival Magnus Carlsen.
Giri and Carlsen sailed into the quarters along with world no.2 Ding Liren and the Indian teen sensation Rameshbabu Praggnanandhaa, who both secured the points they needed early. It was left to the rest of the line-up to scramble for places. And the drama was plenty.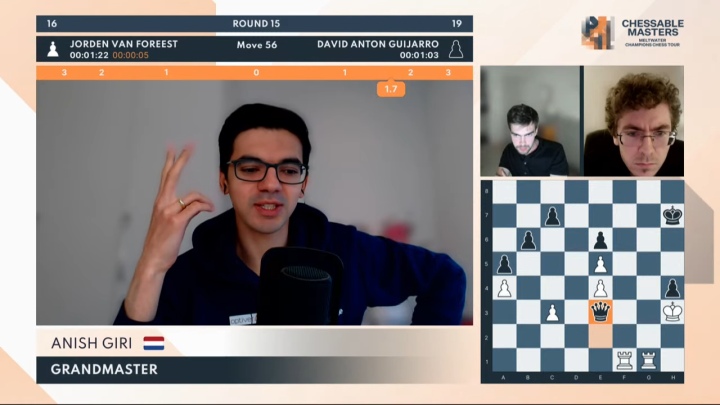 In a crucial Round 14 game, Norway's no.2 Aryan Tari faced Wei Yi. Wei, who led the leaderboard on first two days, hadn't won a game since Round 8 while Tari was on a run of four straight wins and going for a fifth.
But it was Tari who was on the defensive for most of it before he suddenly had a chance to win in the endgame. The 22-year-old went for the safe option of a draw, however. It could have proved costly - but it didn't.
Wei sealed his place on 24 points, but Tari still had more to do. Also through at this point was the Azerbaijan no.1 Shakrhiyar Mamedyarov who drew his first two games to progress safely.
Going into the final round six players were safe, and four were still in with a shout of filling two spots. It was a straight shootout. Wins for Tari and Anton meant they would be safe, while Harikrishna and the Swede Nils Grandelius needed results to go their way.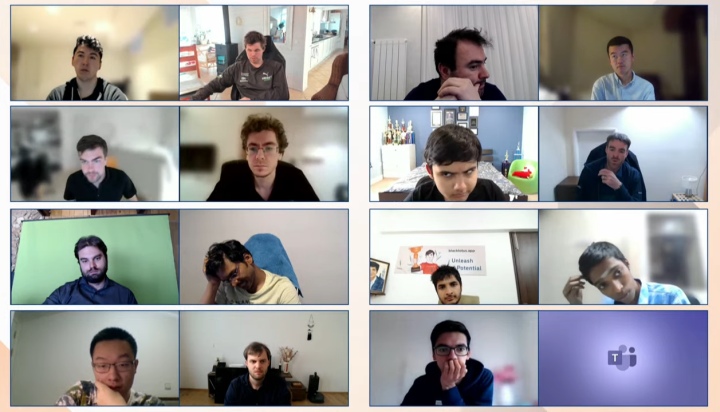 On paper it was Tari who had the toughest opponent in Giri, who was yet to lose a game in the tournament. After taking only a draw in the previous round the Norwegian badly needed a win. Luckily for Tari another contender for a quarter-final place, Pentala Harikrishna, quickly found himself in big trouble against the former US champ Sam Shankland and lost.
Soon after Giri and Tari agreed their draw - a result which aided both of them and meant Tari was nearly through and Giri finished top of the leaderboard.
Seconds later, Pragg ended Vidit Gujrathi's hopes by beating his fellow Indian and rubbering-stamp Tari's place.
Tari said: "I feel really good, it means a lot for me to qualify."
Meanwhile, Jorden van Foreest blew his chance of beating David Anton to claim a quarter-final berth when the Dutchman fell for a nasty trick while right on the brink of victory. It was heart-breaking for van Foreest. Anton had looked like being eliminated, but the draw instead dumped van Foreest out.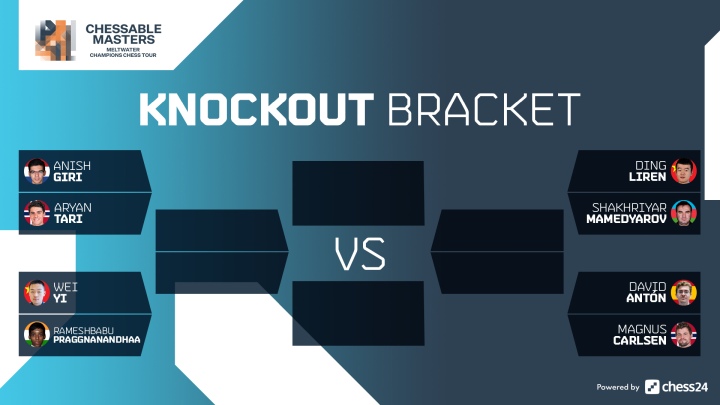 The Knockout starts at 18:00 CEST tomorrow. Carlsen will be the favourite when he faces Anton. Giri takes on Tari and the battle of two prodigies will see Pragg vs Wei and the last quarter final is Ding vs Mamedyarov.
For further comments contact:
Leon Watson
---
About the Chessable Masters
The eight-day Chessable Masters started on May 19 and coverage will focus on the study of chess openings. A prize pot of up to $150,000 is up for grabs and two qualifying spots for the next Tour Major. For the first stage of the event, all 16 players will compete in a round-robin with the top 8 progressing to a knockout. The final will be staged on May 25 and 26. The Chessable Masters is leg 4 of the Meltwater Champions Chess Tour. The overall Tour winner in November will be crowned the world's best online chess player. Action will be broadcast live with commentary from chess24's studio in Oslo via chess24.com's YouTube and Twitch channels, also available at chess24.com/tour. Play begins at 18:00 CEST / 16:00 UTC.
About the Meltwater Champions Chess Tour
The Champions Chess Tour is the leading online chess Tour worldwide determining the world's best chess player over a full competitive season of online chess. The 2022 season begins in February 2022 and features monthly tournaments culminating in a Final in November 2022. The best chess players in the world are competing in rapid chess. All games take place online on chess24.com with players competing for a total prize pool of over USD 1.5 million. For more information visit championschesstour.com.
About Play Magnus Group
Play Magnus Group is a global leader in the chess industry focused on providing premier digital experiences for millions of chess players and students. The company offers e-learning and entertainment services via its market leading brands: chess24, Chessable, iChess, New In Chess, Everyman Chess, Silver Knights, Aimchess, the Play Magnus App Suite, and the Meltwater Champions Chess Tour. The Group's mission is to grow chess to make the world a smarter place by encouraging more people to play, watch, study, and earn a living from chess. Play Magnus Group is listed on Euronext Growth Oslo under the ticker PMG. www.pmg.me