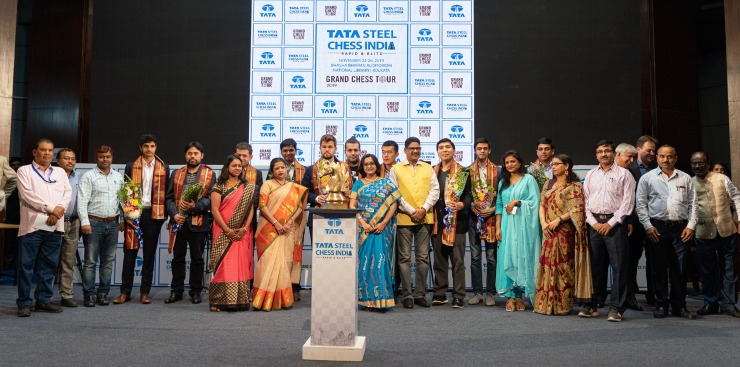 At the end of another exciting day of chess, Magnus Carlsen was crowned as the winner of the 2019 Tata Steel Chess India Rapid and Blitz. Despite starting the day under the weather, he scored 5.5 points in the final 9 blitz games, netting an impressive 27 total points. The World Champion surpassed his 26.5 point record from the Cote D'Ivoire Rapid & Blitz earlier this year.
"It's a big deal for me to have a good performance here. I haven't played so well in rapid and blitz lately, and I think with this result, I showed I'm still the man to beat," said Carlsen. Across the entire event, Magnus lost just two games; both in the blitz portion to Ding Liren.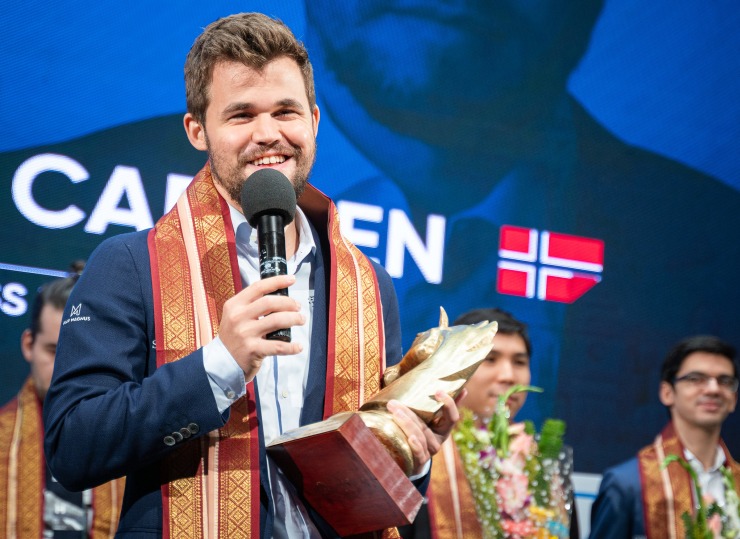 The World Blitz #1 Hikaru Nakamura maintained his ranking on top of the rating list with a solid performance today. He scored 5.5/9 points and finished in clear second place with 23 total points. Nakamura did not lose a single game in the 18 rounds of blitz. His only loss was to Carlsen in round 4 of the rapid portion. Hikaru proved why he's still the top-rated blitz player in the world and took home $25,000 for his efforts.
After another roller-coaster day for Vishy Anand, his hopes of qualifying for the GCT Finals came to an end. He fell just short of earning the 5 GCT points needed to pass Maxime Vachier-Lagrave in the GCT Standings. Despite winning some games early in the day, Anand suffered a few heartbreaking losses. In Round 15 of blitz, he ran out of time with a winning position against Anish Giri; in the penultimate round, he lost to Magnus Carlsen in a chaotic game that could have gone either way.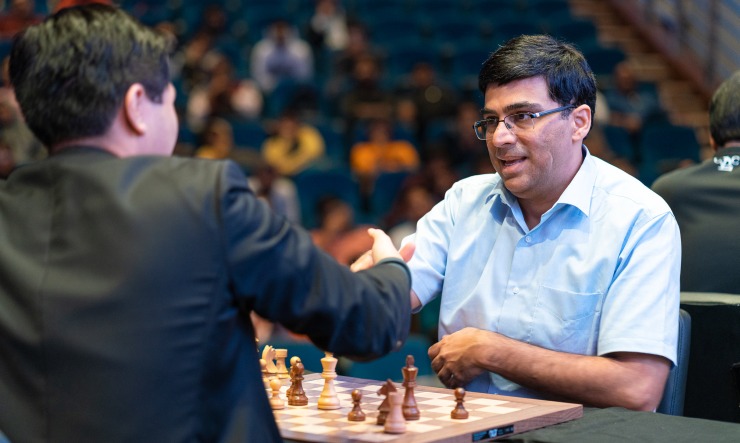 Levon Aronian had a very disappointing performance as he was struggling to find his form throughout the event and finished in the last place. GM Peter Svidler commented on the abysmal performance: "I don't think I've seen him play this poorly in a blitz tournament in my life." However, Aronian did perform well enough in previous GCT events this year to qualify for the finals. He will have just a few days to recover and find a better form.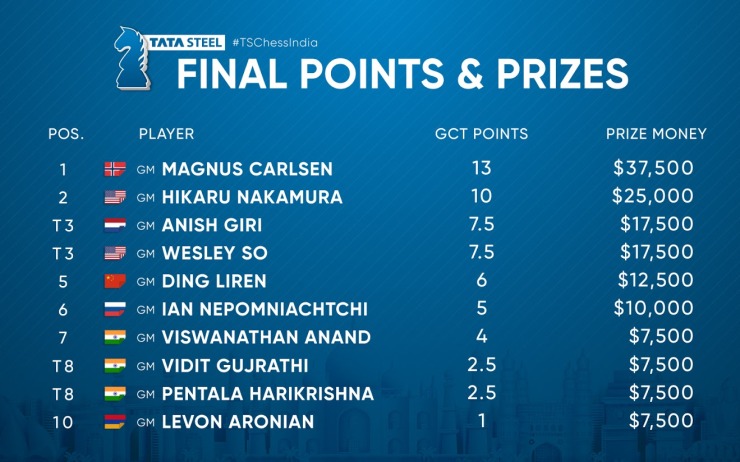 The four GCT finalists will be Magnus Carlsen (Norway), Ding Liren (China), Levon Aronian (Armenia), and Maxime Vachier-Lagrave (France). The GCT Finals will commence in just 6 days in London. The action can be followed with live commentary from GMs Peter Svidler, Alejandro Ramirez, Maurice Ashley, and WGM Jennifer Shahade from Monday, December 2 through Sunday, December 8.