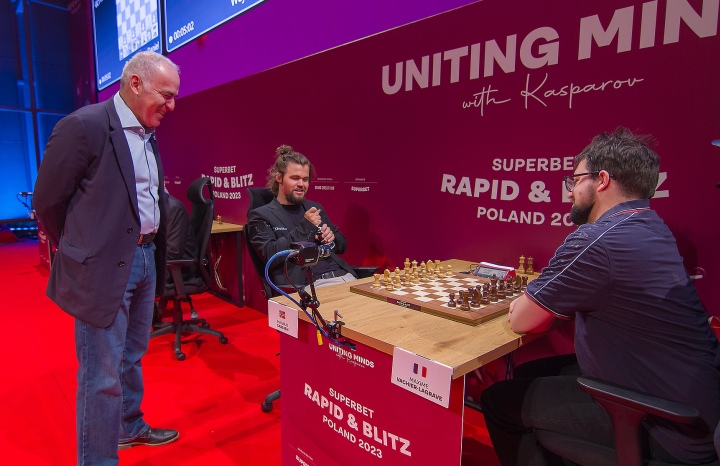 After winning five straight games to close out the day World No. 1 Magnus Carlsen roared back to within half a point of the leader, Jan-Krzysztof Duda, at the half-way mark of the blitz portion.
Going into the final day of the blitz tomorrow, Duda has 17.5 points, Carlsen - 17, with Wesley So (16.5), Levon Aronian (16), and Maxime Vachier-Lagrave (15.5) all within striking distance.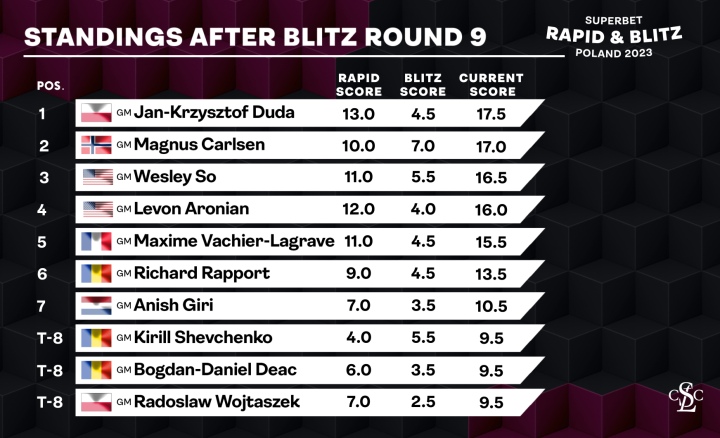 BLITZ | ROUNDS 1-9
The day started somewhat slowly for Carlsen as he beat MVL in the first round before losing to So in Round 2, followed by two draws against Deac and Wojtaszek. But then after executing a clinical mating attack against Shevchenko's Dragon in Round 5, the previous World Champion simply could not be stopped, as he won the next four games as well, ending the day with a technical endgame win against Duda.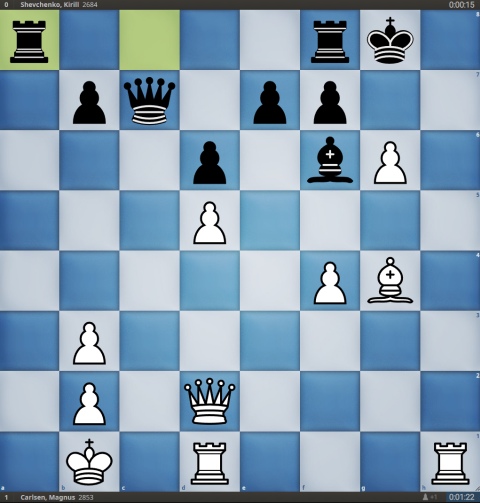 25.Qh2! forced resignation, with an inevitable mate on the h-file.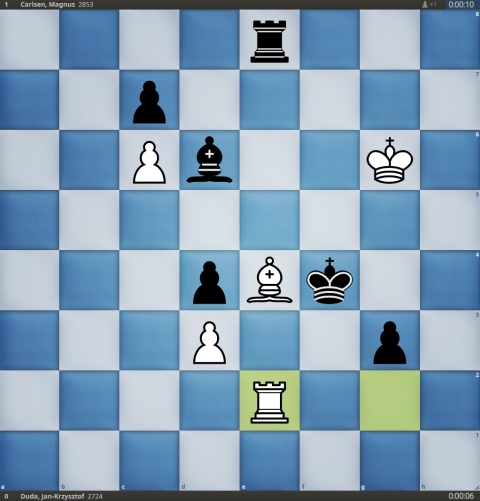 87…Rxe4! was Carlsen's winning breakthrough, allowing Black to promote one of his pawns next.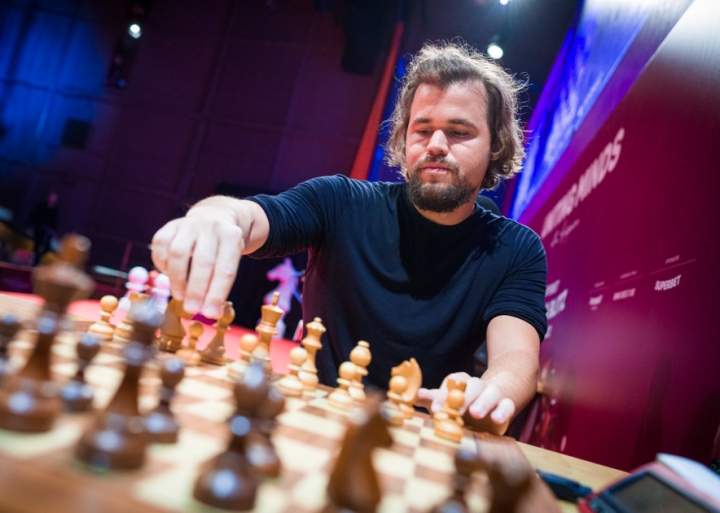 Back to his usual self, a whopping 7.0/9 in the blitz for Magnus. | Photo courtesy of Grand Chess Tour, Lennart Ootes
Duda in the meantime also struggled during the first part of the day, scoring just 1/4 until a win against MVL propped him back into the lead: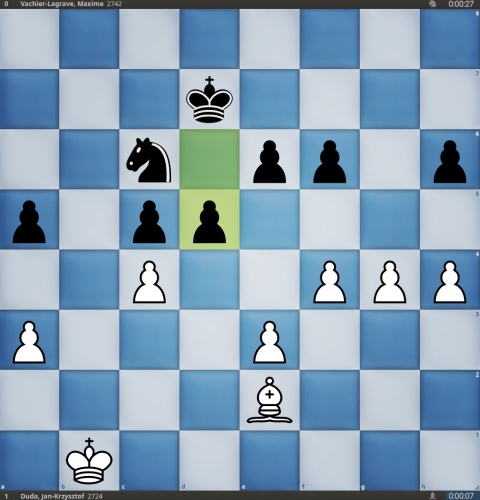 After 35…d5? 36.cxd5 MVL realized too late that he could not recapture 36...exd5 in view of 37.Bb5!+-, heading into a winning king and pawn ending.
Duda then went on to defeat Deac and Wojtaszek in back-to-back games before losing to Carlsen in the final round, though he was still able to stay in the lead at the end of the day.

Duda did just enough to remain in first going into the final day. | Photo courtesy of Grand Chess Tour, Lennart Ootes
So finished the day on a decent +2, with wins over Carlsen, Aronian, and Deac while only losing a single game to Giri. In particular So's game against Magnus was high class, as he did not achieve much out of the opening against Carlsen's Scandinavian Defense, but managed to masterfully exploit the power of his bishop in the endgame, which eventually allowed him to win two extra pawns in the knight endgame.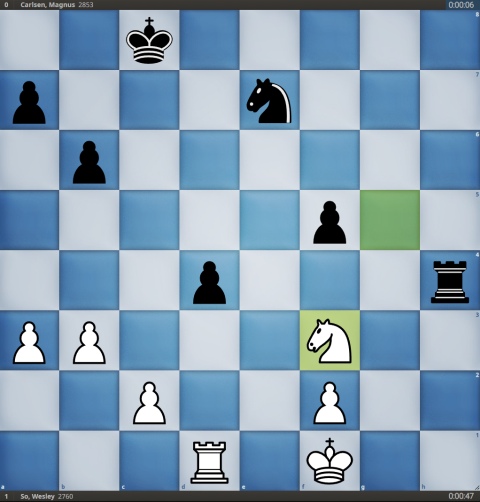 35.Nf3! allowed So to first pick up the d4-pawn, with a winning knight endgame.
So was the only player to successfully best Magnus. | Photo courtesy of Grand Chess Tour, Lennart Ootes
Aronian's day was quite topsy-turvy, as he started off with a loss to Giri, then scored wins over Shevchenko, Duda, and Deac before ending the day with losses to Carlsen and Rapport. But a strong performance was shown by the Ukranian-Polish Shevchenko, who managed to win games against Deac, Rapport, Wojtaszek, and Giri.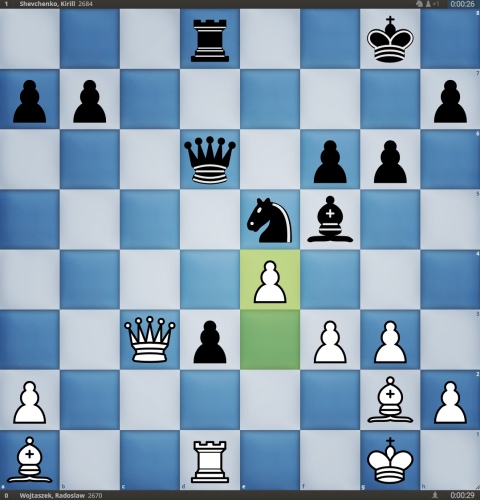 29...Rc8! allowed Black's rook to penetrate decisively on the 2nd rank.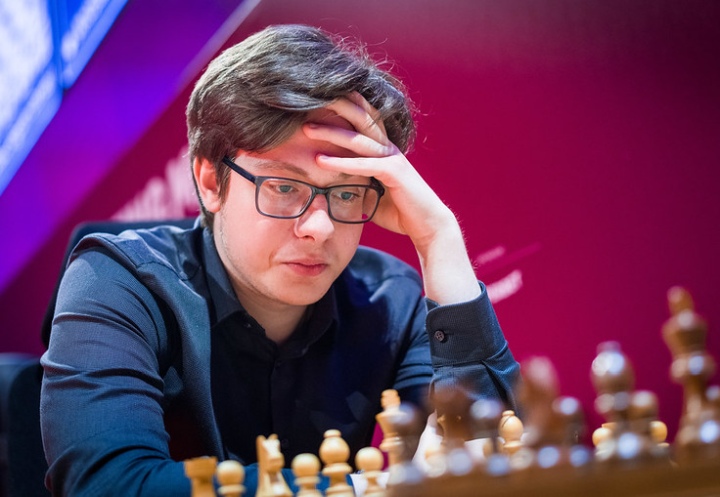 Tour wildcard Shevchenko did not fare well in the rapid, but his 5.5 in the blitz was tied with So and second only to Carlsen. | Photo courtesy of Grand Chess Tour, Lennart Ootes
The 2023 Superbet Rapid & Blitz continues Thursday, May 25, with tournament action live starting at 7:05 AM CT with Grandmaster commentators Yasser Seirawan, Var Akobian, Cristian Chirila and International Master Nazi Paikidze on grandchesstour.org and on the Saint Louis Chess Club's YouTube and Twitch.tv channels.
Text: IM Kostya Kavutskiy
Photos: Courtesy of Grand Chess Tour and Spectrum Studios Credits available on Flickr.
---
Further Information:
Web: GrandChessTour.org | Twitter: @GrandChessTour
Instagram: @GrandChessTour | Facebook: @GrandChessTour
#GrandChessTour
#SuperbetRapidBlitzPoland
Venue:
Museum of the History of Polish Jews in Warsaw, Poland
May 21 - May 25, 2023
Press Contact:
press@grandchesstour.org
Livestream:
GrandChessTour.org