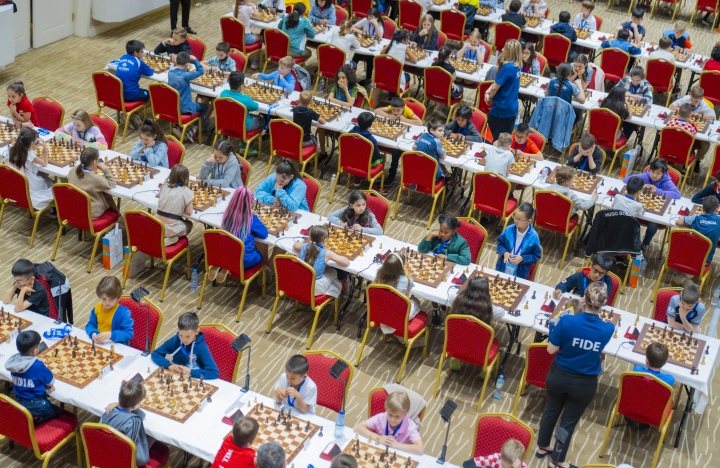 The curtain fell on the World Rapid Chess Championship U8-18, organized by FIDE and the Georgian Chess Federation. The rapid part of the event stretched over three days, from June 5-8, in the conference hall of Hotel Euphoria in Batumi. Now we know the winners in all six age categories.
Boys U8:
Mujammed, Shayan Noushad Ibrahim
Cheng, Louis
Nguyen, Nhat Khuong
Babkin, Timofey Dm
Anetov, Amrizhan
Boys U10:
Sklokin, Sergey
Kakavand, Ramtin
Bulgak, Damir
Zhauynbay, Alimzhan
Beniosev, Daniel
Boys U12:
Dau, Khuong Duy
Temirbekov, Taimaz
Ambartsumian, Tyhran
Yeganegi, Barad
Moskvinov, Prokhor
Boys U14:
Pham, Tran Gia Phuc
Dinh, Nho Kiet
Vetokhin, Savva
Uskov, Artem
Averin, Nikolay
Boys U16:
Piliposyan, Robert
Navumenka, Mikhei
Sapenov, Daniyal
Stribuk, Artiom
Gurel, Ediz
Boys U18:
Murzin, Volodar
Grebnev, Aleksey
Tsaruk, Maksim
Sahakyan, Aleks
Siniauski, Artsiom
Girls U8:
Sivanandan, Bodhana
Sobirova, Mumtozbegim
Sharvaanica, A S
Nguyen, Thi Quynh Hoa
Saltkhutsishvili, Sara
Girls U10:
Zavivaeva, Kristina
Berikkyzy, Alanna
Milner, Romi
Schirmbeck, Lilian
Chiokadze, Barbare
Girls U12:
Le, Thai Hoang Anh
Altynbek, Airu
Preobrazhenskaya, Diana
Tong, Thai Hoang An
Akbari, Rosha
Girls U14:
Kirtadze, Anastasia
Nurgaliyeva, Zarina
Shukhman, Anna
Zubkovskaya, Ekaterina
Mai, Hieu Linh
Girls U16:
Shvedova, Alexandra
Norman, Kseniya
Shohradova, Leyla
Khachatryan, Mariam
Seemann, Pola
Girls U18:
Omonova, Umida
Nguyen, Hong Nhung
Lomaia, Diana
Tsotsonava, Elene
Poliakova, Varvara
The closing ceremony will be held on June 11, after the completion of the blitz tournament.
Tomorrow, June 9, the participants of the championship have a rest day. The organizers prepared some exciting activities for them, including visiting the Batumi Botanical Garden.
The two-day World Blitz Championship U8 - 18 starts on June 10 at 3 PM local time.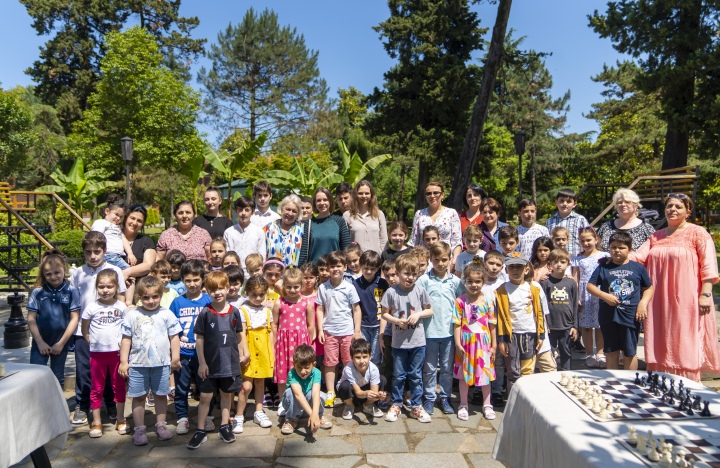 Champions Match: The rest day
On June 8, the participants of the Champions Match had an amazing day.
The Muzychuk sisters shared their valuable experience with young players and gave them a simul. They also had an opportunity to visit the most picturesque sites of Batumi, including a promenade a promenade along the Batumi seafront Boulevard.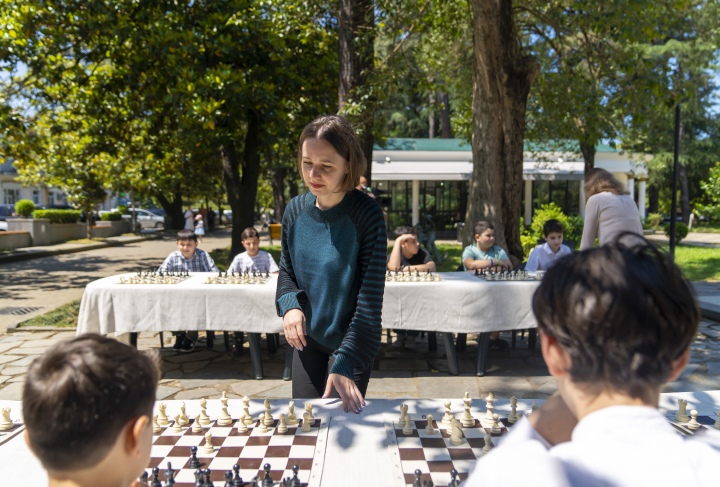 Photos: Mindia Malakmadze