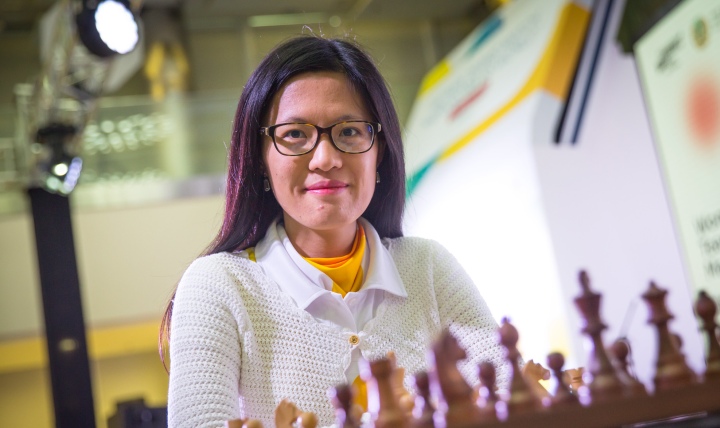 It's all about finding the balance between experience and motivation
Ahead of the Match in China to determine the 18th Women's World Champion, I was in Dubai for the inaugural edition of the Global Chess League, and there I caught up with Hou Yifan.
A former Women's World Champion (2010-2017) and still the highest-rated player on the FIDE Women's rating list (2628), Hou has left a strong mark on chess with her exceptional skill and results. Despite deciding to move to academia, she is still present in the chess world, and her recent resurfacing at the Global Chess League in Dubai was a chance to ask her in person about the match between Ju Wenjun and Lei Tingjie and chess in China.
The first thing I asked Hou was to explain how China got into a position to have the crown in both the Women's and the Open category.
"As a Chinese player, I am happy to see how chess develops in our country. That is actually the work of not our generation but all of the Chinese players from before – even back to the 60s and 70s", she explains, pointing out the strong common spirit which was built among the Chinese players over the years.
"We also have traditions to play together – both men and women – and we learn".
The rise and success of Chinese chess in recent years have gone hand in hand with increasing government support for the game. "That helps a lot", Hou acknowledged, noting that chess plays a greater role in Chinese society now than a few years back.
Hou Yifan was five and a half when she got introduced to chess.
"It was a coincidence because none of my family members plays chess, nor was it big in my hometown (Xinghua, in the east of China). I just happened to see a chess board somewhere in the street".
Hou had a chess teacher, but at the time – in 1999 – online wasn't a big thing, and there weren't many online resources.
"I went to a private chess club, and my coach was an amateur chess player. He would take out the books and we would start rehearsing a few opening moves, and then we just start playing. It was a very exciting period for me. Now it's different and much more modern".
Hou was one of several Chinese chess players to win medals and pave the way for the country to climb to the top of the chess world. Ding Liren's success in winning the World Championship Match in Astana sparked talk of Chinese dominance in chess.
"Even though the titles are both in China, I wouldn't say China is dominating the chess world. In the open section, Magnus decided not to compete, but personally, I think he is the strongest", Hou said, adding: "To win a title does not equal dominance".
But the story is different in women's chess, where nine of the 17 women's world champions so far have come from China.
"We are really one of the best teams, that's for sure," Hou said as she explained that there are different factors at play.
"Before, we used to have these traditions to train together with men, but it wasn't that common in recent years. For the moment, the women players get support from the federation and a huge number of people working with them".
"When I was young, a few matches were organised by the federation, helping me a lot. For example, just before I won my world championship title, I had a match with Anatoly Karpov, which was very useful, and I also got some advice from him", she added.
When talk turned to the match in China between Ju Wenjun and Lei Tingjie, Hou was cautious.
"It's hard to say what will happen. Ju is experienced and won the title before, Lei is young, and maybe she is more motivated. It will depend on their prep and how they build their shape up".
I asked Hou if it was easier to defend the crown or to attack the title.
"For me, it doesn't matter. It's simply focusing on chess games. I was comfortable with both".
According to the currently highest-rated woman player, the key to success is finding the right balance between motivation and skill.
"If you lack motivation, you just enjoy yourself, but that has its drawbacks. To have motivation but lack experience – it reminds me of Firouzja in the 2020 Candidates; he didn't do well, but he tried hard. There should be a balance. The players will find the most suitable path for themselves. It's not the same for everyone. You should see what makes you feel more ready", Hou said.
Text: Milan Dinic
Photo: Anna Shtourman