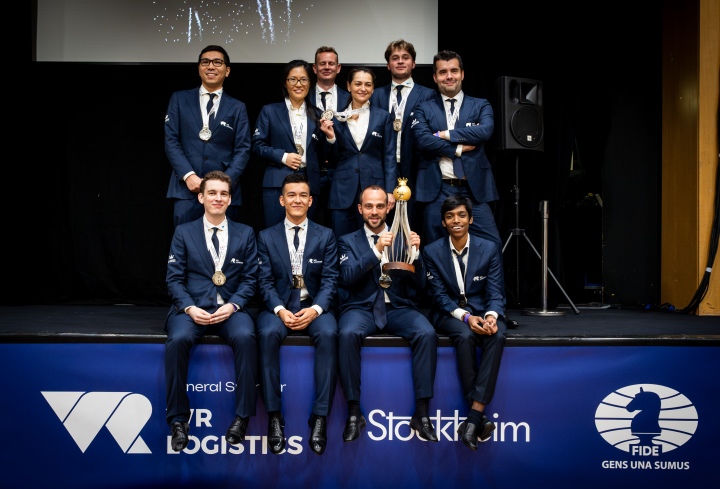 With just two draws and ten victories in 12 matches, the team WR Chess won the inaugural FIDE World Rapid Team Championship, securing the title with a round to spare. Team Freedom finished second, while the Indian squad of MGD1 was third
Altogether, WR Chess secured 22 matchpoints, Freedom finished on 20, and third-placed MGD1 had 18.
The champion was decided in round 11 after WR Chess won their match and second-placed Freedom drew, which meant they couldn't catch up.
The first place in the event also comes with a cup, medals and a prize of 100,000 Euros. Second-placed Freedom received 60,000 Euros, while MGD1 won 40,000 Euros. There were three more prizes: Team Armenia received 25,000 Euros after clinching fourth place, while the team of Germany and Friends staged a great surprise, ending in fifth place and winning 12,500 Euros.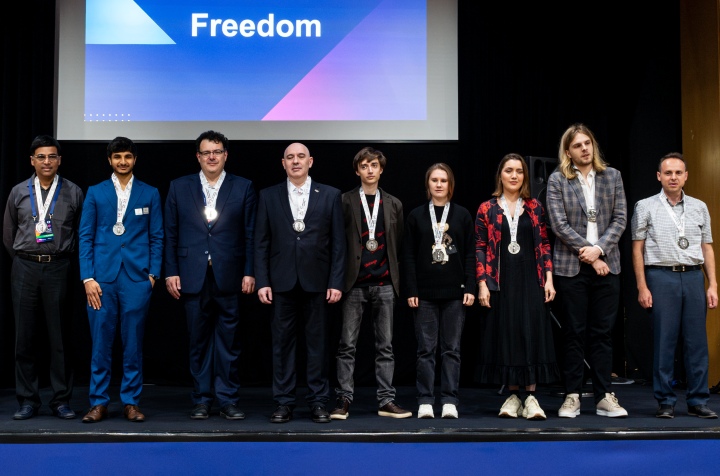 The energetic team of Columbus Energy Kings Of Chess from Kraków won 12,500 Euros as the best-performing team with a rating below 2400. The special prize for the best game by a youngster was won by eleven-year-old Christian Glöckler from Hesse, one of the great talents of German chess, who is ranked fifth in the world in his age group. The CEO of WR Group, Wadim Rosenstein, presented Glöckler with the "Rainer Niermann Cup" for his victory over South African GM Kenny Solomon.
In an event that saw amateurs play side by side with world champions and super strong grandmasters, where even the president of FIDE took part (on the amateur board), the spirit of FIDE's motto Gens Una Sumus ("We are one family") shined throughout.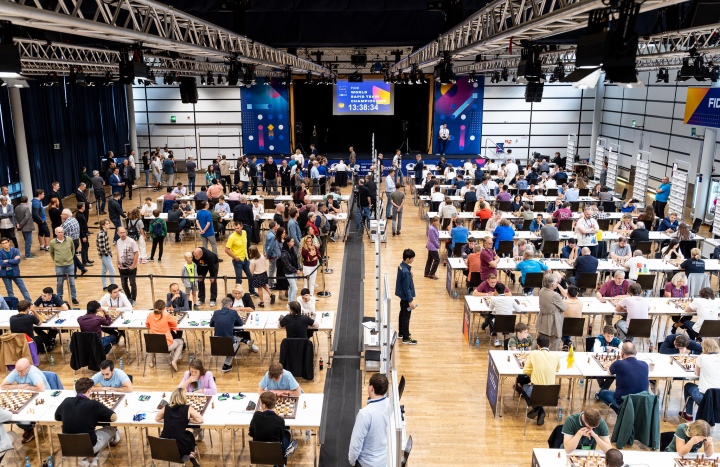 The CEO of WR Group (the event sponsor) and player, Wadim Rosenstein, expressed his satisfaction with the positive reception of his idea for an open-world rapid chess championship:
"It was marvellous to gather so many chess stars in one place, and I believe everyone not only appreciated it but also truly enjoyed the experience."
When asked about his feelings on winning the inaugural World Championship title, Rosenstein's response was succinct yet candid: "It was stressful."
Reflecting on the effort he and his team invested in securing first place in this fiercely competitive field, Rosenstein further shared: "We dedicated extensive hours of hard work. I am deeply grateful to [team captain] Jan Gustaffson, whose guidance was instrumental in enhancing my understanding of chess. I personally devoted countless hours to chess preparation. My gratitude extends to the entire team whose collective support brought us to this point. Every moment spent together was enjoyable, and I cherish the incredible time we had as a team."
Final standings: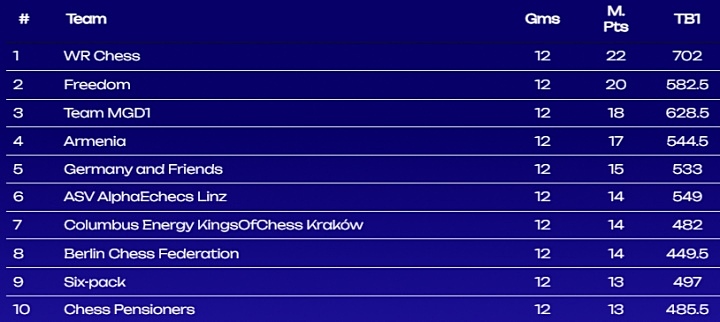 The complete final standings of the World Rapid Team Championship can be found here.
How WR Chess won first place
WR Chess won in 10 of the 12 matches, defeating all of the top-placed teams except Armenia, who held them to a draw in round 10. This includes convincing victories over runners-up Freedom (5:1, in Round 5) as well as the exceptionally strong teams of Kompetenzakademie Allstars (5.5-0.5, in Round 8) and ASV AlphaEchecs Linz (5-1, in Round 11).
The first time Jan Gustafsson's team had problems was in Round 10 when Vincent Keymer made a last-minute save to avoid losing to team Armenia.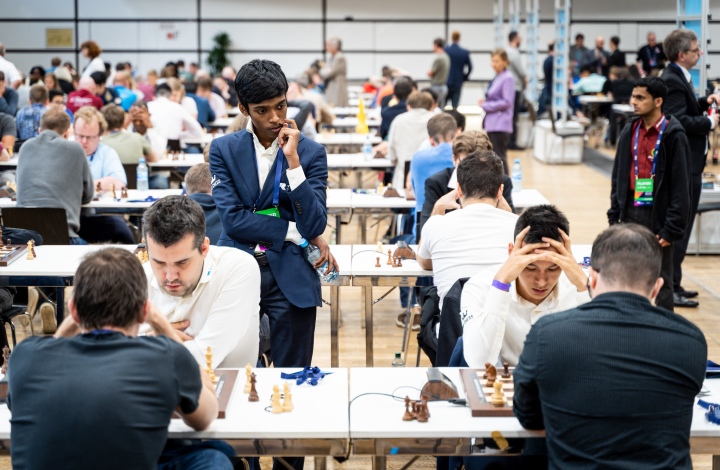 Round 11 was crucial – WR Chess defeated ASV AlphaEchecs Linz with 5:1, coming up to 21 matchpoints. Meanwhile, Freedom, the sole team with the potential to challenge the lead, had to settle for a draw in their match against the Chess Pensioners. This outcome assured WR Chess of clinching the championship title regardless of the final round's outcome – a remarkable feat in the face of a highly competitive field of players.
The sweet taste of victory almost turned sour as the team were struggling in the last round against the squad of the Berlin Chess Federation but managed to hold a draw.
Wesley So, Nodirbek Abdusattorov, Ian Nepomniachtchi, Jan-Krzysztof Duda, R Praggnanandhaa, Vincent Keymer, Hou Yifan and Alexandra Kosteniuk (ranked in the order of the boards they were playing) are all giants of chess. To see them play together as a team is a thrilling spectacle, captivating for any lover of the black-and-white game.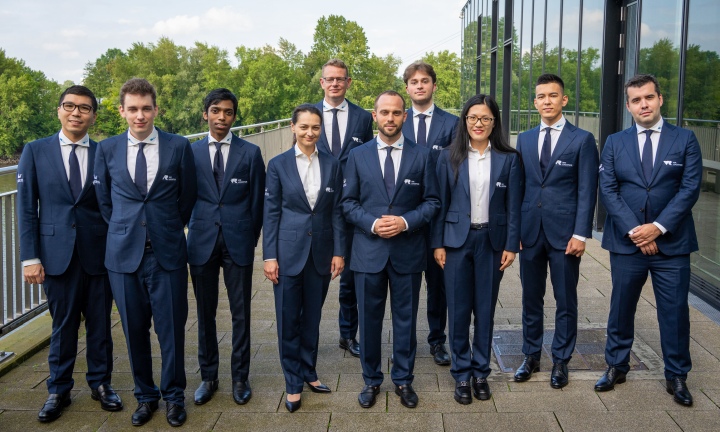 The team started preparing early – meeting in Dubai in June for a training camp and building up the team spirit, getting a feel for one another.
With the help of businessman Wadim Rosenstein on the board 6 and steered by the great German GM Jan Gustaffson as team captain, the ten proved to be the Dream Team of chess, almost gliding through the event in the face of serious competition from a host of teams made up of super Grandmasters and strong players on all boards.
How rounds 9 to 12 unfolded:
With four rounds left to play, the final leg of the inaugural FIDE World Rapid Team Championship saw several twists and turns as the teams were having their final chance to improve their performance.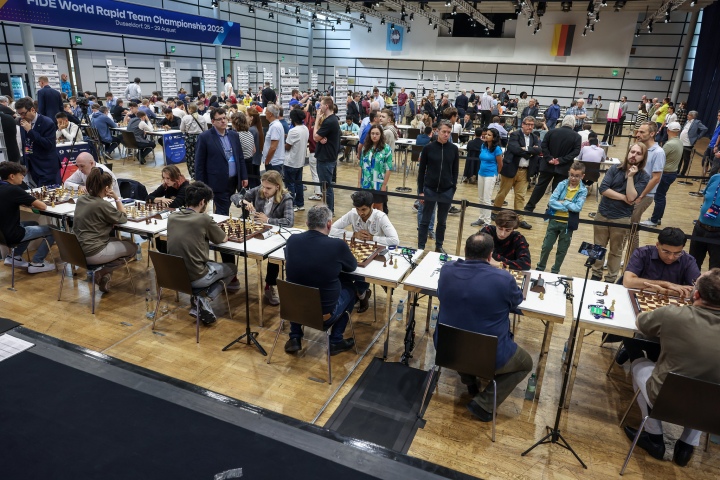 WR Chess – which had won all eight matches in the previous two days – started strongly in Round 9, defeating Chess Pensioners with 3.5-2.5. In that match, WR's Ian Nepomniachtchi defeated Peter Svidler in an impressive game. The second-placed team, Freedom, defeated Ashdod Elit Chess Club by 4.5-1.5. The round also saw an Indian duel between third-placed Team MGD1 and Six-pack, which ended 5-1. Following Round 9, WR Chess maintained their lead with a three-matchpoint advantage over the second-placed team, Freedom and were five points ahead of third-placed MGD1.
Round 10 brought an upset: After a nine-match victory run, WR Chess were finally stopped. The very strong team of Armenia took them by surprise and was on the brink of winning. First, WR Chess Wesley So had a quick draw with Gabriel Sargissian. Then, Alberto Atoyan defeated WR's Wadim Rosenstein to help Armenia take the lead. Kosteniuk managed to strike back for WR by defeating Elina Danielian, but then Shant Sargsyan held Jan-Krzysztof Duda to a draw with black pieces. Now, Vincent Keymer had to win his game against Samvel Ter-Sahakyan just to save a team draw. In a tense duel where Black ended up with a rook and a knight for a queen, despite time trouble, Keymer managed to secure victory and save his team's face.
In the meantime, Freedom continued their push and defeated Six-pack 3,5:2,5 while third-placed Team MGD1 were held to a draw by the Germany and Friends squad. Despite the order of the top three teams not changing after this round, Freedom was trailing WR by one matchpoint, while Team MGD1 maintained third position and Armenia sprung to fourth place.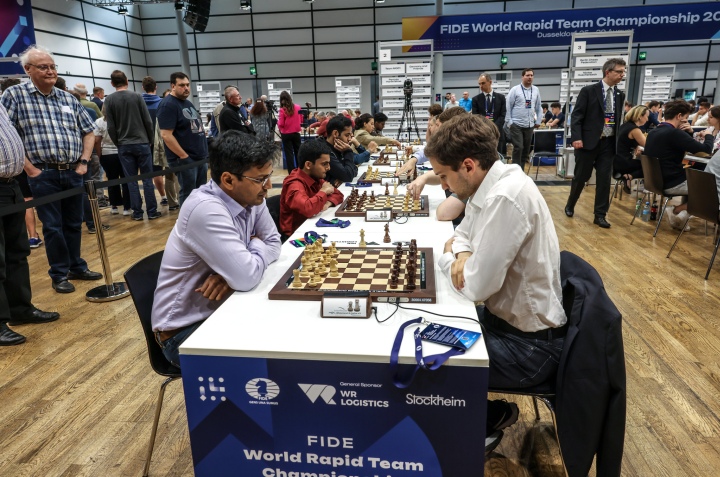 Round 11 turned out to be decisive for first place. WR Chess comfortably defeated ASV AlphaEchecs Linz (5:1), coming up to 21 matchpoints and Freedom – the only team who had a chance to catch up – drew their match against the Chess Pensioners. With 18 matchpoints, they were three points behind the leaders, meaning that even if Freedom won and WR Chess lost in the final round, team WR would still be first. Team MGD1 was confident against Columbus Energy Kings Of Chess from Kraków, defeating them 5:1 and solidifying their third place. Still, to get the bronze medal, the Indian team had to win in the last round as the teams of Armenia and Germany and Fiends were just one matchpoint behind.
In the final round, WR Chess faced a challenging match against the Berlin Chess Federation. Alexandra Kosteniuk managed to save a lost game against Elisabeth Paehtz, while Vincent Keymer suffered a defeat at the hands of more than 300 points lower-rated IM Lagunov, with WR's last board Wadim Rosenstein also losing. As Wesley So drew on board one, the team was saved by youngsters Praggnanandhaa and Abdusattorov, who won their games.
Freedom's captain Emil Sutovsky decided to get involved directly and play but only managed only a draw after misplaying in a better position against more than 250 points lower-rated IM Christian Braun. Still, Freedom won their match against Düsseldorfer Schachklub 1914/25, securing second place. Team MGD1 defeated the Chess Pensioners 4:2 to clinch third place. The Pensioners finished the event in sixth place.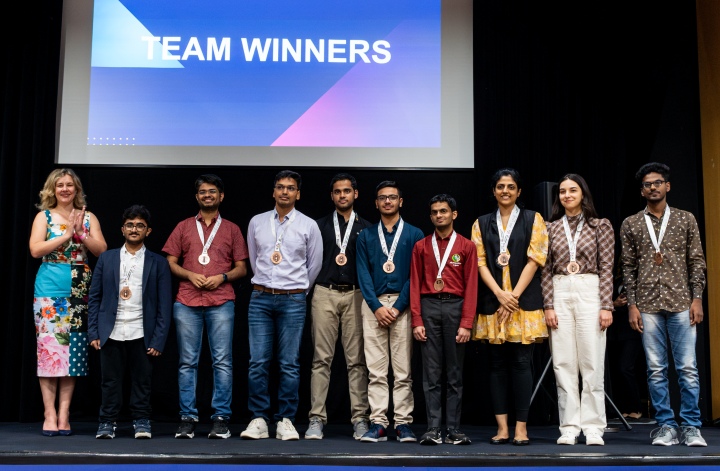 Here follows a closer look at some of the games from the first day of the FIDE World Rapid Team Championship:
In Round 9 Ian Nepomniachtchi outplayed his compatriot Peter Svidler in the King's Gambit Accepted.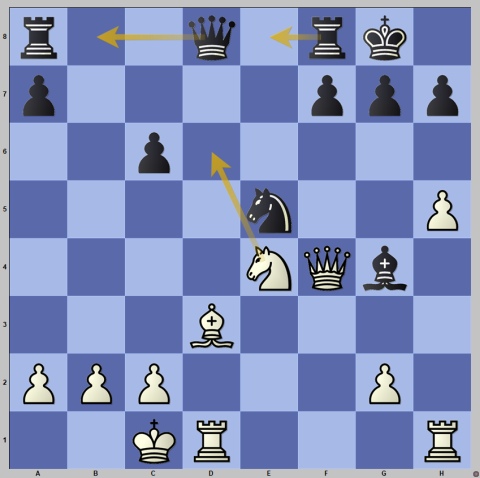 Nepomniachtchi was pushing from the very start, but Svidler was holding his ground. White has a better pawn structure and his pieces seem better coordinated for an attack. Still, Black is OK after the accurate 16…Re8. Svidler, however, missed a tactical subtlety and ended up losing.
16…Qb8?? 17.Nd6! Moving the knight to active position and attacking Black's e5-knight. 17…f6 18.Qe4! White has a crushing attack.
18… g6 (if 18…Nxd3 then 19.Rxd3 f5 20.Qe6+ Kh8 21.Rb3 Qd8 22.h6! winning) 19.hxg6 hxg6 20.Rh6 Qxd6 21.Bc4+ Kg7 22.Rxg6+ and here Svidler had enough of suffering and surrendered. 1-0
In the first setback for WR Chess, in round 10 they drew with team Armenia. During the match, they were losing and only equalized when Vincent Keymer won his game. While Nepomniachtchi has been a strong pillar of WR Chess' success, in this match he suffered his first defeat in the tournament.
Playing as Black against team Armenia's Haik Martirosyan, Nepomniachtchi was slightly weaker throughout.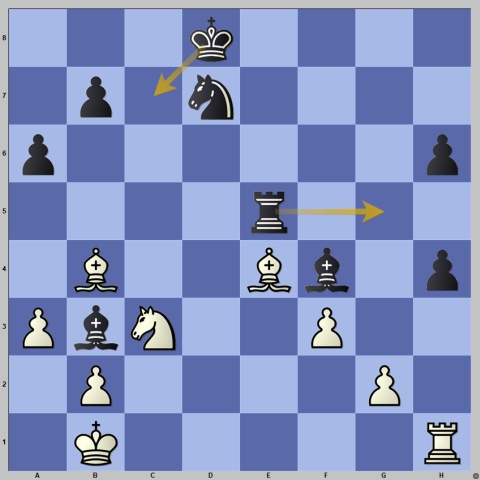 Black has doubled pawns on the h-file and a more exposed king. Still, it looks like Black can hold after 29…Kc7, but it is not that easy to find. Nepomniachtchi's focus finally broke as he started making mistakes.
29…Rg5? This active move failed to 30.Ne2! Be3 31.f4 Rg7? A costly error for Black. Ian's only chance was 31…Bd5 although after 32.Bxd5 Rxd5 33.Rxh4 White is clearly better. Now, Black's pieces are hanging all over the board.
32.Rh3 Nf6 33.Bc3 Nxe4 34.Bxg7 Nd2+ 35.Ka1 Nf1 36.Rf3 With another piece about to fall and already an exchange down, Nepo had no choice but to resign. 0-1
WR Chess' R Praggnanandhaa defeated Etienne Bacrot ASV AlphaEchecs Linz in a miniature in round 11.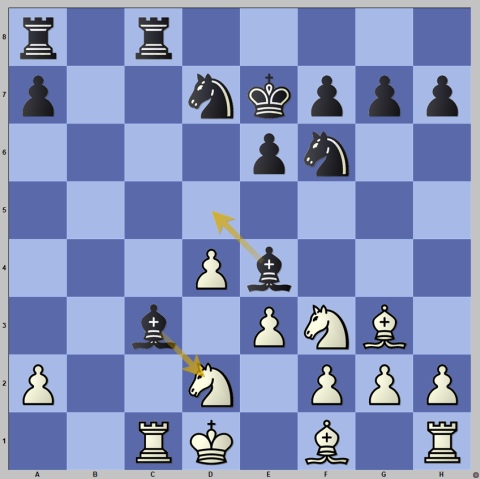 Bacrot (as Black) sacrificed a pawn in the London System and got sufficient compensation. However, a single mistake cost him dearly.
Black has nothing to complain about after 14…Bxd2 15.Rxc8 Rxc8 16.Nxd2 Bc2+, etc. Instead, Etienne played 14…Bd5?? which failed to 15.Ba6! Bxa2 Black can't move the rook from the c-file, whereas 15…Rc6 is met by 16.Bb7.
16.Bxc8 Rxc8 17.Kd2 Nd6 White is now an exchange up and pinning Black's pieces on the c-file. In the next few moves, White aligned his rooks and the c3-bishop was doomed.
Bacrot resigned on move 24. 1-0
Written by Milan Dinic
Photos: Mark Livshitz and Niki Riga
About the event
The World Rapid Team Championship is taking place between the 26th and the 28th August.
The event consists of 12 rounds played under the Swiss System. The first named team in a pairing shall have the white pieces on the odd-numbered boards and the black pieces on the even-numbered boards.
The time control will be 15 minutes, with a 10-second increment from move one.
The scoring will be based on matchpoints: a win scores two points, a draw scores one point and a loss means zero points.
The team with the highest number of matchpoints in the relevant final standings shall be declared World Rapid Team Champion.
The tournament will feature a 250,000 Euro prize fund.
Event website: worldrapidteams2023.fide.com/
You can follow the event live on FIDE's YouTube channel: youtube.com/watch?v=25bPhnrg9wc&ab_channel=FIDEchess