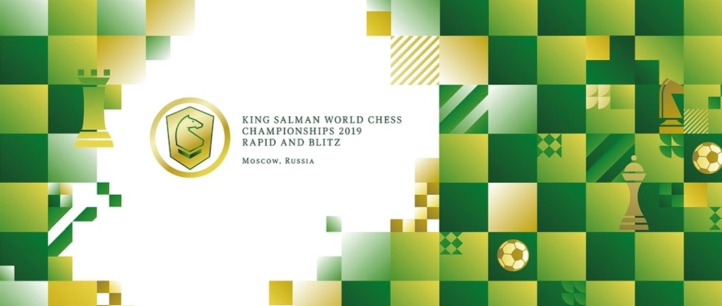 Magnus Carlsen of Norway and Humpy Kuneru of India are the winners of the 2019 World rapid chess championship which ended on Saturday evening in Moscow. With eight wins, seven draws, and no defeats, the Norwegian grandmaster comfortably won the Open Rapid and his third rapid title. In the Women's Rapid, the winner was determined in a playoff between the first two of three players sharing first place. Humpy Koneru won the dual after defeating China's Lei Tingjie in a dramatic "Armageddon" battle.
"To win it all you need an attacking mindset"
Speaking to the media after his convincing victory in the Open Rapid section, Magnus Carlsen, who finished a whole point ahead of everyone else, said that he was very happy with his performance in the tournament saying that he "handled it fairly well."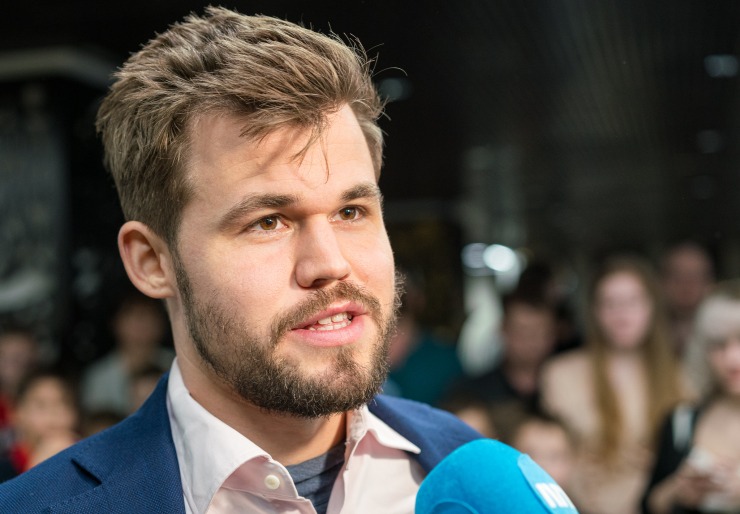 "The first two days were the most difficult for me. I took some time to get going. I had a difficult game against Aronian and I am very happy about my performance", Carlsen said.
"Some of my opponents perhaps lacked the cutting edge, but in such a tournament in order to win all you need is to have an attacking mindset. There are a lot of people here who had good performances but they could have pushed even more."
When asked about his most difficult opponents in the tournament, Carlsen singled out three players: "I had some very difficult positions against Mamedov, Melkumyan and Wang Hao. I defended some worse positions for sure, but I never thought I was lost."
The Open Rapid: Carlsen's path to victory in Moscow
Carlsen set off on his path to victory with three wins and two draws on day one. He accelerated on the second day with four wins and two draws. After getting in the poll-position at the end of the second day, with 8/10 and half a point above the rest, on the third day of the Rapid Magnus Carlsen continued to improve his already confident performance and tightened his grip around the first place.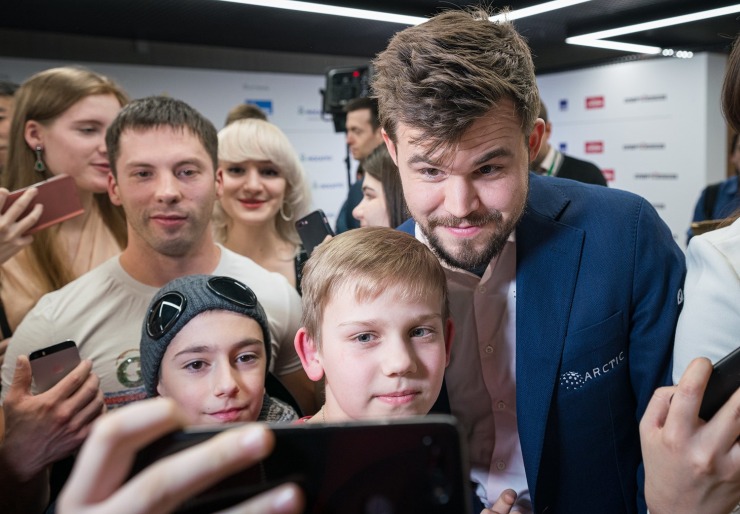 It wasn't completely spotless for Carlsen, but it was more than enough. In Round 11 he drew with Maxime Vachier-Lagrave. After securing a better position, Carlsen missed the best continuation allowing the queens exchange. The situation on the board developed into a rook endgame, which did not give the Norwegian sufficient advantage to press for a victory over his French opponent.
In Round 12 Carlsen was White against Levon Aronian. In a tense queen endgame, Aronian simply blundered his strongest piece and lost. This was the moment when Carlsen increased his margin over everybody else to a whole point.
Shakhriyar Mamedyarov was next in the line. Until playing Carlsen in Round 13, Mamedyarov had six victories, five draws and only one loss (to Vachier-Lagrave in Round 10). He was playing with authority, but all his confidence disappeared in the game against Carlsen where the Azeri GM played a line that did not suit his style and quickly lost. Carlsen was now a point and a half ahead of everybody else. A face-paced game followed in Round 14 in which Carlsen agreed to a draw with Leinier Dominguez Perez. Having finished this round first among the top boards, he was instantly now 2 points ahead of everyone before the final game, which meant that if anyone wanted to catch him, he had to win in the 14th round.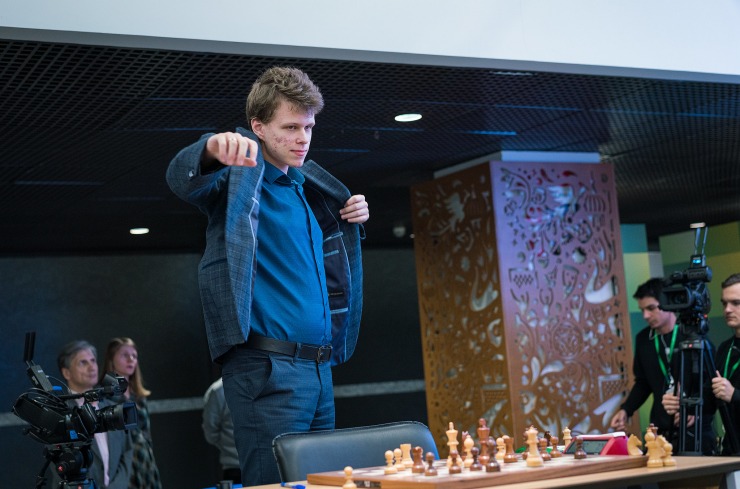 Only Vladislav Artemiev, who defeated Vachier-Lagrave and Hikaru Nakamura who downed Ilia Smirin were up to the task. Nakamura had his destiny in his hands: had he beaten Carlsen, both would have been on 11 points meaning there would be a playoff. Either because of being tired or thinking it was pointless to expect winning over the Norwegian who was at the top of his game, Nakamura went for a quick draw after 22 moves, allowing Magnus to claim the title of the Rapid World Champion, one point ahead everybody else.
A surprise runner-up
Alireza Firouzja (who recently left the Iranian chess federation and participated in the tournament under the flag of FIDE) emerged second although he made his way to the top board only in the final round. Firouzja, however, had a very good tournament, defeating Mamedyarov in the final round and finishing on 10.5/15. In the final standings, he was ranked first among those tied for second to fourth places. The remaining two were Hikaru Nakamura and Vladimir Artemiev, all on 10.5/15.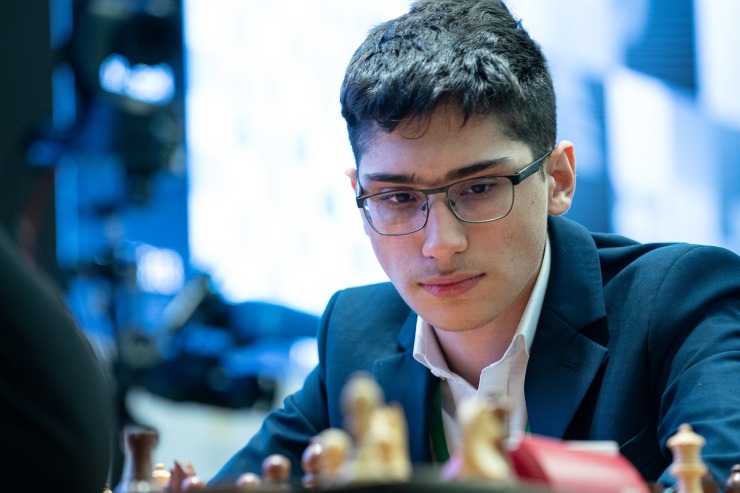 The places 5-11 are shared among seven players who scored 10/15: Aronian, Dominguez, Duda, Dubov, Korobov, David Anton and Yu Yangyi.
The rapid also saw a great performance by the 51-year-old Ilia Smirin who, having shared the first place after the first day (with Wang Hao), finished 15th with 9.5 points, but throughout the tournament was playing at the top boards.
1. Magnus Carlsen (NOR) 2886 – 11½
2. Alireza Firouzja (FID) 2614 – 10½
3. Hikaru Nakamura (USA) 2819 – 10½
4. Vladislav Artemiev (RUS) 2756 – 10½
5. Levon Aronian (ARM) 2784 – 10
6. Leinier Dominguez Perez (USA) 2755 – 10
7. Jan-Krzysztof Duda (POL) 2751 – 10
8. Daniil Dubov (RUS) 2752 – 10
9. Anton Korobov (UKR) 2818 – 10
10. David Anton (ESP) 2709 – 10
The Women's rapid: Blunders leading to Armageddon
Great turnarounds in competitions often arise when one side performs better than his or her opponent. Sometimes, however, changes happen not due to someone's brilliance but rather because of their opponent's misstep. This seemed to be the case in many of the games on the final day of the Women's Rapid.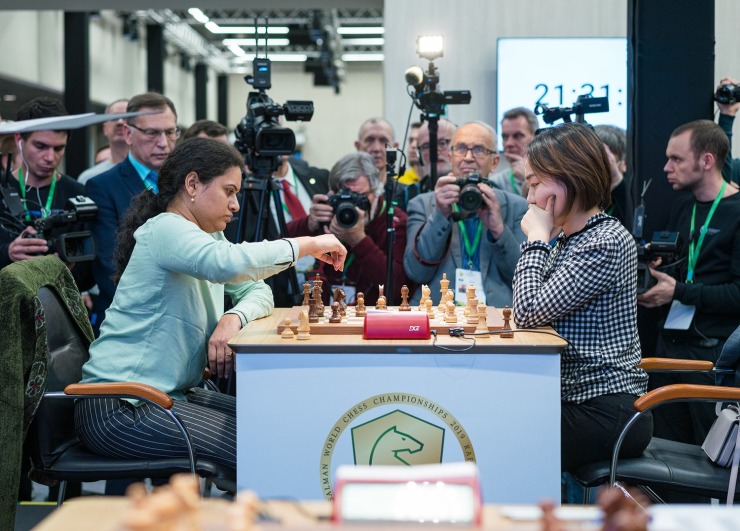 After two days and eight rounds of play, there were four players sharing the first place, with 6.5/8: Irina Bulmaga, Tan Zhongyi, Lei Tingjie, and Mariya Muzychuk. The second tier, with 6/8 was made up of Humpy Koneru, Olga Girya, Kateryna Lagno, Harika Dronavalli, Ekaterina Atalik, and Anna Muzychuk.
Several key games on the final day were decided by the blunders of players who had significantly better positions.
Round Nine began with a Chinese derby, where Lei Tingjie had White against Tan Zhongyi. This turned out to be the key game of Lei's path to the top in the Rapid. Tan achieved a significantly better position but then fell into time pressure which led to her first losing the advantage and then, overlooking a bishop and losing in a drawn position. Lei Tingjie joined Irina Bulmaga at the top after Round 9.
In Round 11 Lei Tingjie secured a comfortable position against Anna Muzychuk and was slightly better in a queen and rook vs queen and rook endgame. At this point a huge turnaround happened – Lei overlooked her b-pawn while Muzychuk advanced her pawn on c3. It was now Lei Tingjie's turn to play catch-up and fight to save the position while having about 20 seconds remaining on her clock. To her credit, the Chinese managed to save a half-point.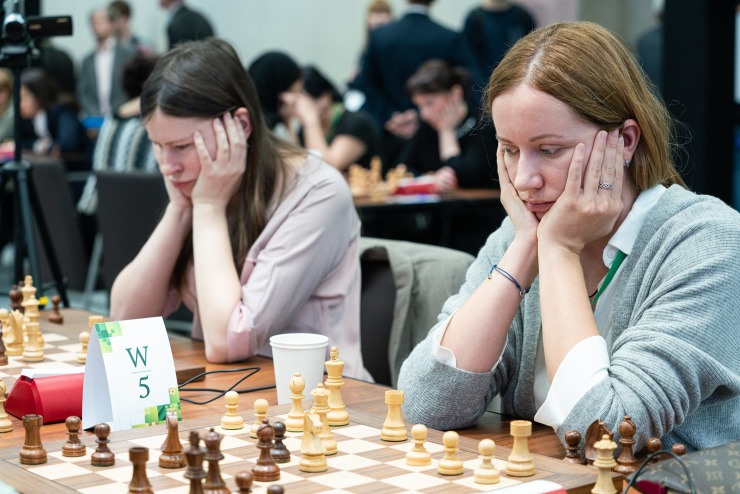 The final round of the women's rapid started with Lei Tingjie sitting alone at the top with 9/11, followed by Tan Zhongyi on 8.5 and no less than five players on eight points. Ekaterina Atalik sprang to board one for the final 12th round, to face Lei Tingjie. After a blunder by Lei Tingjie, Atalik managed to win a bishop in the opening, but her queen was trapped behind black lines. Atalik found an elegant decision - she sacrificed a knight to transpose into an endgame with two-pawns up. Then she made a few inaccuracies and put her victory in doubt.
While this drama was unfolding on the top board, things were heating up on board two Koneru vs. Zhongyi. With both players having a couple of seconds on their clock, Tan Zhongyi offered a draw which Koneru firmly rejected. A few seconds later Zhongyi blundered and lost. Ekaterina Atalik immediately saw what had happened. She knew that she had to try everything to squeeze a victory against Lei. Eventually, she got there: the Chinese lost her final game although she needed just a draw to be first, while Humpy Koneru - who managed to win in the last two rounds – sprang to the top. This meant that three players, namely Lei Tingjie, Humpy Koneru, and Ekaterina Atalik tied for the top place.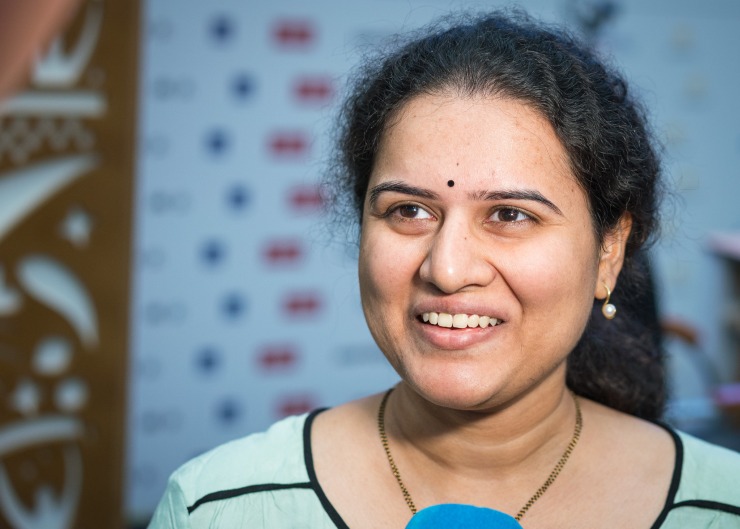 The score-data showed that the tiebreak of two blitz games should take place between the Koneru and Lei. The match consisted of two games played with a time control of 3 minutes + 2 seconds increment per move, starting from move 1. There was a drawing of lots to decide which player starts with white pieces. Koneru lost the first game with White but managed to recover in the second one after Lei's blunder. The duel reached its pinnacle in the "Armageddon" – the sudden death game – in which Koneru prevailed and took the title.
Koneru: "It was a gamble"
In an interview after winning on the tiebreak, Humpy Koneru said that the result was beyond her expectations from the start of the final day: "When I started my first game on Day 3 I did not imagine I would be at the top. My hope was to reach the top three. I didn't expect to play the tie-break games. I lost the first game on time but came back in the second game. It was a gambling game, but I won. In the final game, I had a better position and it was a comfortable win."
The hero of the women's tournament
Although she did not win the tournament, the hero of the Women's Rapid was Irina Bulmaga. Ranked 24th in the participants' list, Irina turned in an excellent performance, showing that her rating 2383 does not reflect her actual strength simply because she has not played enough strong tournaments.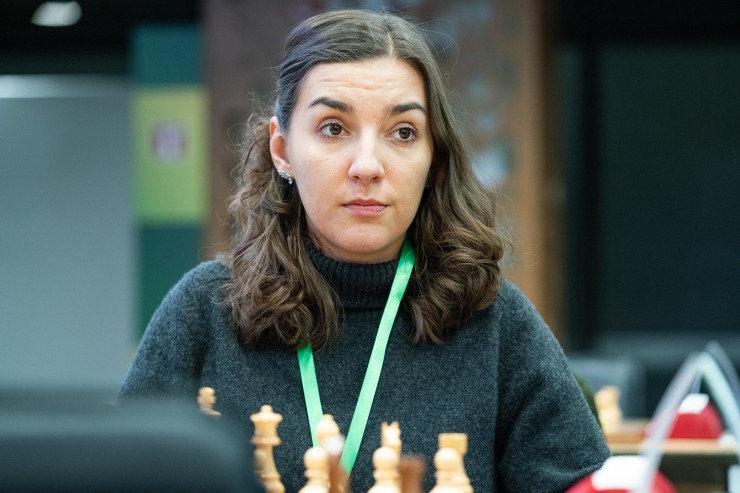 Bulmaga started well, winning all four games on the first day and becoming one of the leaders. She slowed down on the second day, with three draws but won a critical win against none-other than Humpy Koneru. Bulmaga's performance on the second day (with 6.5 points altogether) was sufficient to keep her in the top position after eight rounds. Irina continued to play confidently on the third day, starting with a victory over Mariya Muzychuk. She was leading until Round 10 but then run out of steam and suffered her first defeat at the hands of Olga Girya. In the next, 11th Round, Bulmaga played against Ekaterina Atalik (with whom she prepared for this tournament) and opted for a quick draw. The outcomes of other top games in that round meant that Bulmaga was a whole point behind the leader. In the final round, she lost to Natalija Pogonina and finished ninth on 8/12.
1. Humpy Koneru (IND) 2438 – 9
2. Lei Tingjie (CHN) 2498 – 9
3. Ekaterina Atalik (TUR) 2360 – 9
4. Olga Girya (RUS) 2365 – 8½
5. Tan Zhongyi (CHN) 2496 – 8½
6. Anna Muzychuk (UKR) 2592 – 8½
7. Mariya Muzychuk (UKR) 2518 – 8½
8. Natalija Pogonina (RUS) 2494 – 8½
9. Irina Bulmaga (ROU) 2383 – 8
10. Alina Kashlinskaya (RUS) 2293 – 8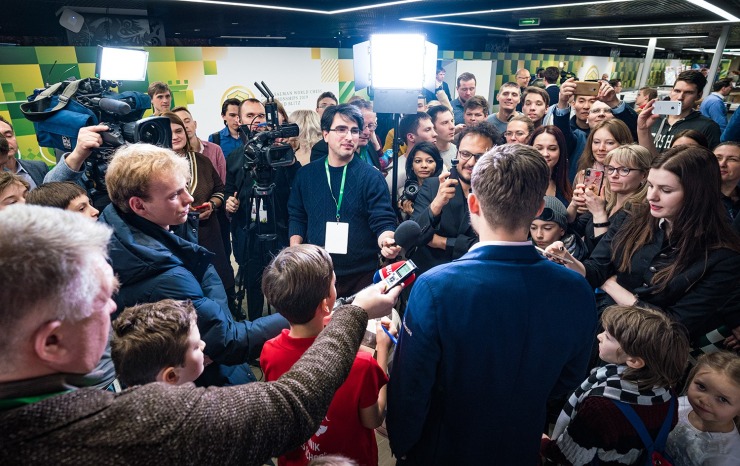 Moments after his victory, the World Champion decided to join the friendly football match organized by International Chess Federation, in which Grandmasters, arbiters, and FIDE officers competed on the football field. Carlsen was at first hesitant about taking part in this activity ("I would love to, but I also want to win the blitz tournament!"), but in the end, his passion for sports and physical activity was stronger. FIDE President Arkady Dvorkovich, and the "Candidates" Ian Nepomniachtchi and Kirill Alekseenko, were also among the participants of this football match.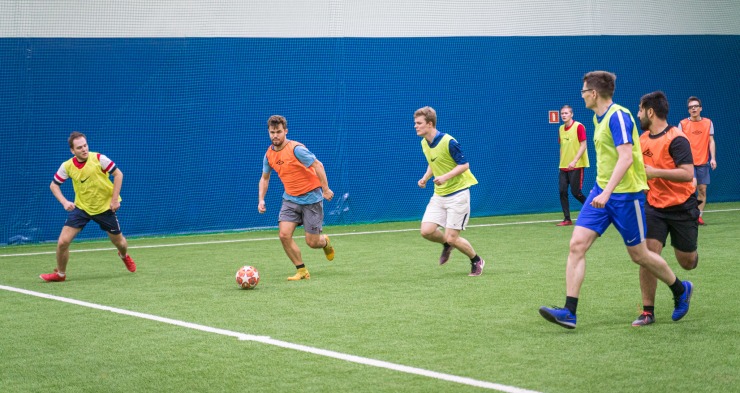 Official website and LIVE broadcast: https://wrbc2019.com
Text: Milan Dinic
Photos: Lennart Ootes, Maria Emelianova, David Llada
Photos are available for the press at our official Flickr account.