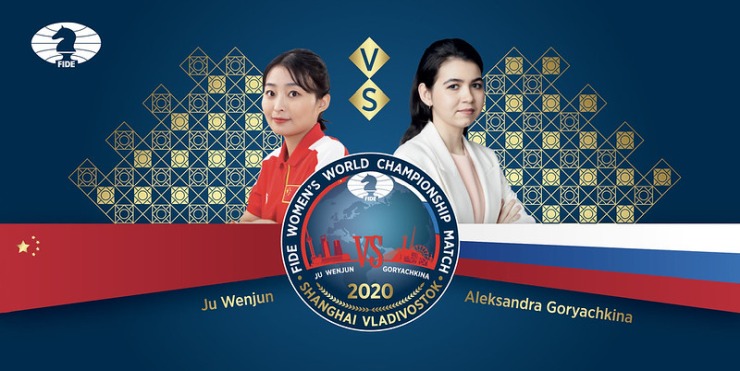 Ju Wenjun strikes back, wins the 9th game and evens up the score: 4½-4½. In a game with plenty of twists and turns, the World Champion emerged victorious after 62 moves.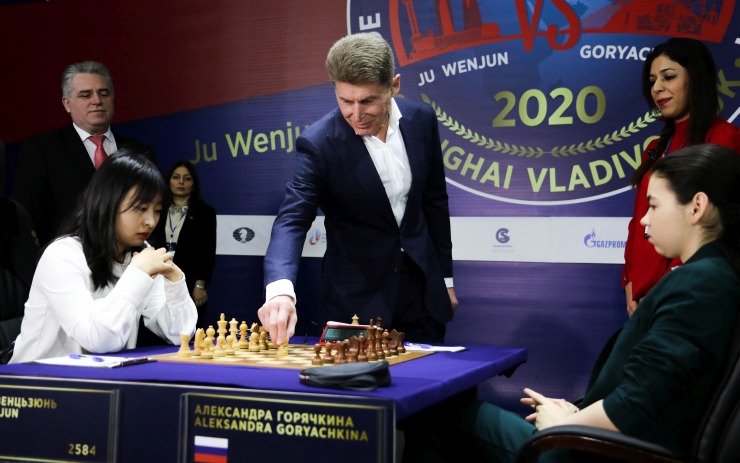 Oleg Kozhemyako, governor of the Primorye region, made the first symbolic move of Game 9.
Under-prepared, lethargic, uninspiring, imprecise, unintuitive are just some of the words, which have been used to describe Ju Wenjun's play in the first 8 games of her title defense match. Her Russian opponent appears to be better prepared, seven years younger, hungrier, more motivated, and determined to fulfill every chess player's ambition—to become a World Champion. Ju is down a point with just four games left. She just suffered a bitter defeat, in which she was wiped off the board in a lopsided fashion. The match is in Russia and the home crowd is buzzing with expectations.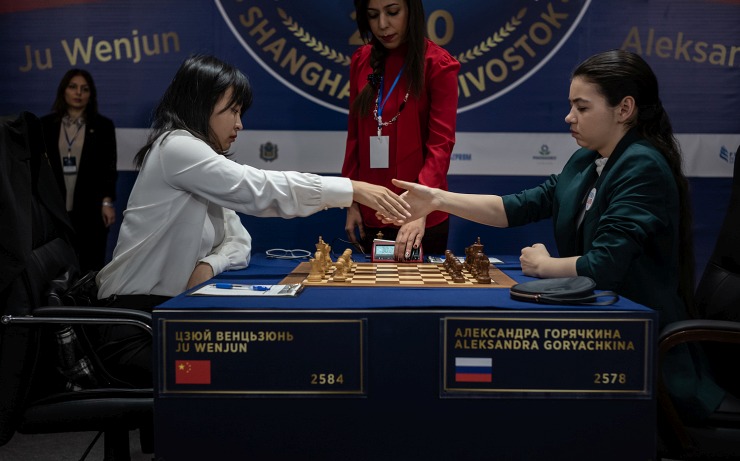 What would you do, if you were in Ju's place?
Ju Wenjun showed up wearing a black bomber jacket with "Whatever" embroidered on the back and she played like it. Her second move, 2.b3, startled Aleksandra Goryachkina. For the next 40 moves, Ju just kept bringing it.
Was her play perfect? Of course not. Was it sound chess? Not really. Did it work? Yes, it did. For the first time in this match, Goryachkina was on the ropes.
The Russian kept going in and out of trouble, with dubious sequences (11..Kxe5 and 12..d4) followed by excellent machine-like moves (20.. Bg1 and 22..Qc8). By move 28 it appeared as if the match was over. Goryachkina was able to refute Ju's disjointed and very opportunistic play. 28...Qb4 would have likely led to Goryachkina's becoming the new World Champion. Experts agreed. Fans in Vladivostok and online were beginning to celebrate.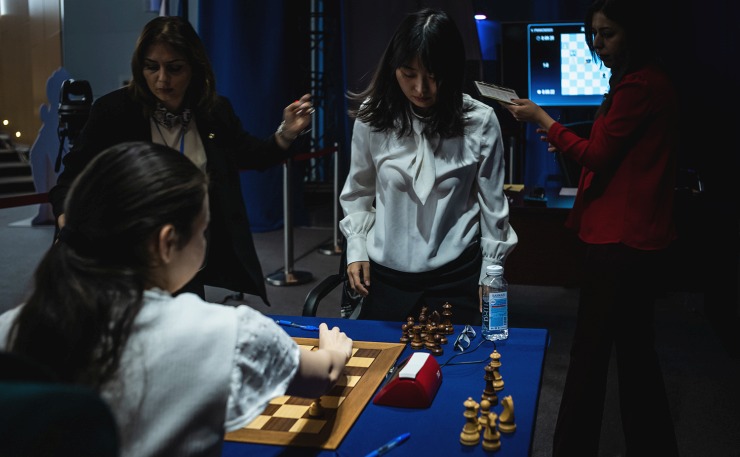 It was not to be. In approaching time-trouble, Goryachkina went astray with dubious Qg2?. Three hours of 'Whatever' worked. Goryachkina cracked and lost her way. After the time control, Ju finally showed her class and converted a complicated endgame with Karpovian (45. Bf4!) precision. The World Champion showed her mastery and won.
Game 10 will be played on Monday, January 20.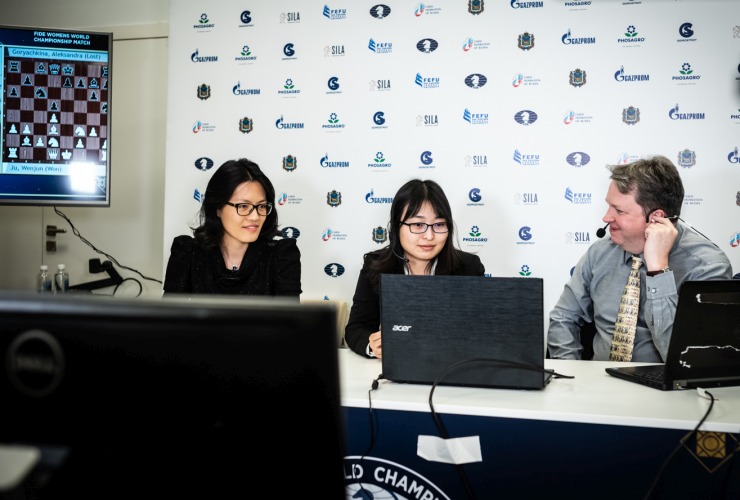 Official website: https://wwcm2020.fide.com
Text: Michael Friedman
Photos: Michael Friedman and Eteri Kublashvili
Contact: press@fide.com
Photos in high resolution are available for the press at our official Flickr account.