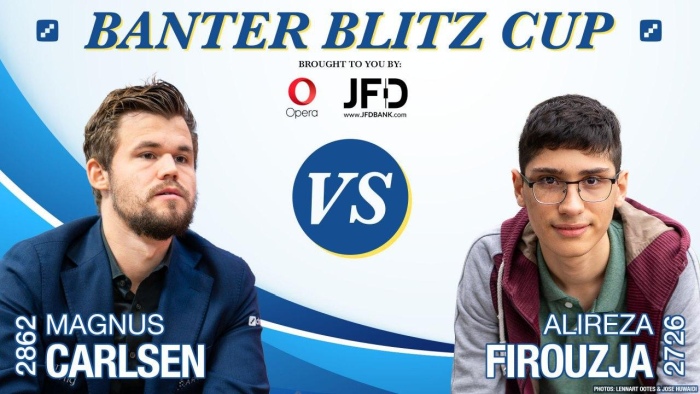 The 132-player knock-out event with the total prize fund of $50,000 stretched from the beginning of autumn. The final on April 15 saw Magnus Carlsen and the crowd favorite 16-year-old Alireza Firouzja clash in a 16-game (3 minutes, no increment) blitz battle for $14,000 first prize. On the way to the ultimate showdown, Carlsen defeated GM Sanan Sjugirov in the semis and GM Nils Grandelius in the quarters. Firouzja eliminated GM SL Narayanan (SF) and GM Georg Meier (QF).
Due to a lack of over-the-board events, this match was a real treat to spectators and lived up to the highest expectations. Firouzja grabbed the lead after winning the first game with Black but Carlsen bounced back in game 3 and kept coming back after each win of the youngster. The opponents kept this pace for 11 games and the score was still even. In game 12, Carlsen took the lead for the first time, but Firouzja leveled the score right away. They exchanged the blows in games 14 and 15 again to find themselves on an even score before the last game. Game 16 went perfectly for Firouzja as he outplayed the world champion in his own element - the endgame.
After it was over, Carlsen complained about being in a bad shape but gave credit to his opponent: "He's amazingly strong. Full credit!"
Both players streamed and commented on the games live, thus "Banter Blitz". You can replay the match by the following links.
Carlsen: https://chess24.com/en/live/video/banter-blitz-cup---magnus-carlsen-vs--alireza-firouzja
Firouzja: https://chess24.com/en/live/video/banter-blitz-cup---firouzja-vs--carlsen
In just a couple of days, Carlsen and Firouzja will meet over the virtual board again - the strongest online event of this spring, "Magnus Carlsen Invitational" starts on April 18.